Motorola One Vision is currently receiving the stable Android 10 system update. Making it more exciting the system software also bundles the January 2020 security patch as well. Motorola was preparing the device for this system update for the last two months. By the end of 2019, Motorola One Vision received two iterations of the Android 10 beta update. Now, in the very first week of 2020, the device is receiving the OS upgrade to Android 10.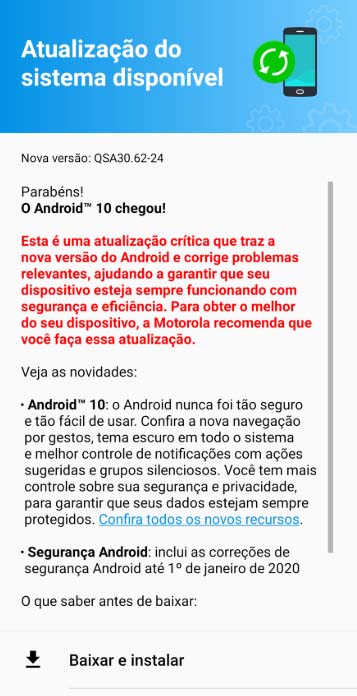 The stable Android 10 update for the device comes with a build number QSA30.62-24. As you may see from the above screenshot, the update marked its presence in Brazil. It's a very common phenomenon when any new software update rolls out from the Motorola camp, it first knocks into the South American region. This Android 10 update is no exception. Soon, it should also become available in other parts of the globe.
Android 10 comes with the new gesture navigations, improved recent apps, enhanced dark mode. Also, the 2019 Android OS comes with smart reply options for the Message App. Users can also pre-set keywords to filter out spammy messages. There are other features like Live captions, the ability of the user to control the app location information. The software updates will also improve with Android 10 onboard the device. You can know more about Android 10.
One Vision users from Brazil and others can check their device Settings for the new system update. You should be notified of the new Android OS update. Otherwise, in Settings > System Updates > tap on Check for new Updates. The device will run check for new updates. If the Stable Android 10 for Motorola One Vision is rolling in your region, you will be notified of the same.
You can download the Android 10 update by connecting your device to a stable Wi-Fi network. Also, have a battery percentage of above 50% on your device. A low battery will not allow you to install the system update. So, keep an eye out for the QSA30.62-24 software for the Motorola One Vision. Install and enjoy.