Since we've tested the software, we understand that businesses have always struggled to operate consistently. Recovering a corrupted Excel file can be a frustrating experience, especially if the file contains important data. Whenever moments like this arise, you must ensure the integrity of your Excel file. In addition to Stellar Repair for Excel, it is a good idea to keep a backup of your excel file. Let's check out the article further and explore this software in detail.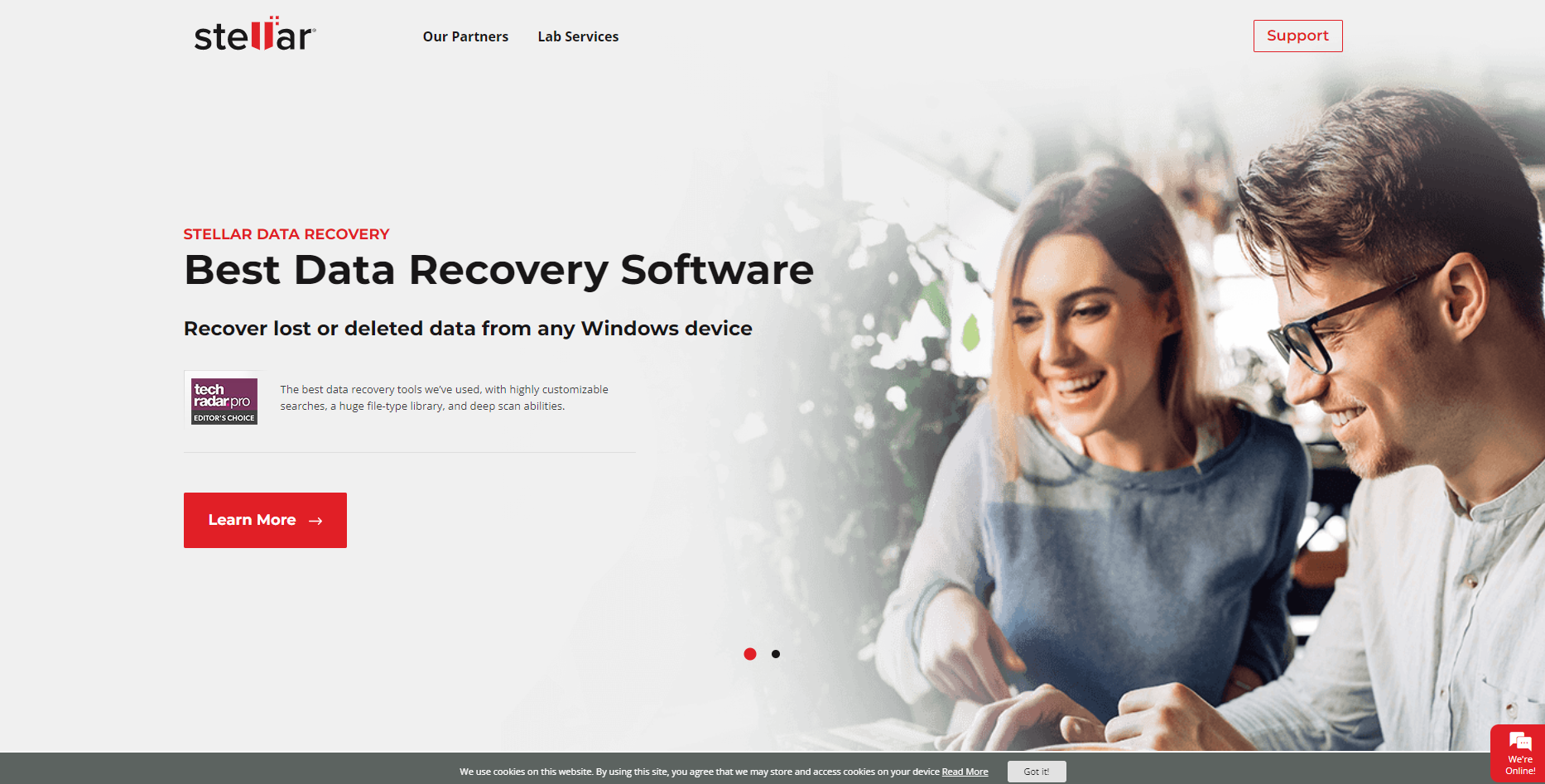 What is STELLAR REPAIR FOR EXCEL?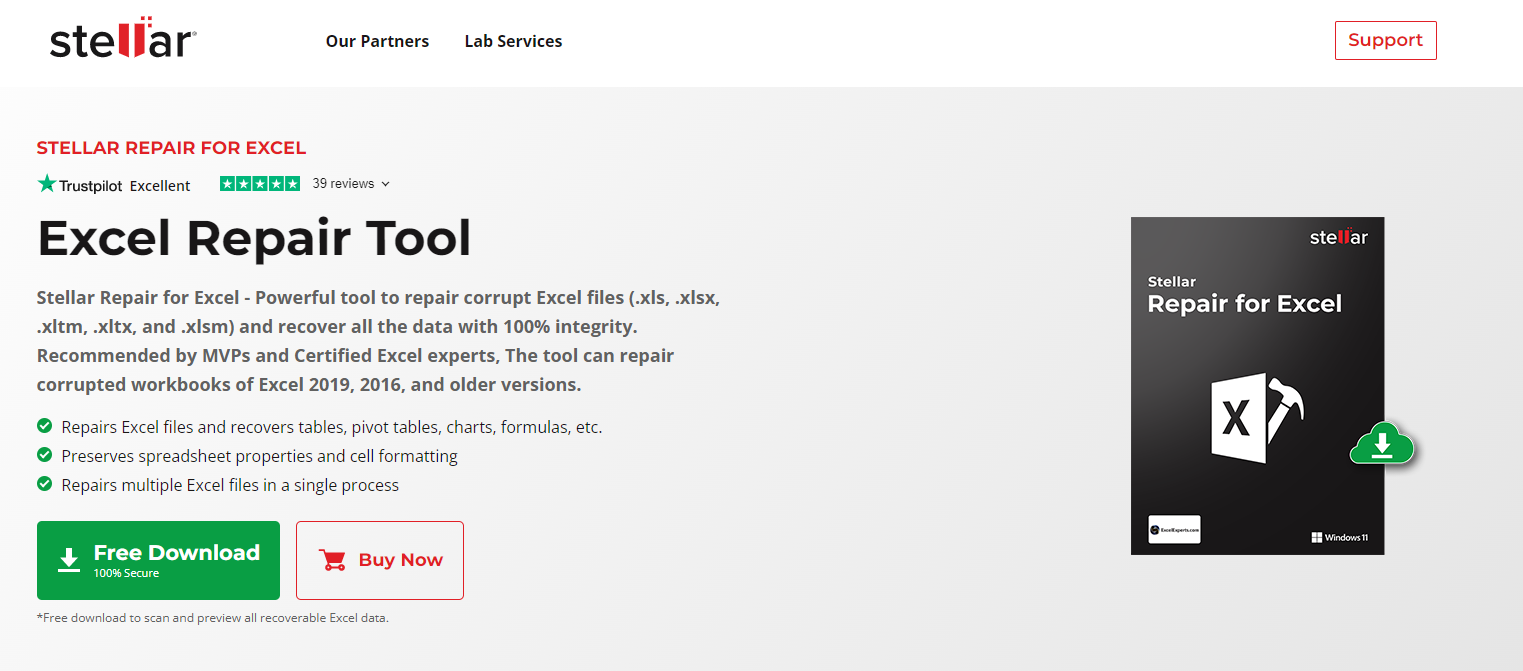 Stellar Repair for Excel is an application that repairs corrupted Excel files and recover crucial data from them. The software is developed by Stellar Data Recovery, one of the top data recovery companies. In addition to recovering formulas, charts, tables, and other content from corrupt Excel files, the software preserves all the properties of your excel file.
Stellar Repair for Excel can repair excel with different file formats like .xlsx, .xls, .xlsm, .xltx, and .xltm which makes it usable for a wide variety of Excel users.
Due to its intuitive interface, it is easy to use. Users can also verify whether all the required data is recovered or not by seeing a preview of the recovered data. Users can then save the repaired file to a destination of their choice.
What are the Features of STELLAR REPAIR FOR EXCEL?
With Stellar Repair for Excel, you can repair corrupted Excel files with ease. Here are the features of the software-
It can repair a number of different files format.

Provides a preview of the recovered data for the users to verify the data.

Repairs all elements of the excel file including formulas, charts, tables, functions, rules, numbers etc.

Preserves the original properties of the sheet.

Can repair large-sized Excel files, making it ideal for business users.

Software interface is very easy to use even for non-techies.

Can also repair Excel 365 files.

Compatible with all versions of Microsoft Excel.

Can repair multiple files at once, making it convenient.

Users can save the repaired files to any destination they desire once the data has been verified.

Data loss is not an issue with this software since it is designed to repair files without affecting the files' data.
System Requirements:
Compatible with Windows 7, 8, 8.1, 10, and 11.

For faster processing, it is recommended that you have a minimum of 4 GB of system memory.

You will need 250 MB of free space on your disk.

It is recommended to use an Intel x64-bit or x86-bit processor.

Can repair every version of Excel files, such as MS Excel 2000, 2003, 2007, 2010, 2013, 2016, 2019, 2021 and Office 365.
Pros
While recovering your data, the application preserves spreadsheet properties and cell formatting.

You can repair many file formats with different versions of Excel.

The success rate of Stellar Repair for Excel is higher than that of any other Excel repair tool.

Stellar Repair for Excel is capable of fixing damaged or corrupted Excel files in every situation.

It provides previews of repaired Excel files and simultaneously supports batch repairing that allows multiple Excel files to be repaired at once.

There are no limitations on the file size. You can repair a huge file with Stellar Repair for Excel.
Cons
Stellar Excel Repair is only available for Windows systems and is not compatible with Macs.

It will only provide a preview of your files in the free version of Stellar Repair for Excel, so you can't save them.

It takes Stellar Excel Repair a bit more time to scan than other tools (but it also gets better results).
How to Use Stellar Repair for Excel
Using Stellar Repair for Excel is as easy as 1-2-3. You just need to perform these simple steps.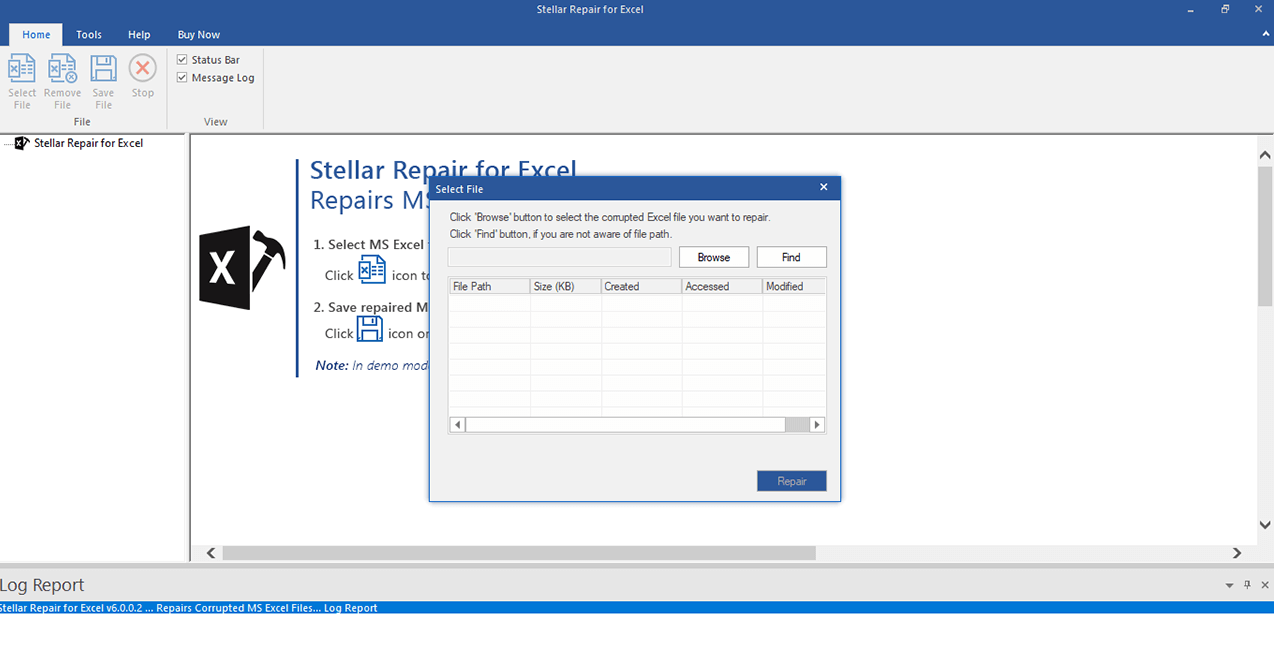 1.Select the Excel file(s) that are corrupted or damaged, and then click on Repair.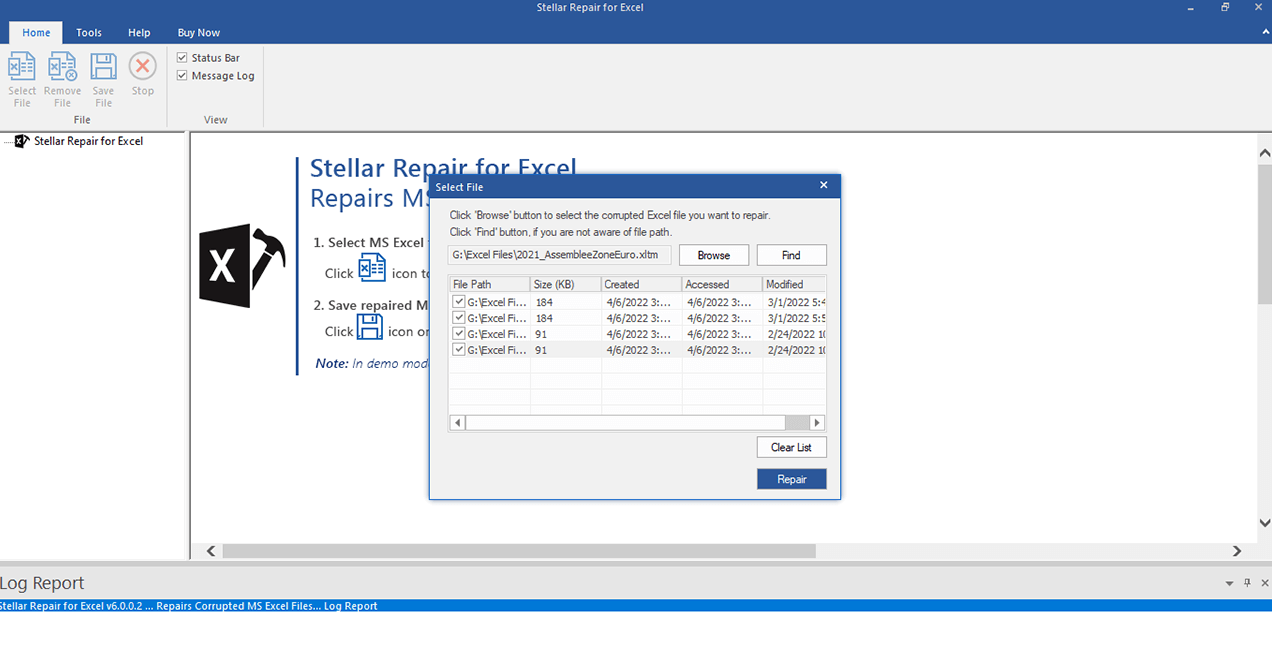 2.During the repair process, you can see the progress. There is also an option to Stop it.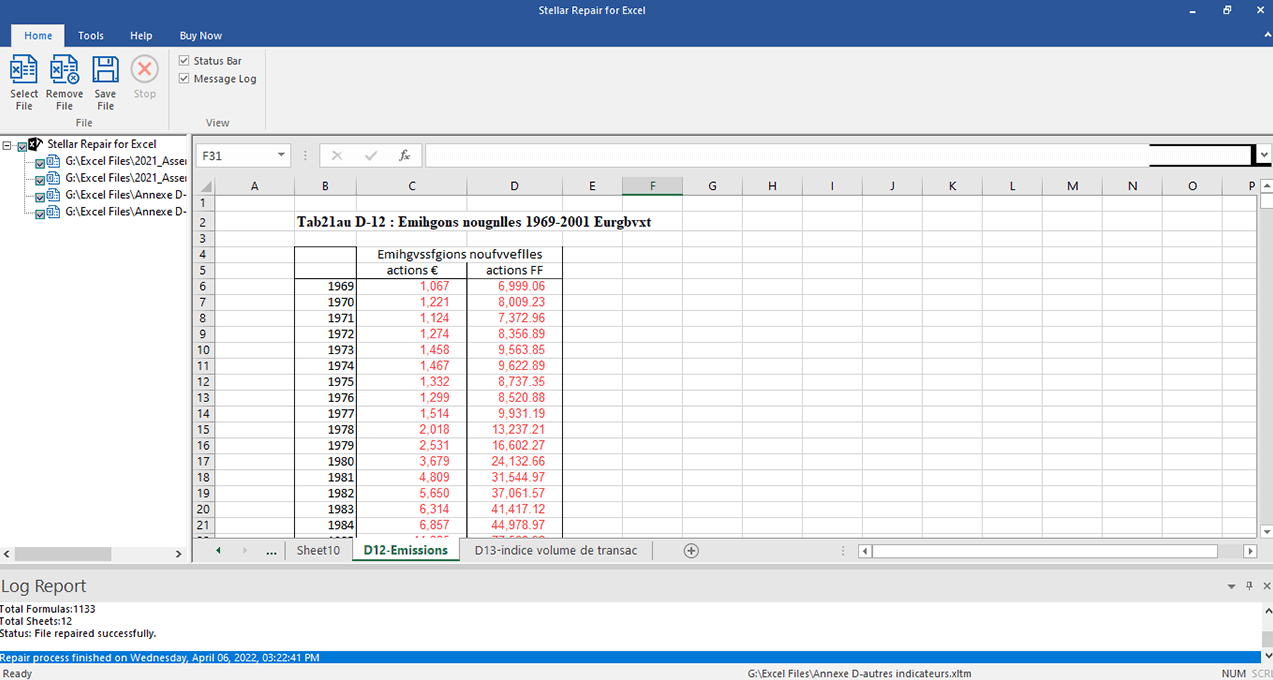 3.You can preview the repaired Excel file and verify its contents.
4.To save the repaired Excel file, click on Save File to select an existing folder or to create a new one. Click OK.
5.It shows the progress of saving the file.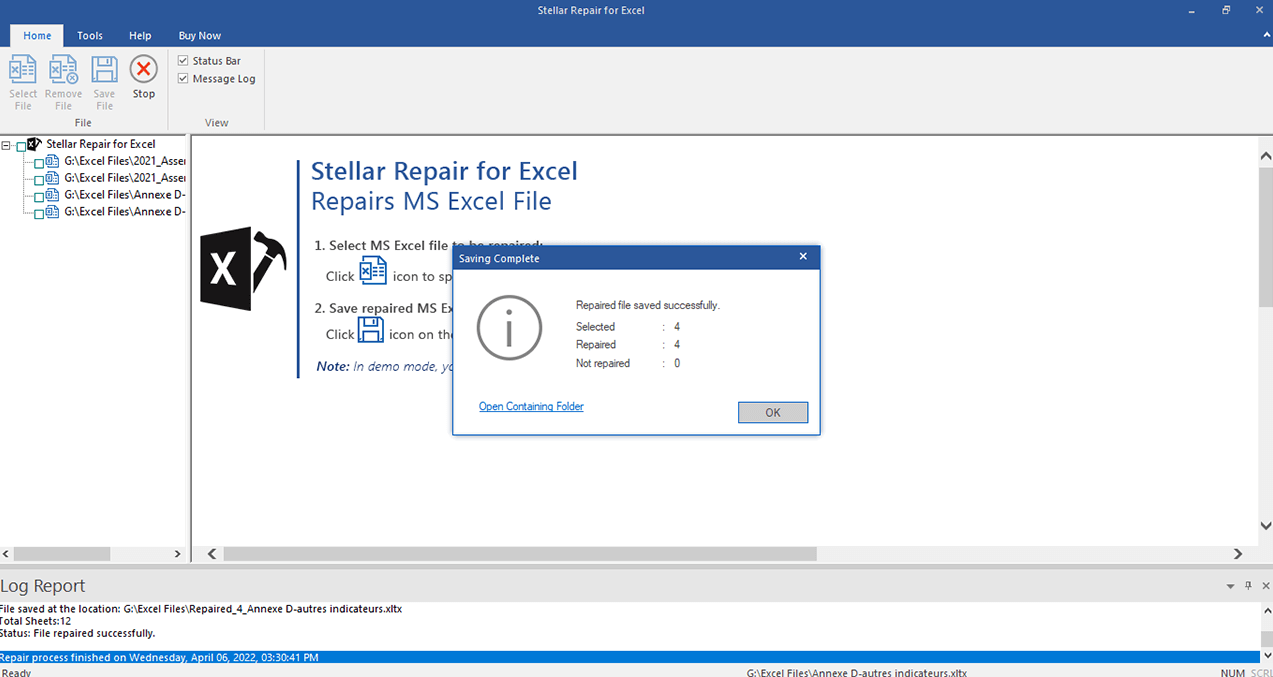 Conclusion
Using this excel repair tool, it is easy to repair damaged files. Besides viewing log reports, you can also save them separately. Stellar Data Recovery also provides excellent technical support. If you need to repair your excel file, we highly recommend Stellar Repair for Excel.
With 100% data privacy and confidentiality, the company provides fast, safe and convenient data recovery. So that's our view on Stellar Repair For Excel. We hope that this guide has helped you. Meanwhile, comment below and let us know if you need more help.