If you have any Android or 2 in one tablet or smartphone, you may require flashing Stock ROM / Firmware under various circumstances. Well, if you are looking to flash any Stock ROM on any tablet powered by Intel processor then you need to follow this method. Here we will guide on how to flash Stock ROM using Intel Phone Flash tool. For this, you need to download the pre-required tools and drivers before upgrading your device.
Intel Phone flash tool is a tool used to flash stock ROM running on Intel Chipsets including smartphone and tablets. In this guide, we have managed to do a step by step guide on how to flash stock ROM using Intel Phone Flash tool program.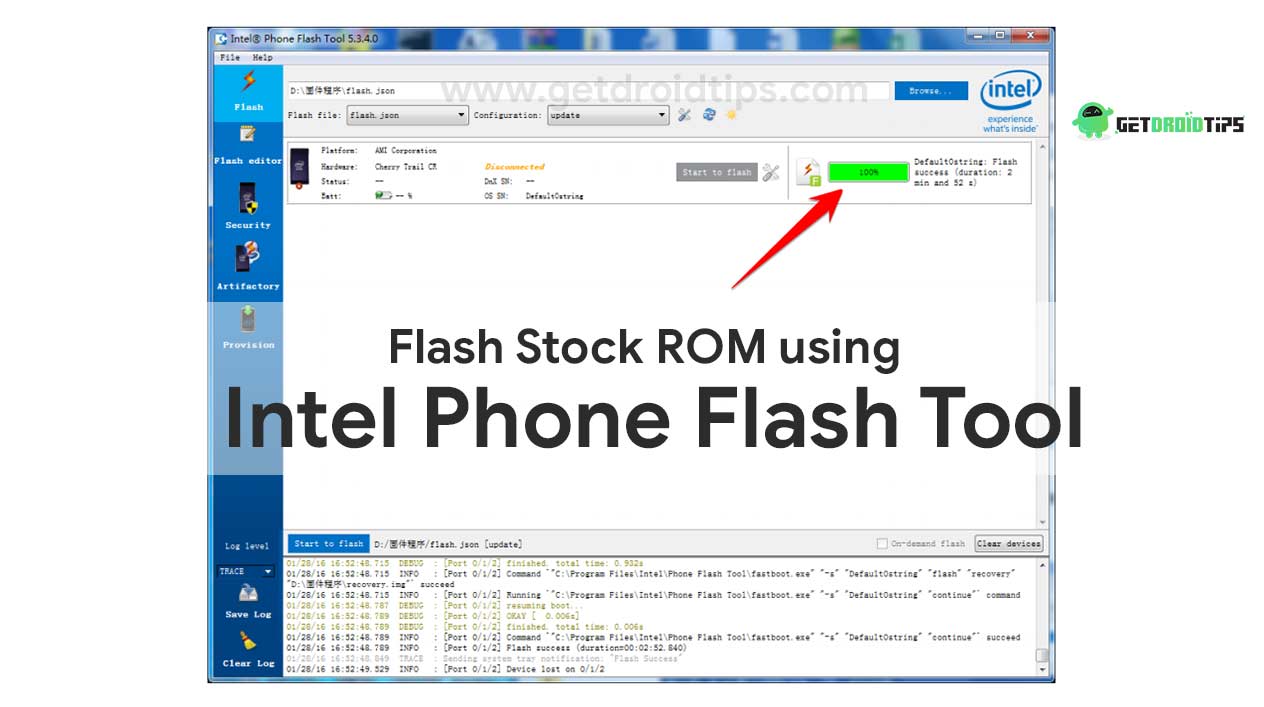 Steps to Flash Stock ROM using Intel Phone Flash tool:
Before following the guide, first, make sure to download the required tools and drivers.
Pre-Requisite:
Please note that this guide will work only with the Intel Powered Tablet and Smartphone.
You should have a Windows Laptop or PC for this guide.
Make sure that your device has at least 60% charge left.
It is always recommended to take a backup of your tablet.
Download Intel USB Drivers and install on your PC.
Download isoc USB drivers and install on your PC
Install Phone Flash tool: Install the Latest Intel Phone Flash Tool
Instructions to Install:
First of all, power off your device.
Now download and extract the stock ROM on your PC that you want to flash.
Open the Intel Phone Flash tool exe icon from the desktop
Now click on the Browse Button from the Right corner in the phone flash tool.
Now, look for the file name Flash.json or Flash.xml inside the Stock ROM extracted folder.
After selecting the "flash.json" file, change the "Configuration" option to "update" as shown below.
After rebooting, choose to enter the Android system, open "Settings", open "Developer Options", find and open the "USB Debugging" option. As shown below.
Now connect your phone to PC. After the computer detects the device driver, the "Start to Flash button" will appear in the upgrade tool. Indicates that the tablet is connected to the computer successfully, as shown below
Click the "Start to Flash" button to start installing the firmware.
Wait for a few minutes. The whole upgrade process takes a long time. Please wait patiently. Do not carry out other necessary steps during the upgrade process.
Once it process completes, It will display 100%, the upgrade is successful, and the tablet will restart automatically. Unplug the data cable that is not connected to the tablet and turn off the computer.
That's it! You have successfully flashed the Stock ROM using Intel Phone flash tool. Now you need to perform the factory reset by going into "Settings -" backup and reset – "Restore factory settings -"
I hope this guide was very useful, if you have any questions regarding this, please leave a comment below.