These days pop-up ads are one of the biggest concerns for online users especially those who browse websites mostly. As each and every website is using promotional advertisements to get earned from it, some times the phishing sites or malware can cause trouble to you. By clicking on those links or ads, either your personal information will be compromised or any malware/adware will be pushed on your device. Here we've shared the guide on How to Stop Pop Up Ads on iPhone [Easy Steps].
Though, Apple devices are supposed to be much safer and private when it comes to data leaking or activity tracking or even hacking. Still, if you're online, then you're not safe at all. Therefore, it's recommended and always a good idea to stop unwanted pop-up ads on your iPhone by following some of the possible and easy workarounds. Let's jump into it.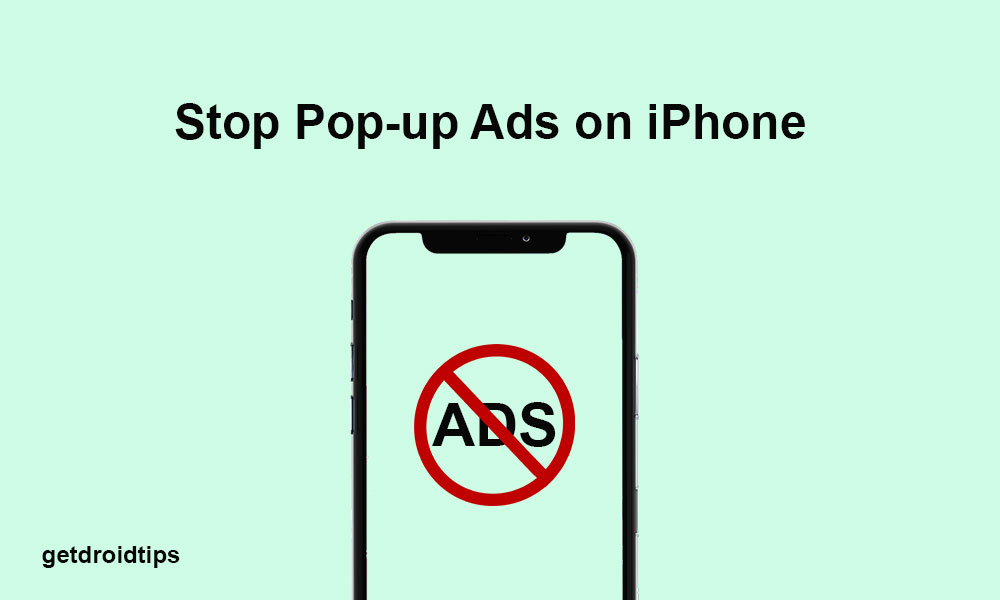 How to Stop Pop Up Ads on iPhone
Even if you're an iPhone user, you will get pop up advertisements on your browser. Either you're using the Safari browser or any other third-party browser, the pop-up ads won't be stopped until you set some of the options on the browser. It's worth mentioning that you will still get pop-ups as plenty of websites are using pop-up windows for login, subscription, newsletter, etc.
Therefore, the hackers or criminals can easily take advantage of this loophole and you can be trapped easily. Here we've shared a couple of solutions that you should follow.
1. Block Pop-ups on Safari Browser
Most of the iPhone users always prefer Safari as a primary browser instead of any third-party browser. We really appreciate it as Safari is one of the reliable browsers for iOS and Mac devices. If you're also a Safari user and want to block pop-ups while browsing websites on your iPhone, then follow some of the steps below.
Head over to the iPhone Settings menu > Scroll down a bit and tap on the Safari > Navigate to the Block Pop-ups and turn on the toggle.
Next, scroll down a bit and turn on the Fraudulent Website Warning toggle.
That's it. Now, you will notice a huge drop in the pop-up ads on your Safari browser.
Additionally, you can also try clearing cache and other website data to stop the pop-up ads up to maximum. Just follow the steps below.
Launch the Settings menu on your iPhone.
Go to Safari > Scroll down a bit and tap on Clear History and Website Data.
You will have to confirm to clear history & data.
2. Use AdBlocker on Safari Browser
Though the Safari browser will start blocking pop-up ads on your iPhone after performing the above method, it can cause issues with some of the legit websites as well. There are some of the adblocker apps available on the App Store that works really well.
Here we assume that you're using the AdGuard app to block pop-up ads. AdGuard app is one of the popular ad blocker apps for iOS devices.
Go to the App Store and search for the AdGuard app. (Click on the link to install directly)
After installing the app, open it.
Now, go to the device Settings > Safari > Content Blockers.
Turn on the AdGuard General toggle.
3. Block Pop-ups on Chrome Browser
Launch Google Chrome browser > Tap on the 3-dot icon on the bottom-right corner.
From the menu, go to Settings > Tap on Content Settings.
Turn on the Block Pop-ups.
4. Enable Limit Ad Tracking on iPhone
Go to the iPhone Settings > Open Privacy Settings > Scroll down to bottom and tap on Advertising.
Turn on the Limit Ad Tracking toggle.
Additionally, you can tap on the Reset Advertising Identifier option to clear advertising preferences.
By enabling this option, doesn't stop pop-up ads. But you will get lesser targetted advertisements on your iPhone while browsing the internet.
5. Use Screen Time to Stop Pop Up Ads on iPhone
Open the device Settings > Go to the Screen Time option.
Tap on Content & Privacy Restrictions.
Turn on the toggle and tap on the Advertising option.
Select Don't Allow.
Tips:
Additionally, you can specific ad-blocking browsers for your iPhone like Brave browser or Firefox Focus browser or Ad-Blocker Pro. Just go to the App Store and search for an adblocker. Then check which one has better ratings and which one seems good to you. Install the app and check whether it helps or not.
That's it, guys. We hope that you've found this troubleshooting guide useful. For any queries, let us know in the comments below.