Wondering how to own and raise chicken livestock in SoS: Friends Of Mineral Town? Players will encounter several animals during the game; one of them will be chickens.
As expected, the chicken will lay eggs and products chicks for the player. In today's guide, we are going to look into how to buy and raise chickens and where to find them. Let's get started!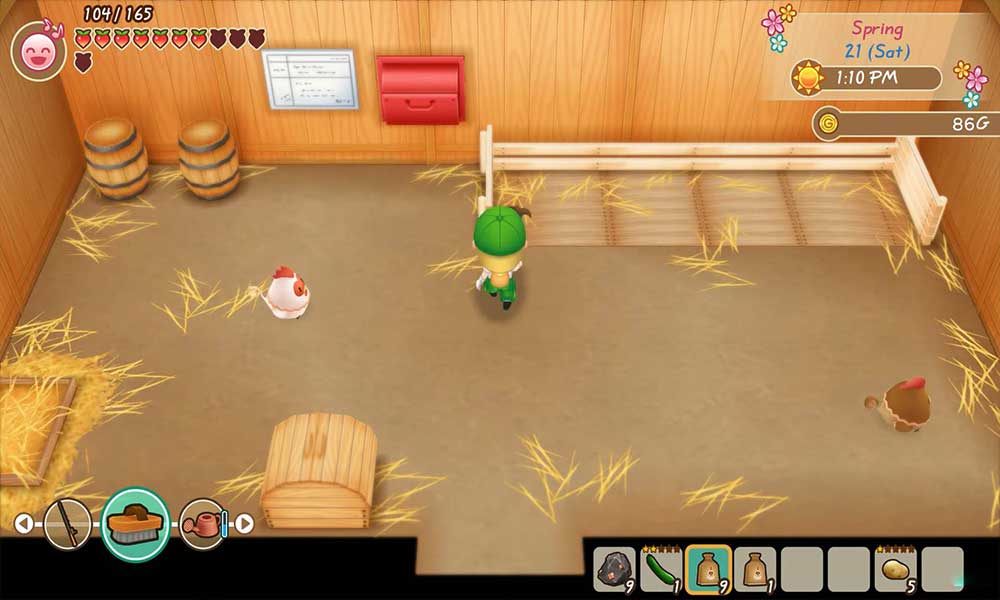 SoS: Friends Of Mineral Town – Buy and Raise Chickens Guide
Chickens will be one of the first animal encounters in Story of Seasons: Friends of Mineral Town. Players will be able to raise them inside their chicken coop, and if they are properly taken care of, the chickens will lay eggs as well.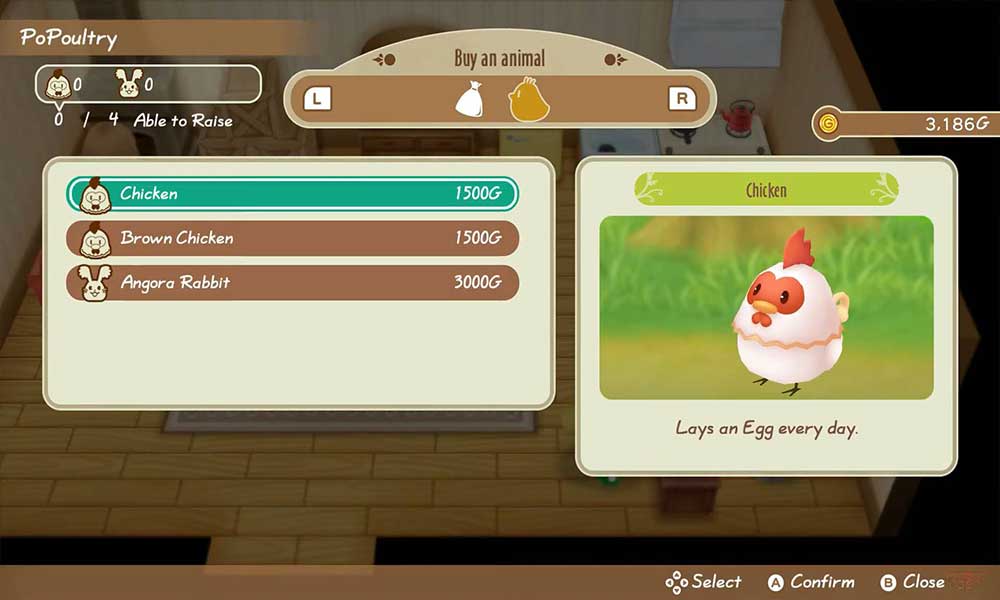 Fortunately, taking care of chickens in Story of Seasons: Friends of Mineral Town simply involves feeding them and letting them roam about in the yard for a little. If players can get a hold of one chicken, then they will be able to get more easily.
Players can get chickens in Story of Seasons: Friends of Mineral Town through Po Poultry. Check the image below to take a look at the Po Poultry.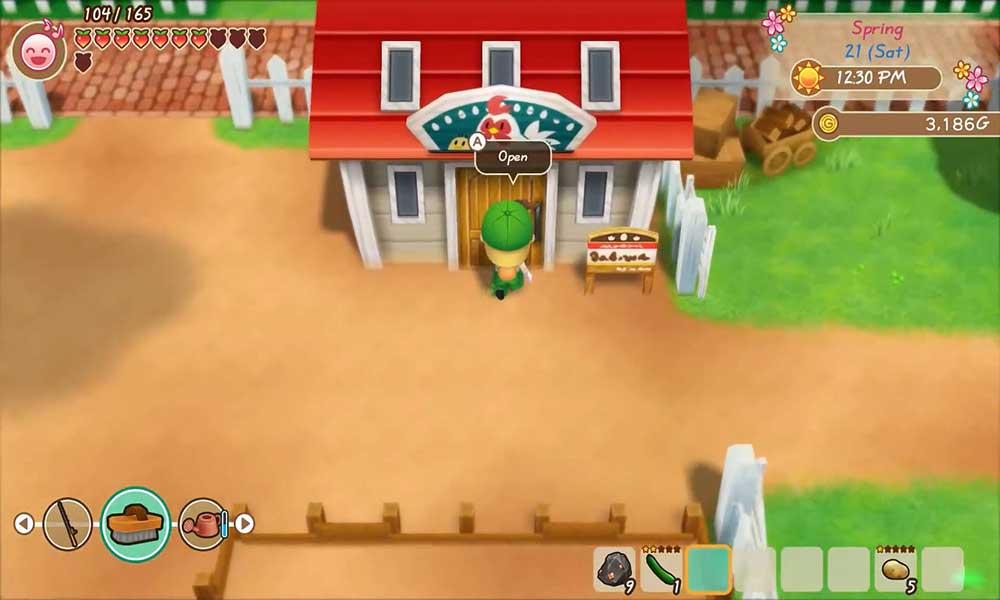 Po Poultry is open on all days except Sundays and operates everyday between 11 am to 4 pm in the evening.
There are 2 types of chickens available for purchase at Po Poultry:
Chicken (1500 gold)
Brown Chicken (1500 gold)
Po Poultry also sells chicken feed at 10 gold.
How to Make More Chickens?
In Story of Seasons: Friends of Mineral Town, starting with one chicken, is all that players need. From it, players can get eggs and raise more. The reason for this strategy is that an animal that has been purchased will not share the same amount of love as one that was born and raised on a player's farm. The animal's feeling is very important as it directly affects the quality of food they will put out. This means, for bigger and better quality eggers, always keep your chickens happy and loved!
Each chicken coop will have its own incubator for hatching eggs. Just places them inside and wait for a couple of days for a new chicken to be born. The natural growth period for a new hatchling is a couple of weeks. Once it reaches the adult stage, it too will be ready to lay its own eggs.
How to Take Care of Chickens?
If players want their chickens to lay eggs, they need to be fed each day. There are 2 ways to feed your chickens in SoS: Friends Of Mineral Town, through the chicken feed that can be purchased from Po Poultry or through the players, own chicken feed. To set up the chicken feed method, players need to stand near the chicken and select A key to begin hand feeding it.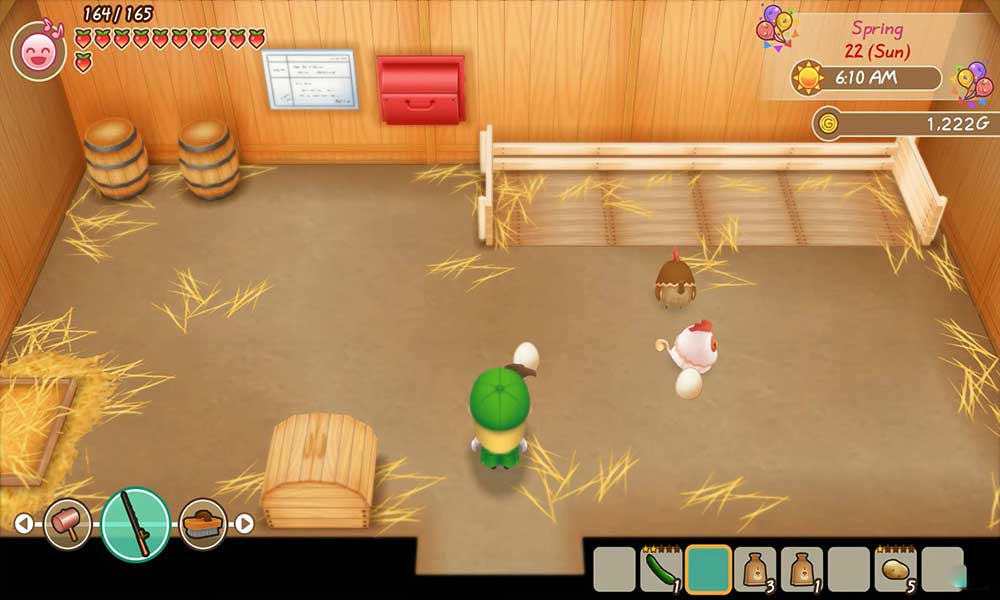 Players can place their chicken feed inside the chicken coop or put them outside the coop by hitting the bell. It should be noted that chickens that are outside all day need not be fed as they will find their own food. It is recommended to hand feed the chickens to improve the bond and love between the animal and the player.
The next question to ask is, how much chicken feed should players buy to feed the chickens in SoS: Friends Of Mineral Town. Fortunately, there is a way to avoid spending a lot of money on Po Poultry chicken feed. Players can make their own feed in Friends Of Mineral Town from the small water mill that is not at all far from the chicken coop. To get a chicken feed from it, players have to interact with it and put corn into it. For each lump of corn that is put into the mill, players can make 30 bags of chicken feed. The bags of chicken feed can then be stored inside the coop, in the red bin.
What to do with chickens?
Once players have enough chickens on their farm, they can sell them at Po Poultry.
Make bigger Chicken Coop?
Should players want to increase the size of their chicken in SoS: Friends Of Mineral Town, they will have to head over to Gotts at his workshop. Gotts is located in the South of the map. In order to increase the size, the following items will be required:
This concludes our guide on how to buy and raise chickens in Story of Seasons: Friends of Mineral Town. If you liked this guide, do remember to check out our other Windows Guides, Gaming Guides, Social Media Guides, iPhone Guides, and Android Guides to read more. Any queries or suggestions? Comment down below with your name and email ID, and we will reply shortly. Also, subscribe to our YouTube Channel to watch awesome videos on gaming and smartphone tips and tricks. Happy Gaming.