StubHub is one of the most popular ticket purchases and resale agency based out of the US. Last year it was acquired by ViaGoGo. In this post, we will take a look at whether based on various legit online reviews and purchase experiences of buyers, StubHub is a legit site for a ticket purchase or not.? The point is to help out readers on the digital platform to decide where they can purchase their tickets.
Normally, people prefer a portal or an agency for ticket booking that is flexible with pricing and refund. So, I have rounded up some reviews of customers that are complaining that StubHub has changed its policy of refund due to COVID 19. We will take a look at that and see what exactly is the issue.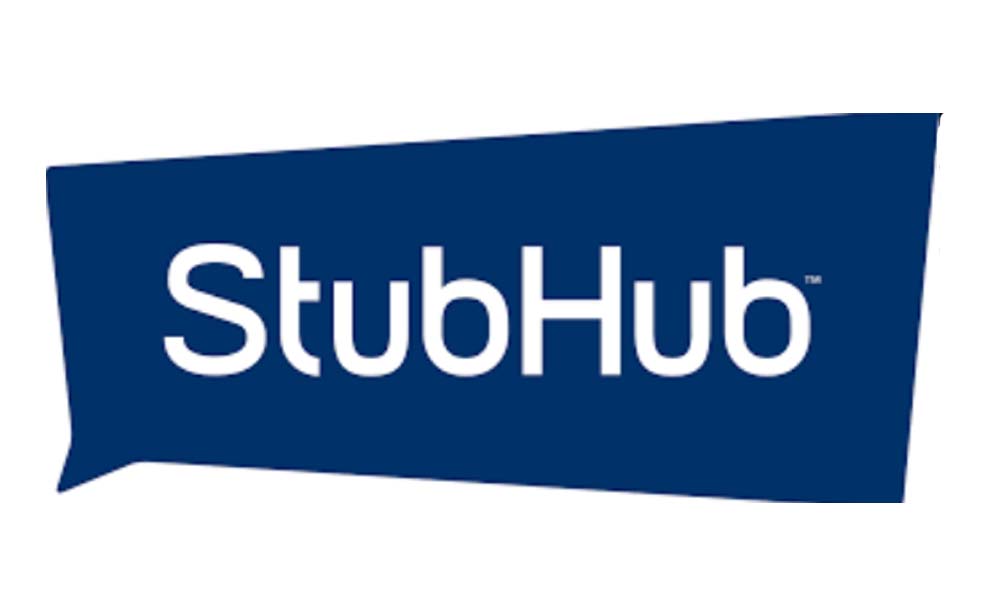 StubHub Legit or Not: What Users Have To Say
Apparently, due to the ongoing COVID situation, all the shows that have been scheduled earlier are now canceled. Naturally, the buyer will want a refund. Though most event promoters may assure postponing the event to a future the chances are slim that it will happen. The world is yet to find a solution for COVID. So, the probability of the shows happening is almost nil. Hence, those who bought their tickets from StubHub now want a refund.
I have come across some insightful reviews from the internet regarding StubHub which I have shared below. Buyers are complaining about the latest policy change as an unfair move from StubHub. Most are stating that in the future they will not make any ticket purchase from StubHub.
Online Reviews of StubHub
Stubhub has changed its policy in recent times. As per this user's review from a consumer review portal, the US-based ticket exchange now doesn't allow refund of their sold tickets for canceled events.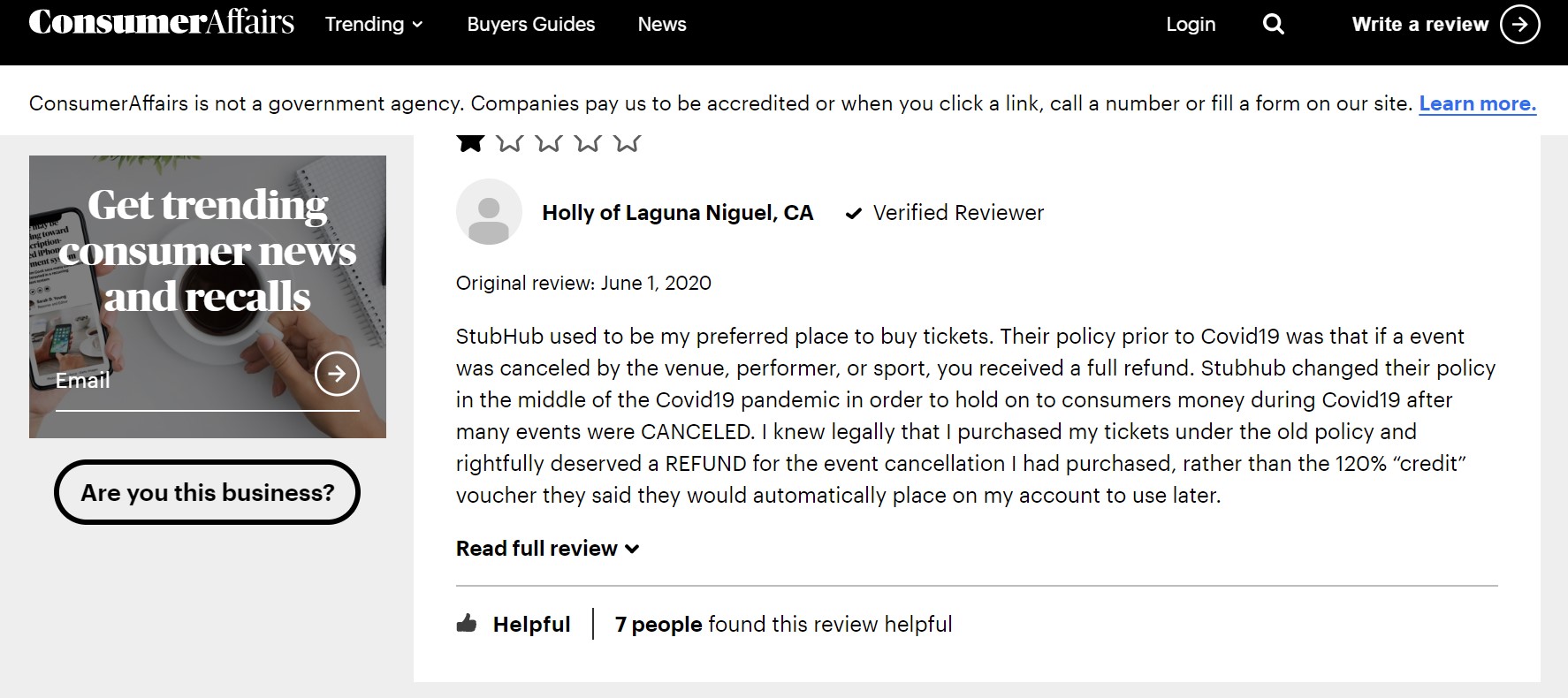 This person says that he/she bought the ticket while the older policy of StubHub was active which allowed issuing of the refund to the buyer on an event cancellation. However, users are being offered a 120% credit voucher. This means it is a coupon that you can redeem for a future event instead of buying a new ticket. Now, we are not sure when live shows will happen where there will be a gathering of thousands of people. The pandemic is far from over.
As per another buyer, the purchase of tickets follows the Fan Guarantee concept. The tickets are actual but they are not for refund in case cancellation of the event happens.


Interestingly, a buyer says that he was notified from StubHub that he will get a refund within 30 days of the event that got canceled due to COVID. However, later he was issued a 120 % credit that expires next year i.e 2021. We are not sure when we can expect public events to happen in a full-fledged manner as it used to happen.
The government in many nations is carrying out lockdown for a reason. In many places, series lockdowns are happening right now. So, unless a vaccine comes out, there are zero chances of an event is happening with full public attendance.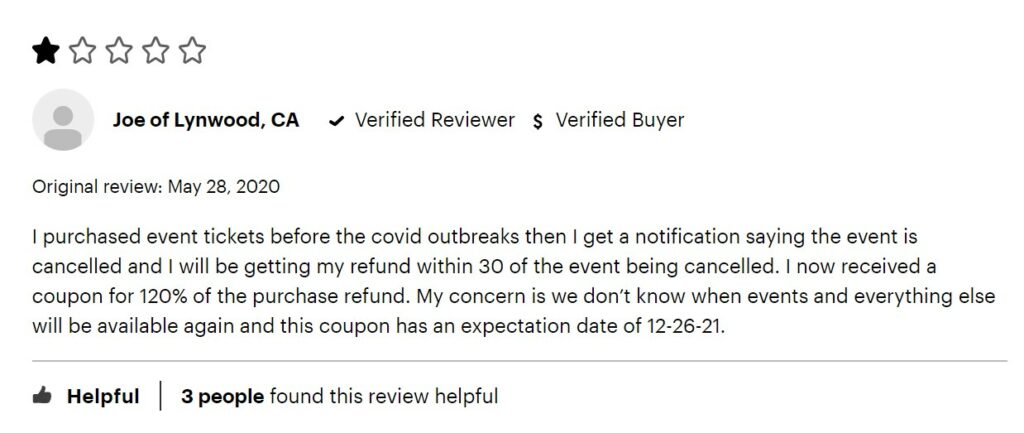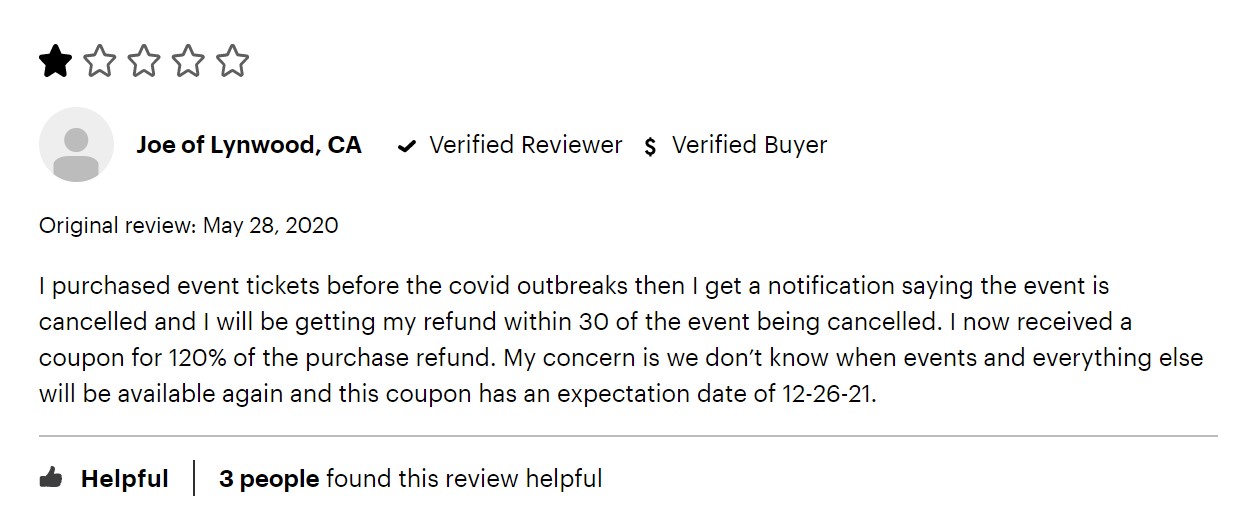 Artist and Venues Refunded the Money
Another buyer mentions that the musicians and venues have done their part in refunding their share of the money. However, StubHub doesn't provide a refund and instead is giving out the coupon for future events. Some users are complaining that even though the event got canceled there is no sign of any refund from StubHub even after months. Being a premier ticket exchange agency it should not be a difficult thing for them to process refunds if they process ticket booking in a count of thousands in a day.
No Refund for Processing Fees
Another user says that there is a processing fee of $40 per ticket which is also not being refunded by StubHub. Normally, I have seen ticketing agencies giving back the processing fee in case they do not have a policy of doing a reverse transaction of the whole amount.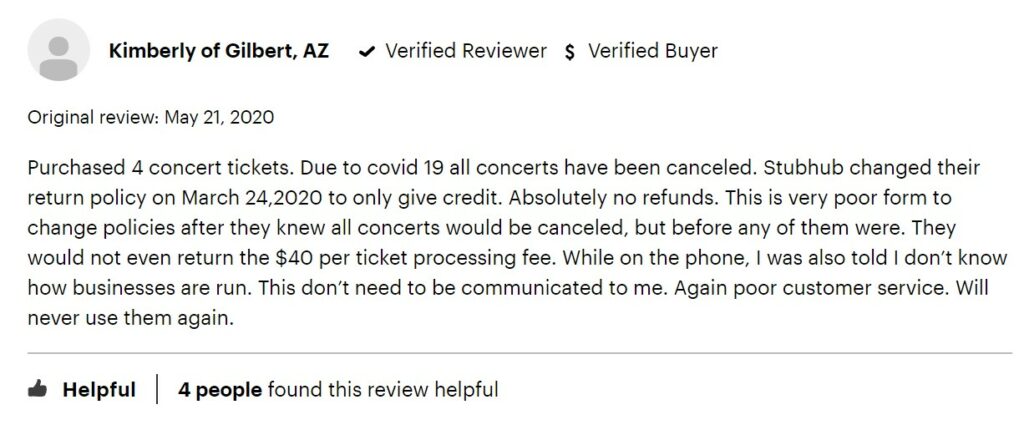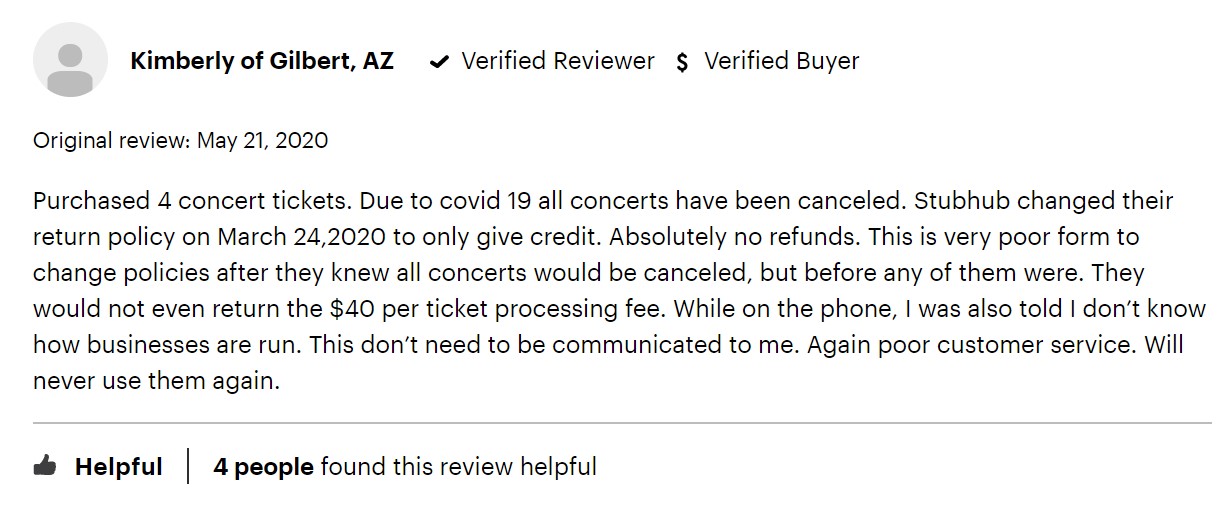 Disclaimer
The reviews we have cited in the article sources to ConsumerAffairs.com. These reviews are the personal experience and statements of the buyers involved with the purchase of the tickets from StubHub.
Bottomline
I think StubHub kind of understands that refunding that much amount of ticket amount to all the audience of the canceled events may cause loss to their business. So, they are providing coupons for future events that we don't know whether will happen or not. Now, if the event doesn't happen in the future, and the expiry of the coupon runs out, then all the money stays with StubHub. The customer gets nothing- neither an event nor refund money, and no refund for processing fee.
The unfair part was StubHub changing its refund policy right in the time when every event all over the world was called off due to the pandemic. Customers who paid over $500 now not getting back their money. Instead, they are being handed coupons. Some are even yet to get the coupon.
Have you bought tix from StubHub.? What's your experience with them.? If you bought your ticket this year before COVID did you get your refund for the canceled event? Do share your thoughts in the comments section below.
Read Next,