Are you on the lookout for a safer way to find and download torrents? If that is the case, then this guide will fulfil your requirements to the fullest! Read on to discover some of the best VPNs for torrenting that you can use in 2020 without having to worry about your privacy and other details.
A VPN or a Virtual Private Network gives you access to geographically locked content that you might not be able to view with your current location. Think of a VPN as a location spoofing service – not only does it grant you greater access to the contents of the internet, but it does so while also shielding your identity and IP address. There are many uses for a VPN such as being able to unlock specific shows or movies in Netflix or Amazon Prime Video that are otherwise unavailable in your location. Some people even use VPNs for work-related tasks.
While most of the VPNs work just as advertised, when it comes to torrenting – there are only handful ones that work. The primary reason being the fact that torrenting is largely seen as an illegal hobby that many people have. We at GetDroidTips do not commend the use of torrenting to pirate movies, TV shows or other programs and games. However, there are various other uses of torrenting that are completely legal. Many people prefer uploading and downloading larger files via torrents and for them – this is the perfect guide.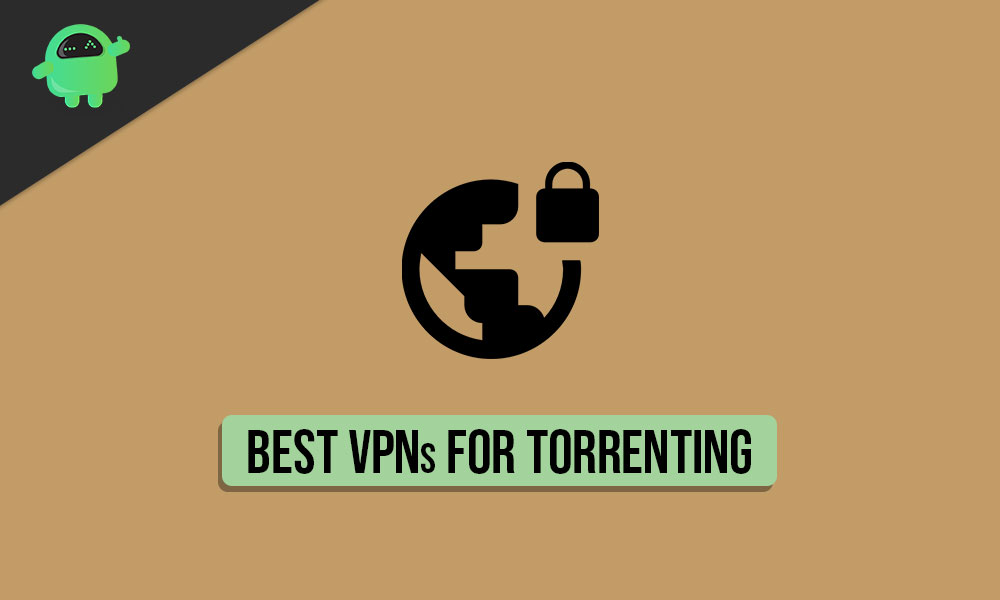 If you have been torrenting for the past couple of years, then you must already have come across shady ads, popups and other notifications on the websites you rely on. While the chances of your privacy being breached aren't too high, it is always better to be safe than sorry. There are still many times where we have to go out of our comfort zone into trying out suspicious websites just to get that one torrent you have been finding forever. In such a case, the need for a VPN to shield your personal identity and IP address is a must. Lucky for you, we have compiled a list of some of the best VPNs for torrenting that you can use in 2020! So sit back, relax and enjoy the read!
Best VPNs for Torrenting in 2020
#1 – NordVPN
To start this list off, we have one of the most recognizable contenders in the VPN space – NordVPN. There is a high possibility that you have already heard about NordVPN through advertisements, sponsorships or by other means and that speaks volumes about its popularity and trust. NordVPN has one of the best torrenting functionality too – with the best-in-class speeds and top-tier security.
Just like most of the other VPN services, NordVPN also has a strict no-log policy, keeping your browsing history and other activity completely oblivious to everyone but you. It supports double encryption – something that will benefit the most paranoid of minds reading this article. One of the best parts about using NordVPN is the fact that the connection always stays strong and even if you run into any issues, the support is really great.
As mentioned before, NordVPN supports torrenting without any issues. When it comes to pricing, you get a few choices to fit your needs just fine. You can go with either a monthly subscription ($11.95 per month) or a yearly pack ($6.99 per month). There is also a 2-year package that will run you way cheaper by the month ($3.49 per month). You can learn more about NordVPN by following the link given below:
Try out NordVPN
#2 – ExpressVPN
Up next on our list is yet another popular VPN service. ExrpessVPN needs possible no introduction to, so we'll just get straight to what it offers and why you should consider it over the other choices you might come across. Put simply, ExpressVPN is the best experience you can get while torrenting. The 3000+ servers that ExpressVPN offers means that you will face almost no downtime and will receive some of the fastest speeds while downloading or uploading gigabytes of data.
It is supported in over 94 different countries and is most popular in the United States, Pakistan and Australia. One of the best features of ExpressVPN is the kill switch functionality which gives you thorough control over your VPN use. It is good to note that while this kill switch feature is available for Windows, macOS and even Android, iPhone users are deficient of this functionality. Just like NordVPN or the other ones that are popular, ExpressVPN keeps no logs of any of your activity.
Pricing is a bit on the steeper side, and we wouldn't recommend this if you are on a strict budget. However, for the speed you get and the convenience it offers, we feel it is well worth the asking price of $12.95 for a month or $6.67 per month for an annual plan. You can also get the 6-months package for a fee of $9.99 per month. You can learn more about ExpressVPN by following the link given below:
Try out ExpressVPN
#3 – TunnelBear VPN
Next up on our list of some of the best VPNs for torrenting in 2020 is TunnelBear VPN. You must have already come across the famous bear mascot of this VPN service and if that isn't compelling enough, we don't know what else is. Anyways, coming to its security features, TunnelBear VPN definitely does not disappoint with its high-grade encryption and protection against attacks over the internet.
However, if you need the absolute best security, we wouldn't personally recommend TunnelBear VPN. While it lacks a bit in the area of security and privacy when compared to the likes of ExpressVPN and the others on this list, it quickly makes up for it all when it comes to the ease of use and the user interface. TunnelBear VPN boasts a no BS interface that anyone can get used to without much effort.
The best part about using TunnelBear VPN is the fact that it offers a very compelling free plan. You can pretty much use the VPN entirely for free without paying a single dime although with a cap of 500MB per month. Although, TunnelBear VPN gives you an additional 500MB for tweeting about its service or sharing it on other social media platforms, effectively giving you a 1GB data cap per month. TunnelBear VPN does cost a hefty $9.99 per month but offers a truly unlimited experience with really good speeds. You can learn more about TunnelBear VPN by following the link given below:
TunnelBear VPN
#4 – Private Internet Access
Ending our list of some of the best VPNs for torrenting to try out in 2020, we have Private Internet Access. It is yet another one of the most popular VPN services out there. It has all the features you could ask for in premium service and then some. When it comes to the speed and consistency in connectivity, the 3300+ servers ensure you get the best experience while downloading large files such as torrents or even streaming at 4K.
The subscription gives you access to the VPN service for up to 10 of your devices, which we feel is a healthy number of phones, laptops and desktops that the entire family uses at home. The servers are P2P as well, giving you a high level of encryption and good speeds throughout. Again, Private Internet Access does not store any of your logs so privacy is something you shouldn't be bothered about while using this service at all.
When it comes to torrenting, you may expect the fastest speeds possible and maximum security against ransomware and other threats to your personal identity or your IP Address. The pricing is also highly affordable with the yearly subscription costing only $3.33 per month. There is also a 6-month plan you can avail which will run you $5.99 a month. You can learn more about Private Internet Access by following the link given below:
Private Internet Access
That's all, folks! We hope you enjoyed our roundup of some of the best VPNs for torrenting to try out in 2020! Which one among the list is your favourite, and how many of the best VPNs for torrenting have you already known or have been using? Know other good VPNs for torrenting that you feel people might find interesting and helpful in improving one's vocabulary? Do let us know in the comments section below; we'd be delighted to hear from you guys!