If you have been looking for ways to use quick login features on your iPhone or other iOS devices, this is the perfect guide for you. Read on to discover some of the best iCloud Keychain alternatives for iPhone and iPad to use in 2020!
If you are an Apple user and own an iPhone or an iPad that you use religiously, you must have stumbled upon the iCloud Keychain utility. In a simple explanation, iCloud Keychain is basically like a built-in password manager for all your apps and websites. It is cross-compatible with all your Apple products, including your iPhone, iPod Touch, iPad and even Macbook. The reason why you might want to enable and use the iCloud Keychain feature is just how significantly it reduces your login time and also helps you if you always keep on forgetting your credentials.
Having a utility such as iCloud Keychain is useful in many ways, you could speculate, and the best part about it is that it comes built-in with iOS. You don't have to download a third-party app and rely on it to store and manage your passwords and usernames. However, the biggest drawback with iCloud Keychain is the fact that it offers very less when it comes to features and customizability. You don't even get a proper app interface to use all your stored credentials. Some crucial features that iCloud Keychain lacks are a safety vault that only you can access and a standalone app that you can access easily.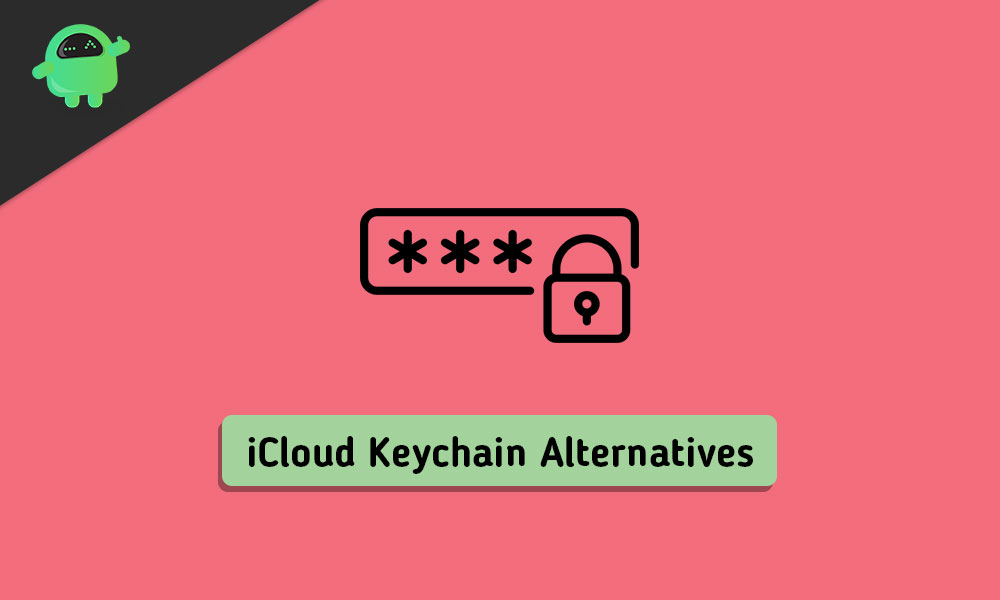 However, one of the biggest drawbacks with iCloud Keychain is that it is only supported between Apple devices and does not expand to Windows or Android users. Now the likelihood of you owning an Android device and an iPhone is less, but many people still use Windows laptops. Thus, finding a third-party solution will grant you more features and enable cross-platform support. That said, which are the best password managers for iOS out there? Well, we did the digging and found the top 5 iCloud Keychain alternatives you should consider!
Top 5 iCloud Keychain Alternatives for iPhone and iPad
#1 – Enpass Password Manager
The first alternative to iCloud Keychain we will be talking about is Enpass. It is a feature-packed third-party password manager that will probably excite you the most in this list. The reason being that it is free for the most part, and you gain access to almost all the features that are otherwise found in the premium subscription packs of other password managers. With Enpass, you have no restrictions on how many passwords you can store in the cloud and also never have to worry about security thanks to the high-grade AES 256 Bit key encryption. Other features of Enpass include a sharing feature which allows you to securely share your login credentials to your friends or family members. You can download the latest version of Enpass Password Manager on your iPhone or iPad by following the Apple App Store link given below :
Download Enpass Password Manager
#2 – 1Password
Next up on our list of the best iCloud Keychain alternatives is 1Password. If you've heard of this service already, we wouldn't be surprised since it is one of the best-regarded password managers out in the world. One of the biggest reasons why we love 1Password is its extremely clean user interface and design. It follows the general bright white theme that all Apple devices are known for, and has options laid out neatly and in a way that is easy for anyone to understand. You can also use TouchID if you have an older iPhone or FaceID if you use a recent device to unlock apps even quicker, with an added layer of security. You can download the latest version of 1Password on your iPhone or iPad by following the Apple App Store link given below :
Download 1Password
#3 – LastPass
The third alternative to iCloud Keychain for your iPhone or iPad on our list is a very well known third-party password manager. So well known in fact, that we don't even think we need to spend a lot of time talking about its features and just leave its popularity as a token of proof. LastPass is everywhere and is easily one of the most used password managers worldwide. While it doesn't stand out in terms of features or pricing than the other password managers it competes with, it is known for its reliability and good experience no matter which platform you have it installed on. You can install LastPass on your Android phone, iPhone, iPad, Macbook or even add it as a Chrome extension. You can download the latest version of LastPass on your iPhone or iPad by following the Apple App Store link given below :
Download LastPass
#4 – SafeInCloud
Another viable alternative to iCloud Keychain that you can use to store and manage passwords for your iPhone and iPad apps is SafeInCloud. The first thing you will notice when you install the app is the outdated user interface, and while it might be a huge turn off for many people, we find it excels in one area that might be enough to topple those users into using this app anyway. Pricing is the key aspect with this password manager, all it asks for is a one-time purchase that grants you a lifetime's worth of usage. The best part is also that it supports a web version which you require no additional subscription to use. So if you prioritize pricing and functionality over the looks and feels of your password managing apps, then this is probably going to be the best option suited for you. You can download the latest version of SafeInCloud on your iPhone or iPad by following the Apple App Store link given below :
Download SafeInCloud
#5 – Firefox Lockwise
The last app on our list of some of the top iCloud Keychain alternatives for iOS devices is Firefox Lockwise. Not only is this one of the simplest password managers to install and get used to, but it is one of the most secure ones out there as well. While the name implies as such, you don't need to use the Firefox browser in order to use the password manager, since it is fully cross-platform enabled and supports all the apps on your iPhone or iPad. While Firefox Lockwise might not have half as many features and customization options available as the other password manager apps on this list, it is a quick and easy solution that works splendidly. All you need to do to store login credentials for a website or service is log in once, and it will be saved to the Firefox Lockwise database automatically. You can download the latest version of Firefox Lockwise on your iPhone or iPad by following the Apple App Store link given below :
Download Firefox Lockwise
#6 – Dashlane
Dashlane offers features similar to 1Password and LastPass, but it stands out with its automatic password changer, which can update certain passwords without user intervention. It also offers a VPN for online privacy.
Download Dashlane
That concludes our list of the best iCloud Keychain alternatives that you can use on your iPhone, iPad or any Apple device! If you enjoyed the list, then do give our other reads a try! If you have any suggestions other than the one's on this list that you really prefer, do let us know in the comments below since we would love to hear your opinion!