It may possible that you've somehow forgotten or lost your Windows 10 log-in password and you're just unable to remember or bring that back. Well, that's a pretty weird situation, and most of the time we feel helpless to start using our Windows 10 computer. Sometimes it's also hard enough to recover passwords without an administrative account. Luckily, we've mentioned How to Recover Forgotten Windows 10 Password in 2023.
As we've already mentioned, after trying logging into the Windows computer, you may sometimes receive an error notice that says "We can't sign in to your account". Well, that's because either you've entered a wrong password by mistake, or forgot it, or even lost it unexpectedly. So, now what to do now? Maybe you've recently changed your Windows 10 login password or someone else has changed it without your knowledge.
Yes! That's can happen if someone is using your computer by using your account such as family members or friends, etc. In some scenarios, it can also be possible that you've signed into an older PC after a long time and you forgot the password which is quite common. But there are a couple of possible ways to bring back the forgotten password most probably.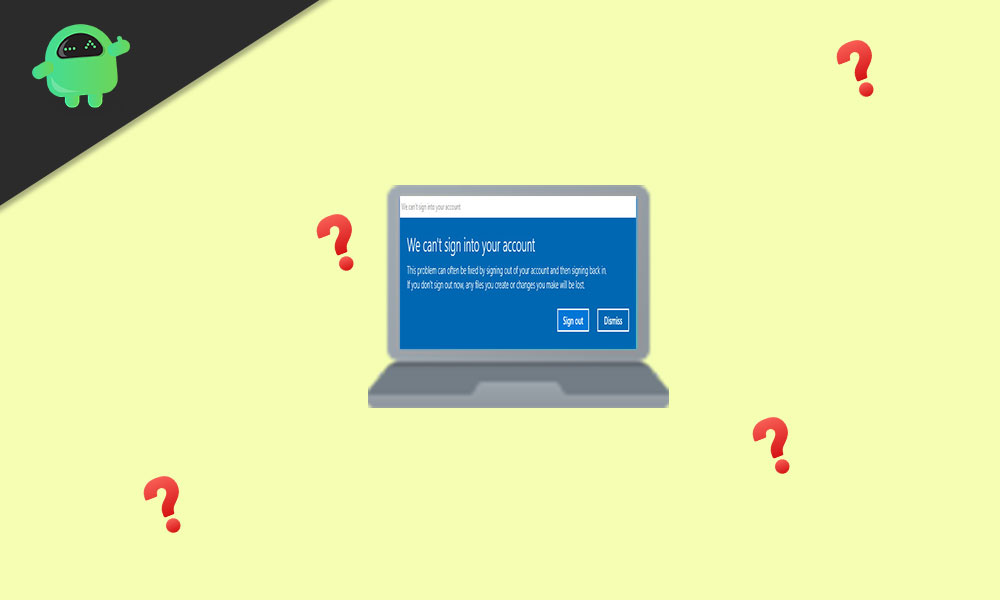 How to Recover Forgotten Windows 10 Password | 2023 Update
Before heading over to the solutions below, make sure that there isn't any easy way to recover the Windows 10 log-in password unless you're using a Microsoft account to log in. Windows 10 computer users can follow all the mentioned workarounds below such as using the password reset disk, logging into the other sign-in options, resetting the Microsoft account password online, and more.
1. Use 'I Forgot My Password' Option
You can the Microsoft Windows password reset process via the Microsoft login option as a first solution below:
Make sure that your PC is connected to the internet.
From the Windows 10 login screen, click on I forgot my password.
Now, type in your Microsoft account email address and press Enter from the next screen.
Then Microsoft will verify that it's actually you. You can ask Microsoft to send a code to your valid email or SMS to the mobile number.
Once you receive the verification code, enter it into the Windows login screen.
Finally, you'll be able to put a new password and set it.
You're done.
2. Recover Your Password on Windows 10
Turn on your Windows 10 computer and wait until you see the Windows logo.
Then unplug the power cord or hold down the power button to force the hardware to turn it off completely. Turn on the PC again and you should see the 'Preparing Automatic Repair' screen.
Now, the Automatic Repair option will appear on a blue screen.
Here click on Advanced options > Click on Troubleshoot.
Select Advanced options > Click on System Image Recovery.
A new interface will appear on the screen > Just click on Cancel to clear the dialog box.
Click on Next > From the next screen, select Advanced.
Then click on Install a driver > Confirm it by clicking on OK.
A new explorer window will open > From the left side of the screen, click on This PC.
Open up the C:\ drive or any other drive where you've installed the Windows 10 OS. [Should look like Local Disk (C:\) or Windows 10 (C:\)].
Navigate to Windows folder > Go to System32 > Scroll down the page and find out the file called 'utilman'.
Now, right-click on this file > Select Rename > Rename it to whatever you like. [Such as Utilmanpassword or something]
Please Note: Remember that name or note it down somewhere else.
Scroll up to the top and check for the cmd file.
Make a copy of that file by right-clicking on it and then selecting Copy.
Next, right-click on a blank area in the System32 page and select Paste. (Duplicate the cmd file. Nothing else)
Then make sure to rename the original cmd file to utilman.
You may need to right-click on a blank area again and select Refresh or press the F5 key.
Close all windows and select Continue to exit and continue to Windows 10.
After a few seconds, you'll see the Windows 10 login screen.
Now, click on the ease of access (clock type icon) from the bottom of the screen.
You'll see a command prompt > Type the following command line and hit Enter to execute it:
Net user
It'll show a list of usernames that are available for you to use right now including your own.
So, choose the username that you like and execute the following command line: [YOURNAME * should be replaced by username *]
Net user YOURNAME *
Now, Windows 10 system will ask you to confirm a new password.
Click on the ENTER button twice to use an empty password.
You're done. Close the window and log in with an empty password by clicking on the arrow button.
3. Use Windows 10 Password Reset Disk
Using a Windows 10 password reset disk is one of the official ways that has been advised by Microsoft to reset a lost Windows password. However, you'll have to create a Windows 10 password reset disk before your password is lost. To do so:
Press the Windows + I keys to open the Windows Settings menu.
Click on Account > If you see an email address below your user name and account photo, that means you already have a Microsoft account.
Here you can find out whether you're logged into the account as a local account user (administrator) or not.
Click on Sign in with a Microsoft account instead.
Now, you can register for an account by clicking on the Create one!
You'll have to either create a new Microsoft (@outlook.com) email address or use an existing email address.
Once done, set up a password according to your preference. [Make sure to write down the password somewhere else this time]
Type in your first and last name > Sign in to your account using the email and new password.
You're good to go.
4. Reset Microsoft Account Password Online
It's also better to visit the Windows Live Password Reset page on the official Microsoft website and reset the password online. It's quite easier than resetting your local account password from the Windows Settings menu.
Make sure that you'll require an alternate email account or phone number that you've provided while signing up for the Microsoft account. If you don't have access to it, Microsoft won't be able to verify your identity.
In that scenario, you can convert Windows 10 Microsoft account to a local account from the boot media. Once done, you can log back into the Windows 10 account without losing files.
5. Restore Windows 10 to the Previous State
If you're still unable to recover or generate the password for your Windows 10 account login then make sure to restore the Windows 10 system to the previous state using the system restore point (if created before).
Yes! If you've created the system restore point on your Windows 10 PC earlier then you can simply go back to that created restore point without any hassle. But all of your recent changes will be gone if you do that.
Whereas if you didn't create a restore point before, you should jump into the next method.
6. Reset Your PC
If none of the above methods worked for you, then try performing the reset to your PC by following the easy steps below:
Click on the Power icon from the Windows 10 login screen.
Select Restart > Press and hold the Shift key until you see the Troubleshoot page.
Click on Reset this PC > Select Remove everything.
Wait for the process to complete properly and it may take some time.
Once done, your Windows 10 system will reboot automatically.
Go through the initial setup process and enjoy!
7. Reinstall Windows 10
As a final resort, you can reinstall Windows 10 OS on the PC if you don't want to recover the forgotten password. You can follow this guide to do so.
That's it, guys. We assume this guide was helpful to you. For further queries, you can comment below.