SwiftKey is one of the most popular keyboard applications to have ever existed. It first debuted all the way back in 2010 for Android devices and is now available for iPhones and iPads as well. The app was acquired by Microsoft a few years ago and has still remained to be one of the most downloaded third-party keyboards for both Android and iOS.
What made SwiftKey so popular was the amount of customization it offered at a time when barely any keyboard application had any options at the disposal of the user. Even now, in 2021, SwiftKey has millions of active users who love their keyboard thanks to exciting features such as AI-powered predictions, stickers, emojis, cloud storage for easy backup and restore, and more.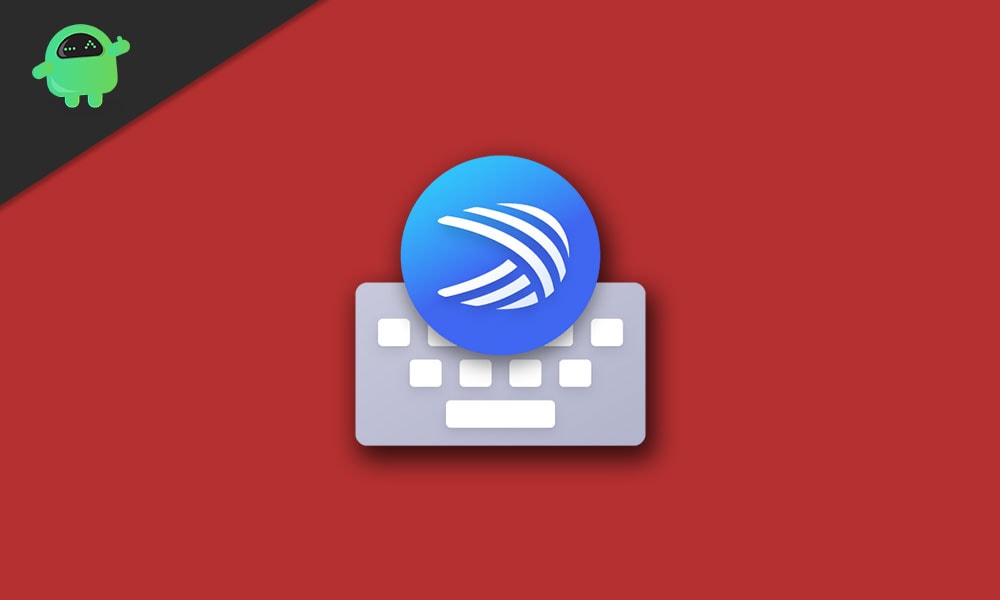 Best SwiftKey Alternatives for Android
In case you haven't enjoyed your experience with SwiftKey, but also dislike the default keyboard that comes with your phone, the Google Play Store is home to dozens of worthy alternatives. In this list, we will be taking a look at some of the best SwiftKey alternatives you can try in 2021. We have chosen keyboard apps that both – have a feature-set as huge as SwiftKey, and also those that try to stay minimal in terms of design and experience.
1. Gboard
Gboard is the first thing that comes to mind when we think about a keyboard that has it all. A simple, yet customizable interface? Check. One of the best support for sharing GIFs and Bitmojis? Check. Google translate built right into the keyboard for effortless communication? Also, check. There's a bunch of other things that Gboard packs in that make it a very feature-rich keyboard.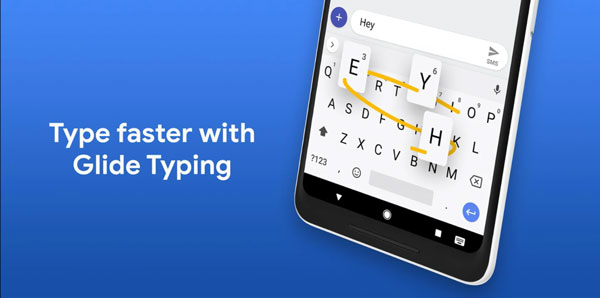 I personally have been using Gboard as my keyboard app of choice for a few years now, and it's the unique emojis and the great auto-correct that adapts to your typing style that makes the experience so good for me. Gboard is actually the default keyboard app for a few phones by manufacturers like OnePlus and Google.
Download
2. Grammarly Keyboard
If you type a lot on your phone, especially things for work or school, having Grammarly Keyboard installed could be a life-changer. It does exactly what it says – assists you in writing error-free sentences. I actually use the Grammarly extension for Google Chrome, and the number of times it picks up on minor mistakes always surprises me.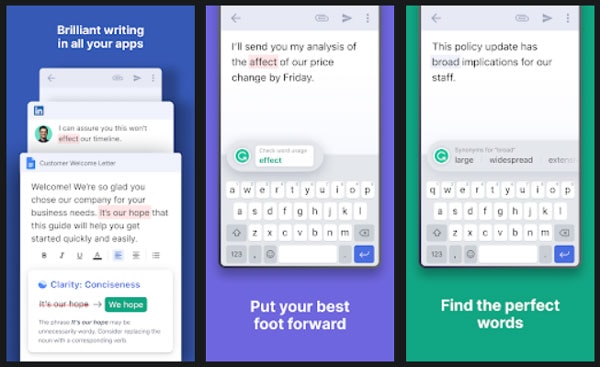 While Grammarly started as a tool to quickly fix any grammatical errors in your text, it has evolved much past that. Grammarly now recommends better sentence formation and gives you detailed reports about how your text sounds and which areas you could improve in. It actively displays a list of synonyms to the most common words you use to make your sentences sound less monotonous and content-rich.
Download
3. Fleksy
If the first two options on the list were a little too minimal for your liking, try Fleksy. With over 5 million downloads and hundreds of positive reviews, Fleksy is a prime example of how a good user interface could get you to the top ranks. Fleksy isn't known for nailing a single feature or gimmick, instead, it has them all covered modestly.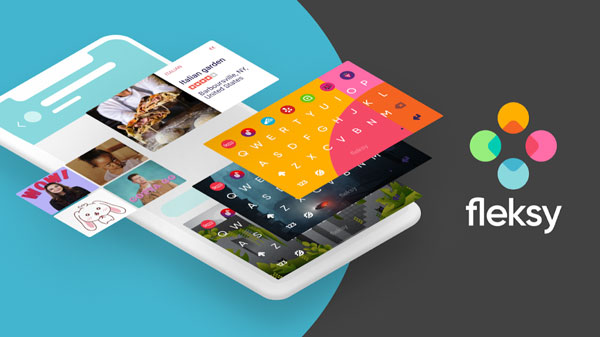 It comes with a good selection of GIFs, stickers, and emojis that you can send directly from the keyboard. Fleksy also has "mini-apps", which are essentially glorified search engines for things such as memes, stickers, and more. There are also hundreds and thousands of themes to choose from, something that both Gboard and Grammarly fall short of.
Download
4. Kika Keyboard
Kika Keyboard is a slightly new entry into the world of keyboard apps and has already taken off thanks to its exciting features. It has one of the most obnoxious, yet commendable themes store, offering looks that you would have never guessed. It also has built-in support for fancy fonts, which is something that we've never seen in any other keyboard application before.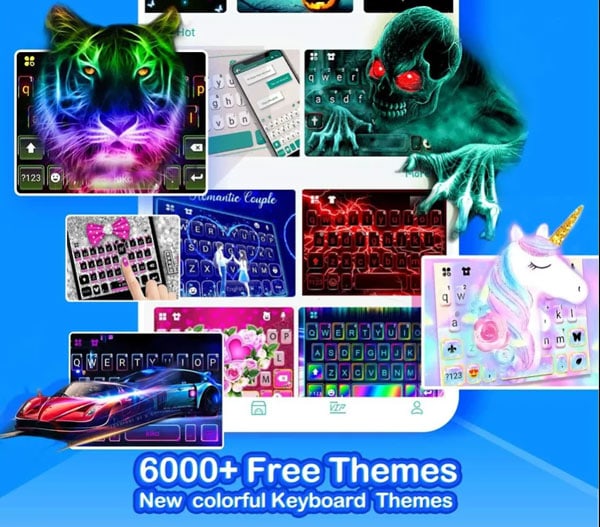 Kika Keyboard also has support for the usual GIFs, emojis, stickers, and even textmojis. It has predictive emoji support that makes it a viable option for all the emoji fanatics out there. Kika Keyboard also has a one-handed as well as a split-layout mode to make typing easier on bigger screens. It has the ability to switch between 150+ different keyboard layouts such as QWERTY AND AZERTY and supports quick-switching between two languages.
Download
5. Typewise Custom Keyboard
Ending the list, we have a very unique keyboard app for you to try. Typewise aims to help you completely reimagine your typing experience. It believes that by changing the traditional QWERTY layout to something more space-conscious, users will get much better at typing, making fewer errors, and increasing their typing speeds.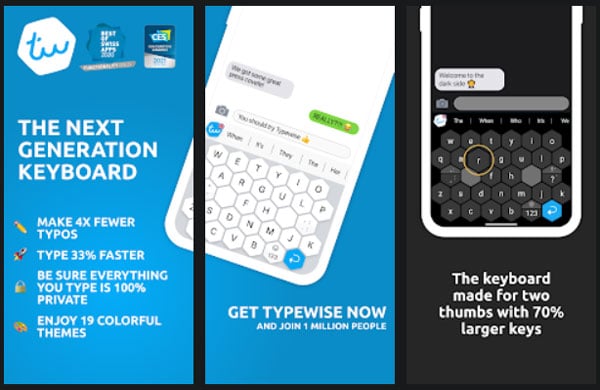 Typewise has a hexagon keyboard layout that is a complete departure from the classic QWERTY style, favoring bigger keys making it easier to type faster. The keyboard app is also very keen on offering the most secure and private experience, with a 100% offline mode that most other keyboards don't offer. Typewise also has a bunch of themes you can use to change the look and make the keyboard truly yours.
Download
Bonus: OS 14 Style Keyboard
We added a fun one at the end just to spice things up a bit. OS 14 Style Keyboard is essentially the iPhone keyboard for your Android device. It is very unexceptional at the beginning, but actually offers quite the fleet of features to mess around with. The keyboard uses cloud computing for better text prediction and auto-correct.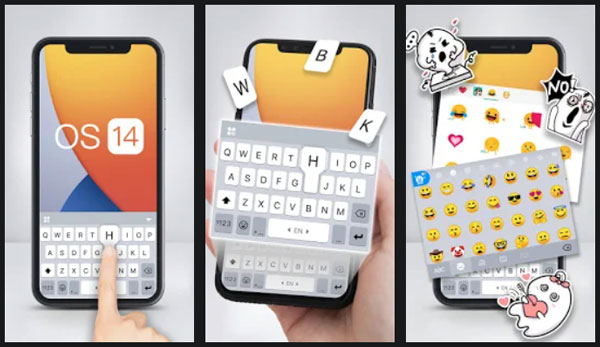 It also has support for over 150 different languages and offers the usual set of emojis, stickers, GIFs, and textmojis. Oddly enough, this keyboard has over 3000 themes you can choose from, but that sort of defeats the whole purpose of having this app installed on your phone, to begin with. Nevertheless, an iOS-inspired keyboard that does the job a little too well and one we can recommend to people with a weird taste in design!
Download
Conclusion
That just about wraps up our list of some of the best SwiftKey alternatives. We feel that Fleksy is probably the most like SwiftKey in terms of features and design, but Gboard and Grammarly offer conveniences like no other app on the list! Which keyboard app did you finally decide to settle with? Do let us know in the comments below!