Have you been on the lookout for some good password managing applications for your Android or iOS device? If that's the case, you would love our article with some of the handpicked Top 5 Enpass Alternatives for Android and iOS. Read on to learn more about such apps!
Passwords have become one of the greatest nuisances in the history of technology. With an increase in the number of people that use social media and other services online, the need for having stronger passwords for our own accounts has also increased substantially. Not only do you need to create a strong password that is impossible for others to guess, but you also have to ensure that you remember it on your own. This is further complicated by the fact that it isn't advised to have the same password for all of your social media accounts or bank services.
This is where the wonderful concept of password managers came into existence. When companies noticed just how much the users were suffering from having to create and remember a bunch of passwords for basic social media usage, they started building tools that help people create, manage, store and retrieve complicated passwords. Good examples of password managers include Enpass, 1Password, and LastPass. You can find extensions of these password managers on all sorts of platforms such as Windows, macOS, Android, and iOS.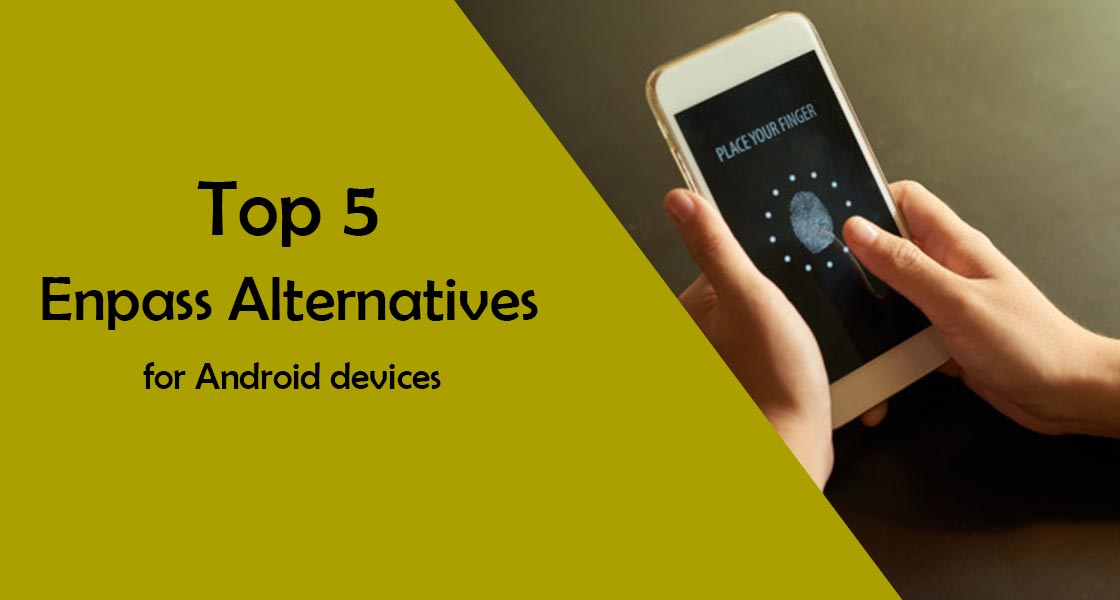 Password Managers also ease away the need for you to type in your passwords for all the websites you visit every single time. Once all is set up, all you need to do is remember a master password, and then let your password manager do its thing for you. However, there being so many password managers to choose from, many users have growing concerns about security and reliability. Worry not, because we have collected some of the best Enpass Alternatives out there for both Android as well as iOS. So sit back, and read on to discover some of the best password managers for your devices!
Top 5 Enpass Alternatives for Android and iOS
All of the apps mentioned below have been tried and tested by yours truly, and I recommend only those apps that provide a fulfilling user experience. As far as availability goes, most of the apps we've mentioned below are free, to begin with, but run on a freemium basis which means users can opt into buying the premium versions which unlocks a whole lot of other cool features. Overall, if you don't plan on spending any money for Enpass Alternatives, you can still enjoy most of the listings here too! With that being said, let's take a look at our top picks!
#1 – LastPass
If Enpass didn't exist, it is safe to say that LastPass is the best password manager of all time out there. It gets its title thanks to the sheer amount of features and security that it offers. LastPass is available both for Android and iOS and has extensions for all kinds of operating systems, including Windows, macOS, and even Linux. Furthermore, users can enjoy the Chrome and Firefox extensions that it also supports. The reason why we highly recommend LastPass is that it's free and has unlimited syncing between devices, whereas most password managers charge a minimal fee for the same. This means you can very well go on with the free version and never worry about losing your passwords ever again. The app has a rich yet minimal user interface, and a great red and white color scheme. It follows Google's Material Design and thus has beautifully laid out menus and buttons that don't look out of place or ugly. LastPass has a great way of inserting your username and password for the websites that you visit, and it also lists them out aesthetically with the icon of the website or the app to make it simpler for you to sort. The only big drawback with LastPass is the security concerns that had risen recently. Since all of the data is stored on their own servers locally, it is highly susceptible to phishing attacks which might put the user's integrity at risk.
However, LastPass still remains to be one of the most transparent password managing services out there, with an ever-improving app. All you need to get started is to create a master password, and never remember any of your other passwords ever again. There is also a premium subscription to this password manager which unlocks even more features like a shared vault and more for just $3 a month. You can download the latest version of LastPass for your Android or iOS device by following the Google Play Store or App Store link provided below :
Download for Android
Download LastPass for iOS
#2 – iCloud Keychain
If you are highly invested in the Apple ecosystem and are looking for a rock-solid password managing solution that just works splendidly, try out iCloud Keychain. It isn't an app available on the App Store and is rather a service that comes built into your iPhones and Macs. iCloud Keychain is a really basic password manager which doesn't really offer many of the features that the third-party apps do. However, it works like advertised and is highly secure since everything is directly stored into your Apple account as opposed to a server in a specific location somewhere. The way it works is pretty simple. Every time you log into a new website or service using Safari on your iPhone or Mac, the password manager makes an entry for it and saves the username and password for you. So the next time you load up the website, you will be automatically logged in and wouldn't have to manually type in your password or username all over again. It works as a cross-platform service, meaning any of your Apple products that are connected to the same Apple ID will now be able to use the same credentials and passwords that you saved on your phone or laptop. Furthermore, thanks to the new Macbooks, MacOS can now also take advantage of seamless logins using just your fingerprint. To access all of your saved usernames and passwords on your iPhone, go to Settings > Passwords & Accounts > Website & App Passwords. Here, you can view all of the websites and services that you have your credentials and passwords stored for. You can edit them, view them, or even remove the ones you don't want to be saved.
While Apple's iCloud Keychain password manager isn't rich in terms of features, and only works with Safari or on your iPhone, we still feel it is worth a shot. This password managing solution is best suited for those who just wanted a seamless automatic login experience for the websites and services that they visit on a frequent basis. Lastly, we feel this solution is best for iPhone and macOS users because you don't need to download anything, and it comes pre-built. If you do want a more feature-packed password manager, then you are free to try out any of the other third-party apps on this list.
#3 – Firefox Lockwise
Yet another good password manager, but this time by Firefox. Lockwise is a great tool for those who want a minimal password managing service that is completely free of cost. While Lockwise will benefit the people who use Firefox as their default browser on their phone and laptop, the app is still standalone and will work for other browsers as well. Furthermore, it also has support for mobile apps which Apple's iCloud Keychain lacked. It also supports biometric authentication such as being able to use your fingerprint to quickly log into your favorite websites, apps, or services. As mentioned previously, this password manager has a great design to it, with everything arranged so that it is super easy to understand and use. The way you add website information to Firefox Lockwise is again very similar to how iCloud Keychain works. Firefox Lockwise automatically stores your login information (username and password) for any new website or app that you log into for the first time. You can readily access all of your saved passwords right from the app. However, the only drawback of this service is that you need to use the PC web version if you want to edit any of your saved information since the mobile app doesn't really allow you to do that. Lastly, it syncs well with your Firefox account, so if you're ever migrating to a new phone or switching between devices regularly, all you need to remember is your Firefox ID and everything else will be managed by the password manager itself.
Overall, if you have just been looking for a minimal yet functional password manager for your phone or computer, then we highly recommend Firefox Lockwise to you. It comes from a pretty reputable company that knows what it is doing. While it doesn't have as many features as any of the other third-party password managers we've talked about on this list, it still gets the job done fair and square. You can download the latest version of LastPass for your Android or iOS device by following the Google Play Store or App Store link provided below :
Download for Android
Download Firefox Lockwise for iOS
#4 – 1Password
If you were to ask us about what we thought the best password manager out there was, we would undoubtedly recommend you 1Password. It has been around for quite some time now, and it all started as a funding project that went really successfully. Not only is 1Password one of the safer password managers when it comes to security, but it is also one of the most feature-packed ones, heck, possibly the most featured packed out of the bunch. Its competition is direct to that of LastPass since both seem to offer a similar set of features for the free version and even have similar pricing if you ever want to upgrade to the premium package. Talking about the feature set, you can do a lot with just the free version in hand itself. You can create multiple vaults, and even add your family members or coworkers to make a login into websites and apps seamless for all. If you are an Apple Watch user, then you can also add an option to enable seamless authentication directly from your watch. This also holds true for biometric authentication including fingerprint scanning. Lastly, you can also receive OTPs on the app if you want to share your login credentials with someone for a single time. It is available for all the platforms like any other password manager, and the synchronization works splendidly between all of the devices that have it set up. The app has a great user interface and also provides for a comprehensive sorting function which makes it easier for you to classify all of your apps and websites and store login details quickly.
1Password in our eyes is one of the best alternatives you can get for Enpass, and can even turn out to be the best choice for some. The free version in itself is quite sufficient for most of the average users, and even if you feel the need for upgrading, the premium packages cost really less. Overall, 1Password strikes a great balance between functionality and style. You can download the latest version of 1Password for your Android or iOS device by following the Google Play Store or App Store link provided below :
Download for Android
Download 1Password for iOS
#5 – Dashlane Password Manager
Next on our list, we have one of the best password managers out there again. Dashlane needs no introduction to and should work as a great alternative to those looking for a solid Enpass alternative. While it isn't much for me to specifically talk about this password manager since most of the features that it sports are the same as LastPass and 1Password. The time Dashlane will come in handy is when you just need an alternative to either of those. Any three of these mentioned password managers are just as good and will get the job done. Like any traditional password managing service, Dashlane is available on almost all the platforms and browsers out there. You can create unique and strong passwords for all of your favorite apps and websites, and even use biometric authentication to log in to any of those using a single tap. Dashlane also has a great user interface with easy-to-use options and functions. It also happens to be one of the most secure password managers in the industry and has no noticeable bad track record ever since it blooms into existence. It uses top-tier encryption in real-time to defend against any malicious attempts of hackers to breach your login details as well. Dashlane also provides a few unique features such as being able to share your password to a friend or family member securely and for a limited amount of time. You can also make use of the password health score to make sure all of your passwords are strong and aren't easy to guess.
With over 12 million users worldwide, we highly recommend Dashlane to those who want an easy-to-use and yet feature-packed to the brim password manager. Both the Android and iOS apps are free to use and most users can get away without paying for the premium subscription. Even in a case where you might end up needing the few premium features that it offers, the pricing is really competitive and affordable. You can download the latest version of Dashlane for your Android or iOS device by following the Google Play Store or App Store link provided below :
Download for Android
Download Dashlane for iOS
#6 – SafeInCloud
Ending our list of some of the best Enpass alternatives you can try for Android and iOS devices, we have SafeInCloud, which is a service that is actually very similar to Enpass in a few ways. Firstly, SafeInCloud ditches the subscription system for a one-time payment scheme, which is not only incredibly cost-saving but also one less hassle to deal with every month.
The service has easy backups, and is available for Android, iOS, Windows, macOS, and even as a browser extension for Chrome, Firefox, Microsoft Edge, and Opera. SafeInCloud has biometric authentication like most other password managers on this list, making it very easy to sign in. What's unique is support for Android Wear and watchOS so you can effortlessly store the most important passwords and pins on your wrist.
The only place where SafeInCloud could use a lot of improvement is in its user interface. While the app is quick, it isn't the best designed, and with apps like LastPass and Enpass leading this space, there's a lot of demand for a good experience as well. You can download the latest version of Dashlane for your Android or iOS device by following the Google Play Store or App Store link provided below :
Download for Android
Download for iOS
That's all folks! We hope you enjoyed our roundup of some of the Best Enpass Alternatives for Android devices! Which one among the list is your favorite, and how many of these password managers have you already known or have been using? Know other good Android Enpass Alternatives that you feel people might find interesting? Do let us know in the comments section below, we'd be delighted to hear from you guys!