Were you on the lookout for ways to improve your phone's battery life? Tired of running out of juice multiple times in a single day? Look no further! We have the best-curated list of some high-quality Battery Health Apps for Android in 2021! Read on to find out more about these services and how they can substantially improve your phone's battery capacity.
The year is 2021 and most smartphones now come jam-packed with a ton of powerful features and large displays. Things like a high-end processor and gaming leveled graphics chip is common, even in the budget smartphone offerings these days. We have also seen an enormous increase in popularity and production of large screen phones, with high resolution and rich pixel density panels. All of these contribute to taking a large hit on battery life. Despite the modern inventions in new and exciting smartphone features all around us, we still are yet to have a gold standard for good battery performance.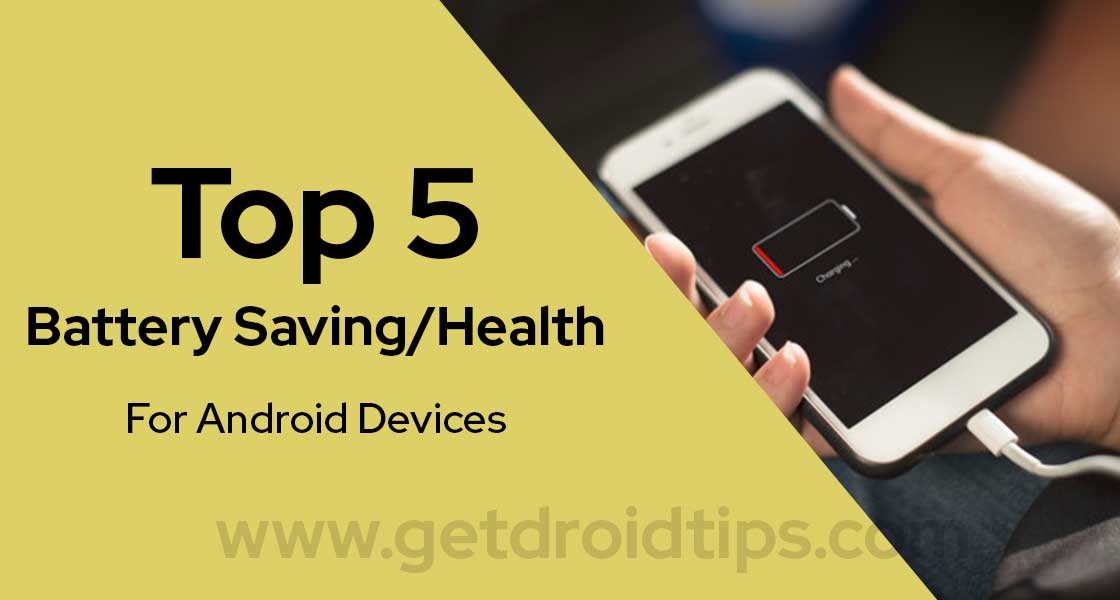 What's the problem?
Most of the phones now come equipped with a 3500 mAh battery or higher. However, even this kind of capacity has been growing shorter thanks to the substantial increase in power-consuming components like the CPU, GPU, and high-resolution displays. To counter this, many companies have gravitated towards offering fast charging features, which supply a huge chunk of voltage to your phones, in turn charging them at mind-boggling speeds (Dash Charge from OnePlus and Super Charge by Huawei are good examples). All of this effort, but there is still no significant improvement in the battery's actual capacity.
Another problem that many users of Android devices face today is the amount of depreciation the batteries take after a few months or a year's worth of usage. This is normal, and can't be avoided in any way, users either can replace the batteries or just have to make do with whatever's being offered. However, there are several ways you can still monitor your phone's battery consumption, find out apps that are taking a huge hit on the battery life and force stop them. While you can do this manually, there are a whole bunch of apps available on the Google Play Store that can do this for you, and this is exactly why we have fabricated this list!
Note
Although battery-saving apps may claim to significantly improve your phone's performance, the best way to get the most out of your device is to simply get a battery replacement done. Most of the apps available online also take up a lot of your RAM, so we have only picked those apps which are less taxing on your phone's processor and in turn actually provide battery health solutions to make your device's lifetime better!
Top 6 Battery Health Apps to Save Battery on Android
All of the apps mentioned below have been tried and tested by yours truly, and I recommend only those apps that provide a fulfilling user experience. As far as availability goes, most of the apps we've mentioned below are free, to begin with, but run on a freemium basis which means users can opt into buying the premium versions which unlocks a whole lot of other cool features. Overall, if you don't plan on spending any money on a battery-saving Android app, you can still enjoy most of the listings here too! With that being said, let's take a look at our top picks!
#1 – AccuBattery
The first application on our list for some of the best Battery Health Apps to save battery on Android is AccuBattery. It is free to download on the Google Play Store, and has a nearly perfect 4.5-star rating, with over 5 million downloads to date. The app has a great design, with big bold icons and toggles to make it easier to understand even for people who aren't exactly Android power users. The app has a smart alarm mode that alerts the user when the phone is charged up to 80%, which is the sweet spot and the threshold value when it comes to healthily charge your phone up. Anything above 80% will cause the battery to take a new cycle, which will deplete its life in the longer run, much quicker. AccuBattery has a powerful info graph tool that not only gives you minute-by-minute statistics about all the apps and how much battery they have been consuming, but it also gives you the power to force stop them right from the app. You can also check for your charging speeds by simply connecting your phone to a power source and quickly launching the app!
There are a lot more features that make AccuBattery one of the best on the Play Store. This includes the battery health section which tells you exactly how much potential the battery in your phone has left. You can also view your remaining time left which we found to be very accurate. The app also comes with a Pro mode which brings cool features such as a dark mode, no ads, and detailed battery consumption details right in your notification panel. However, even if you don't plan to upgrade to the pro plan, the free version of AccuBattery will do just fine for you. You can download the latest version of AccuBattery by following the Google Play Store link below :
Download
#2 Kaspersky Battery Life: Saver & Booster
Next up on our list is Kaspersky Battery Life, and it claims to be one of the most accurate battery prediction apps available on the Google Play Store. We tend to agree with them since Kaspersky is a reputed developer that has been making excellent power saving as well as antivirus apps for Android and other platforms for years. The app has a little more complicated UI than AccuBattery, and some might even like the bolder and more serious-looking theme of Kaspersky Battery Life. There are powerful features within the app that allow the user to monitor and control the apps that consume your battery the most. One such feature is the automatic detection that Kaspersky Battery Life does for the apps that have been consuming abnormally large amounts of battery and then prompts you to force stop or uninstall them. Just like AccuBattery, you can also check up on detailed battery consumption details, the screen on times, and check the remaining time your phone has got left. One feature that we really found intuitive was being able to estimate just how much time your phone has got left for a full charge, and this measurement has been super accurate. There is also a feature that allows you to white list certain apps so that the service doesn't hinder the apps running in the background by constantly forcing stopping them.
Overall, for being a free service, we feel Kaspersky Battery Life is a great pick for those who want to monitor their phone's battery life and help improve its performance! You can download the latest version of Kaspersky Battery Life by following the Google Play Store link below :
Download
#3 – Battery Doctor by Cheetah Mobile
The third app on our list is one of the most popular battery-saving apps available for Android phones over at the Google Play Store. We are talking about the evergreen Battery Doctor app, made by the good folks over at Cheetah Mobile. The app has over 330 million users in the time frame of its release till now, and we can see why it is so well regarded! First and foremost, the best feature of Battery Doctor in itself is the one-tap optimization button, which kills all of your background processes, clears your RAM, and only launches the required services. This helps improve your battery life significantly if you're ever running low and wanted to extend your few percentages that are left. The app also allows its users to see just how much time your phone has left with the remaining battery charge, but it improves upon this feature by analyzing how you've been using your phone every minute. For example, the time left will be lesser if you're gaming and will be more if your phone has been idle for a long time. It also comes with a battery cooler toggle, which will disable all heat-producing apps, significantly improving your battery's performance.
Battery Doctor is one of the best picks if you're on the lookout for a feature-packed battery-saving app that genuinely brings a lot of options to the board. The app is widely compatible and has over 28 different language translations available too. It also shows some useful and interesting battery-saving tips from time to time. You can download the latest version of Battery Doctor by following the Google Play Store link below :
Download
#4 – Avast Battery Saver
Coming in at the fourth spot in this list, we have Avast Battery Saver. This is actually the 2.0 version of the same app, and it comes loaded with an entirely new design and colorful-looking toggles. The standout feature clearly of this app is the ability to choose from 5 different smart profiles such as Work, Home, Sleep, and more. Not only will these predefined toggles give you smarter battery saving, but you can also custom-tune any of these profiles to suit your needs the best. For example, with the Work profile, you can choose to automatically disable the WiFi, enable the location services, disable all the game services from the background, and more. It is clearly an intuitive feature that we feel most of the users will end up loving! Apart from the smart profiles mode, you also get the usual features like being able to monitor all of your apps, and force stop or uninstall the services that are consuming most of your battery life abnormally. You can check just how many hours and minutes your phone has left on the charge, and even use a battery saver mode to cut down on incoming signals that significantly boost battery performance.
Overall, Avast Battery Saver is a great app for people who want a feature-packed battery saver, but also care about the design and UI. The app receives constant updates, and we found it to be pretty lightweight as well. You can download the latest version of Avast Battery Saver by following the Google Play Store link below :
Download
#5 – Battery Saver: Power Master
The next battery-saving application on our list comes from a developer going by the name of IvyMobile. What we really found intriguing about this battery-saving app is the fact that it is the most minimal one we could find, and is very quick to launch, and also very responsive to use. The app has a dark mode by default and has minimal-looking icons and toggles. Just like the others, this one also has a one-tap smart boost mode which clears out all of the background apps and services to provide a quick boost to your phone. You can check up on various battery stats, select apps, and disable them if they are consuming too much of your battery life too. This battery saver also has a smart charging boost feature, which kills all unnecessary features while charging to provide the fastest rates that your device can support. Lastly, you also get three modes to choose from (Normal, Power-save, and Sleep) that will work efficiently to conserve battery life.
In our opinion, this app is the most minimal and good-looking one that you can download on your Android device to conserve some battery life. You can download the latest version of Battery Saver: Power Master by following the Google Play Store link below :
Download
#6 – Bataria Energy Saver
Ending our list of some of the best battery health apps for Android phones, we have Bataria Energy Saver. The app has a very clean user interface that makes it a joy to use. Like most other battery health apps on this list, Bataria Energy Saver also has a one-tap optimization feature that quickly kills any unnecessary apps or services running in the background to save your battery. With this app in hand, you can also create a customized power plan which restricts only the apps you have selected.
Other features of this app include a scheduled power saver mode that automatically kicks in at a specific time of the day. You can use the app to monitor your battery specifics such as the voltage, battery percentage, and temperature to make sure your battery is in a good condition. However, the one feature that sets this app apart from the rest is the fact that there are absolutely no ads built into the app, making it a very good option. Bataria Energy Saver also has a task manager that allows you to kill apps or services running in the background individually.
You can download the latest version of Bataria Energy Saver by following the Google Play Store link below :
Download
That's all folks! We hope you enjoyed our roundup of some of the Best battery health apps for Android devices to improve battery life! Which one among the list is your favorite, and how many of these recording apps have you already known or have been using? Know other good Android battery health apps that you feel people might find interesting? Do let us know in the comments section below, we'd be delighted to hear from you guys!