Have you been on the lookout for some good file sharing applications for your Android device? If that's the case, you would love our article with some of the handpicked Top 5 Xender Alternatives for Android. Read on to learn more about such apps!
File sharing has become increasingly popular, especially in this day and age. We share files with one another, and on the internet, receive them in the same manner even if we don't realize it upfront. Bluetooth is a classic example of a technology that once was the most demanded in feature phones. It enabled users to wirelessly share files, photos or contacts without any sort of internet connection to supplement it. Fast forward a couple of years later, and we have technology in our smartphones that enables sharing of gigabytes of information in a breeze. However, most of these still require the use of internet and take a big toll on data.
This is where the use case scenario of data-less file sharing apps comes into play. You must have known and have used Xender, which is a popular file sharing app that made it possible to share huge chunks of data between smartphones without any internet required. The way it works is pretty ingenious as it utilizes the hotspot connectivity in our phones to mock an internet connection. Xender is one of the top rated file sharing apps available for Android devices, and has a lot of features that make it desirable.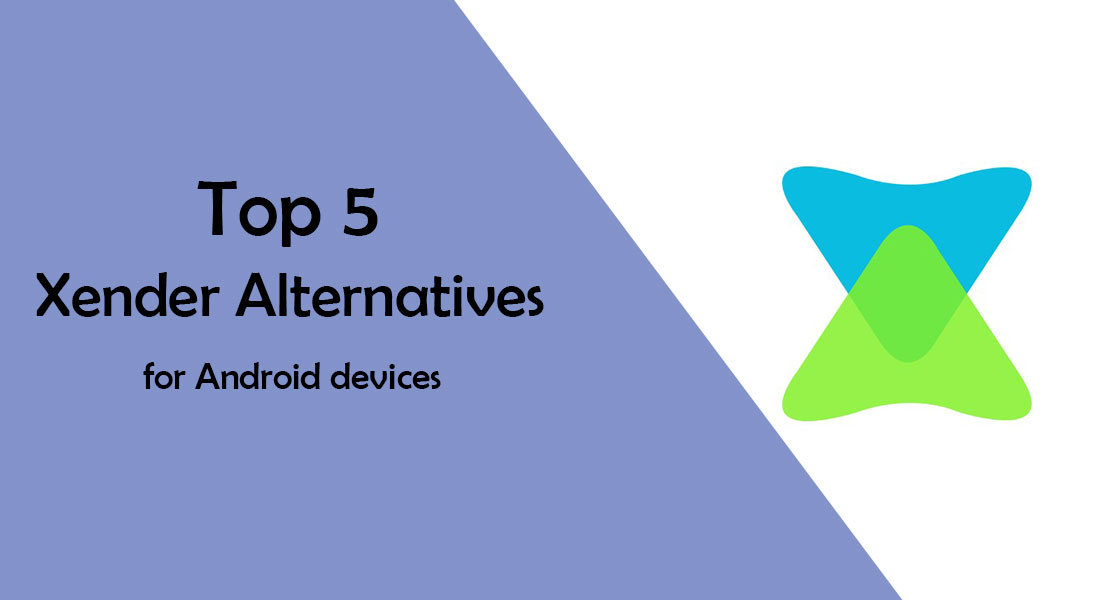 However, it doesn't hurt for us consumers to have more than just a single option available. For various reasons, apps like Xender aren't available in many places due to geographical blocks or lack of userbase. Some places use other popular file sharing apps to meet their demands. This is why we have broken down some of the best Xender Alternatives for Android that one can try. Each one of them is unique in their own way and has either different or more features that Xender. So sit back, and enjoy our top 5 list!
Top 5 Xender Alternatives for Android
All of the apps mentioned below have been tried and tested by yours truly, and I recommend only those apps that provide a fulfilling user experience. As far as availability goes, most of the apps we've mentioned about below are free, to begin with, but run on a freemium basis which means users can opt into buying the premium versions which unlocks a whole lot of other cool features. Overall, if you don't plan on spending any money for Xender Alternatives, you can still enjoy most of the listings here too! With that being said, let's take a look on our top picks!
#1 – SHAREit
The most obvious alternative to a file sharing app like Xender is SHAREit. It was released quite a few years ago, and has soon become the top favorite when it comes to wirelessly sharing media between devices without any sort of an internet connection required. SHAREit grew popular thanks to its sheer performance and speed when it comes to transferring files. It can reportedly transfer data between devices with speeds touching 20 MB/s. Comparing that to conventional Bluetooth, this app can send your files without any internet over 200 times faster. What also makes SHAREit great is its ease of use and popularity. Since it has been around since ages, many people already have SHAREit installed on their phones, so there wouldn't be any hassle for you to download it again on others devices either. SHAREit also has a few controversial sides such as a ton of redundant advertisements and a free online video service which honestly nobody uses. It also has a music player and GIF or sticker store built in, for those who like using a file sharing app for other things too.
If you can ignore all the bad sides of SHAREit, and disable all the promotional notifications from settings, it is our top recommended alternative to Xender. You can grab the latest version of SHAREit for your Android device by following the Google Play Store link given below :
[googleplay url="https://play.google.com/store/apps/details?id=com.lenovo.anyshare.gps"]
#2 – Zapya
Our next pick is called Zapya, and it is a really efficient file sharing service. It allows sharing of really large files a breeze as well. It also has a great group share feature such as being able to share the same files to a number of your friends or family members. Zapya is also quite fast when it comes to transferring files over the air. You can also create QR Codes for people to instantly receive your shared files without the need of sending them complicated links of any sort. Zapya is also a cross platform enabled file sharing service, which means you can share files between devices of different ecosystems like Android and iOS, Windows or Mac. With Zapya you can also use the phone replicating mode which basically clones your older device into a new phone if you ever plan on migrating. This includes apps, data, media and more. There is also an Install All option that automatically installs all the APK files on a device for you. The app has a clean dark blue backdrop with an appealing user interface and easy to understand options and menus.
Overall, if you've been looking for a good Xender alternative, we highly recommend you give a shot at Zapya. It's free and has minimal advertisements. It is also available in over 20 different languages. You can grab the latest version of Zapya for your Android device by following the Google Play Store link given below :
[googleplay url="https://play.google.com/store/apps/details?id=com.dewmobile.kuaiya.play"]
#3 – Cuotos
Cuotos is yet another file sharing app that we've found quite intuitive thanks to its simplicity. The biggest advantage that this app has over other similar file sharing services is the fact that it is completely ad free. This means there won't be any hindrances while you share your media from one phone to the other. The app itself has a clean material design user interface with a minimal amount of options to choose from. While you cannot do much aside from sharing a few files and photos between devices, we feel Cuotos is best suited for those who want a use and throw file sharing app without any obstructions such as ads or useless features within the app. You can grab the latest version of Cuotos for your Android device by following the Google Play Store link given below :
[googleplay url="https://play.google.com/store/apps/details?id=com.noobcorner.niteshpc.tabbedexplorer"]
EasyShare is yet another file sharing service devoid of any advertisements and unnecessary junk. It has a great user interface with big, bold and easy to understand icons and options. It actually exceeds other file sharing services when it comes to the rate of transfer with over 40 MB/s as the boasted speed. The app is super secure, and has fast servers so that you won't experience any service downtime at all. Combine that with the 10 million+ downloads that this app has, and you have yourself a really compelling Xender alternative. The app also has a phone clone feature which helps you to migrate to a new device from an older one while keeping all of your apps, data and media. You can grab the latest version of EasyShare for your Android device by following the Google Play Store link given below :
[googleplay url="https://play.google.com/store/apps/details?id=com.vivo.easyshare"]
#5 – Sweech
The last alternative to Xender that we have on our list is called Sweech. It is a really basic file sharing service that allows you to share files such as apps, music or videos between different devices without the need of any internet connection in between. While Sweech doesn't have any unique features or advantages that make it stand out from the crowd, we feel it does the job well. For starters, it has a clean user interface with a green and white color scheme and a material design throughout the app menus and buttons. The file sharing experience is further complicated with a web based service too, so you can easily share files from your phone to your computer or the other way around too. You can also use NFC if your phone supports it and do more with Android Beam. Overall, Sweech is a great alternative to Xender if all you need is a quick file sharing app with no other addons bundled. You can grab the latest version of Sweech for your Android device by following the Google Play Store link given below :
[googleplay url="https://play.google.com/store/apps/details?id=com.sweech"]
That's all folks! We hope you enjoyed our roundup of some of the Best Xender Alternatives for Android devices! Which one among the list is your favorite, and how many of these file sharing apps have you already known or have been using? Know other good Android Xender Alternatives that you feel people might find interesting? Do let us know in the comments section below, we'd be delighted to hear from you guys!