If you are in the market looking out for some of the best video editing apps for Android devices, then look no further since we have just the perfect guide curated for you! Read on to learn more about some awe-inspiring video editing applications.
Before the inception of smartphones, people were heavily dependent on big and bulky computers to get almost any kind of task done – however big or small it may be. But due to the uprising of mobile devices in the late 2010s, most people realized how simple, easy, and convenient it is to just grab a smartphone in your hand and complete the task. Nowadays we use our phones for a plethora of tasks including sending emails, chatting, video calling, getting things done, calculating and so much more. Previously, we have covered how mobile phones can be used as excellent tools to edit and enhance your photos by discussing some of the best photo editing apps for Android devices.
For video editing and other purposes, the case is slightly different due to the fact that video editing apps are still not at their fullest potential yet for mobile devices. Many people still prefer computer-based applications like Windows Movie Maker, Adobe Premiere Pro, or Final Cut Pro X to edit their videos. However, you would be surprised to see just how many good video editing apps there are on the Google Play Store and just how many features even they can offer to the end-user. If you have been on the lookout for the best video editing apps to trim, cut, join and add transitions to your clips, then you are in the right place.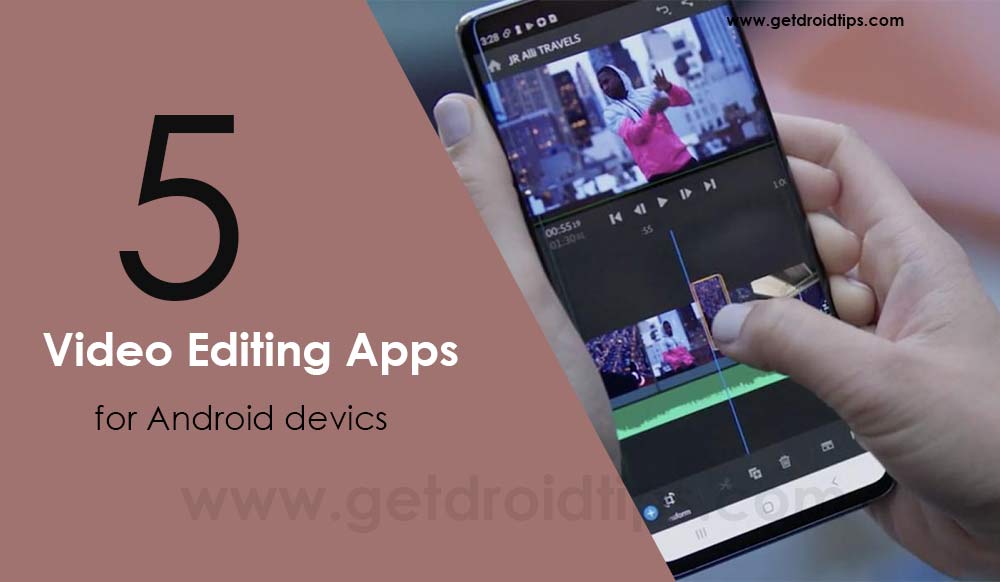 Top 7 Video Editing Apps for Android
All of the apps mentioned below have been tried and tested by yours truly, and I recommend only those apps that provide a fulfilling user experience. As far as availability goes, most of the apps we've mentioned below are free, to begin with, but run on a freemium basis which means users can opt into buying the premium versions which unlocks a whole lot of other cool features. Overall, if you don't plan on spending any money on a video editing Android app, you can still enjoy most of the listings here too! With that being said, let's take a look at our top picks!
#7 – InShot Video Editor
Kicking the list off, we have one of the most simple, yet powerful video editing apps for Android. InShot is best-suited for people who don't want to spend hours at a stretch editing a video but still want decent results. The app has most of the editing tools that are to be expected out of a video editing app such as trim, merge, and cut.
Unlike most other free video editing apps for Android, InShot allows you to export videos without an annoying watermark, although you do need to watch an ad to get rid of it (a small price to pay for a free service). InShot has several video effects and transitions that users can simply drag and drop to their videos to make them exciting.
You can add and edit text in fancy fonts, and add stickers from a selection of over 1000. The video speed control option allows you to create some of the most creative videos you could think of. You can also choose the aspect ratio for your video to be exported in, and can even add a background to make the white space less awkward. You can download InShot Video Editor by following the Google Play Store link below :
#6 – Funimate Video Editor
Next on the list, we have one of the most fun video editing apps that you can download and use for free on your Android phone. Do note that Funimate isn't a very powerful video editor since it most is geared towards people who want to create fun little videos with the popular TikTok effects and upbeat music. However, if you were in fact looking for a video editor to meet your Instagram Reels or TikTok needs, this is the best app to start with. With an Editors' Choice award and over 10 million downloads, Funimate has some of the best video filters and effects that you can apply to your stock footage. It has a vast library of transitions, video frames, a lipsync setup, and much more. You can cut, trim, or even loop your videos if you intend to create those short Reels that are gaining traction on Instagram these days. Overall, Funimate is every TikToker's best friend thanks to just how simple it is to use. You can download Funimate Video Editor by following the Google Play Store link below :
#5 – FilmoraGo
The next app on our list also happens to be the one we recommend if you want the most basic and easy-to-use video editing app for your Android device. FilmoraGo has many basic features like being able to trim a clip, join other clips, add smooth transitions, reverse a video, and many more that make it suitable for people who mostly just care about adding finishing touches to their work or videos. With this app in hand, you can also easily crop your videos as per the aspect ratio you demand. You can choose 1:1 for the perfect Instagram square posts, or 16:9 if you want to upload it to services such as YouTube. You can also crop it down to a vertical video or rotate it to 9:16 to make it seem like a perfect fit for an Instagram or Snapchat story. Other features include being able to add fancy or minimalist text to your video, add slow-motion effects, and even watch your edits in real-time. FilmoraGo also exports your edited videos really quickly if you have a rather powerful Android smartphone.
If you want a complete video editing experience with all the basic features to spruce up your video editing game on a smartphone by ten folds, then we highly recommend you try our FilmoraGo at least one. You will although see a tiny watermark on your exported video indicating that you have used this service and you may upgrade to the premium plans if you want to hide that. You can download FilmoraGo by following the Google Play Store link below :
#4 – Adobe Premiere Clip
Next up is the Adobe Premiere Clip by the software giant Adobe itself. While there have been speculation and rumors about a fully-fledged Premiere Pro app to be available on the Google Play Store, this substitute is a great filler for those who want powerful editing features with an easy-to-use UI. With Adobe Premiere Clip in hand, you can not only do the basic things such as cropping, rotating, trimming, or joining two or more clips together, but you gain access to premium editing options as well. Adobe boasts about their automated music service that users can add on top of their videos to give them a cool effect. This can be done by either selecting any music clip from your local storage or even by selecting from the thousands of good stock music effects and sounds from Adobe's library itself. The entire editing process is vastly entertaining too as you can drag and drop clips here and there to rearrange or add them. Adobe also offers a list of automated effects to make static images in your video timeline more interesting by adding subtle zoom and pan effects to make it seem like they are moving as well.
If you wanted a powerful video editing app but one which does not require a great extent of knowledge to use and master, then we highly recommend Adobe Premiere Clip to you. You can download the latest version of Adobe Premiere Clip on your Android device by following the link given below :
#3 – Adobe Premiere Rush
Our third mention also comes from Adobe and is very similar to Premiere Clip that we talked about earlier. Adobe Premiere Rush is a more refined and pro version of Adobe Premiere Clip and this allows its users to get really intricate with their editing process, allowing adjustments that you want precisely. While the entire UI is still very mobile-friendly and easy to use and learn, Adobe Premiere Rush comes with an advanced timeline view. This supports a multi-track timeline which means you can add several layers of photos or videos or sound effects one on top of the other without having to trim them and fit them on the same layer. Adobe Premiere Rush also comes with the same library of sound effects and music, although most people at this level would like to import their own music. Premiere Rush also has over 100 different graphic templates that users can use. You can edit things like the elements, color, and font and make it seem really professional at the same time. Lastly, Adobe Premiere Rush also allows for really detailed color correction and grading effects if you are into that.
As of now, Adobe Premiere Rush is only available for a handful of devices and we hope this expands to most Android smartphones sooner or later. You can check for compatibility by visiting the Google Play Store page below :
#2 – KineMaster
Next up we have KineMaster which you might have already heard loads about. It has been on the Google Play Store for ages and has seen several updates to bring it to one of the topmost spots for being the best-featured video editing app for Android. KineMaster has several of the basic features you would expect but also has many complex editing options that the professionals could really use. Just like Adobe Premiere Rush, KineMaster also has a multi-track layered timeline view where you can add multiple clips, photos, and music layers. You can use the built-in audio recorder to do voice-overs directly from the app as well. There are also a plethora of graphic elements available within the app that you can change the color, font, and shape to suit your needs the best. What makes KineMaster stand out so much in our opinion is the fact that it offers keyframe animation which you can fool viewers into thinking that you had motion-tracked text or any object with the video.
If you are really interested in editing videos the professional way but don't have access to a fully-fledged Windows or Mac PC, then we highly recommend that you try our KineMaster. We also recommend you get the premium subscription as it unlocks several pro features and even removes the watermark after the export. You can download the latest version of KineMaster by following the Google Play Store link below :
#1 – PowerDirector
The last one on this list is a video editing app that comes from quite a reputable company. PowerDirector has been around for Windows and Mac for ages, and it has soon climbed its way to the top charts for mobile devices as well. This is all thanks to the fact that it allows lossless exports at the maximum possible resolution at all times. You get the basic video editing features that you could expect, but also get a few exciting and innovative options to play around with. Firstly you can use the stabilizer feature to quickly remove any camera shake or jerks from your footage and smooth out the final product. You can also use the chroma key option for the backgrounds to quickly and effortlessly replace any white or green screen to add any effect that you would like. Most of the editing with this app can also be done by dragging and dropping elements onto the timeline, pinching to view details, and even adding FX effects to really bring out the shine in your videos.
We recommend PowerDirector to those who want to experience an easy-to-use interface with a lot of free features to try out as well. You can download the latest version of this video editing app on your Android device from the Google Play Store by following the link below :
That's all folks! We hope you enjoyed our roundup of some of the Best video editing apps for Android devices! Which one among the list is your favorite, and how many of these editing apps have you already known or have been using? Know other good Android video editing apps that you feel people might find interesting? Do let us know in the comments section below, we'd be delighted to hear from you guys!