The reason why Android is surpassing all the other mobile operating systems at such a rapid pace is all thanks to its sheer customizability. If you've owned an Android ever before, then you know exactly what I'm hinting at. Users of this open-source operating system can enjoy a plethora of options and features to choose from, and make their phone truly theirs by customizing it in ways that are only imaginable by the rivals out there. Obviously, this brings in many aspects of Android that are optimally tweakable by the user such as device themes, icon packs, wallpapers, live wallpapers, even the boot animations and so much more. However, today we'll be specifically talking about the Launcher that your device runs atop of.
An Android Launcher is basically the middle party in the software allowing the users to change and place apps as they want on their home screens, swap the wallpapers, and do a lot more that isn't possible without a launcher. Obviously, every Android phone comes with a preloaded launcher, made and designed by the OEM itself. For example, all Pixel devices come with the AOSP launcher, which while is good, lacks a lot of features. OnePlus devices come with the preloaded OxygenOS launcher which is known for being feature-rich.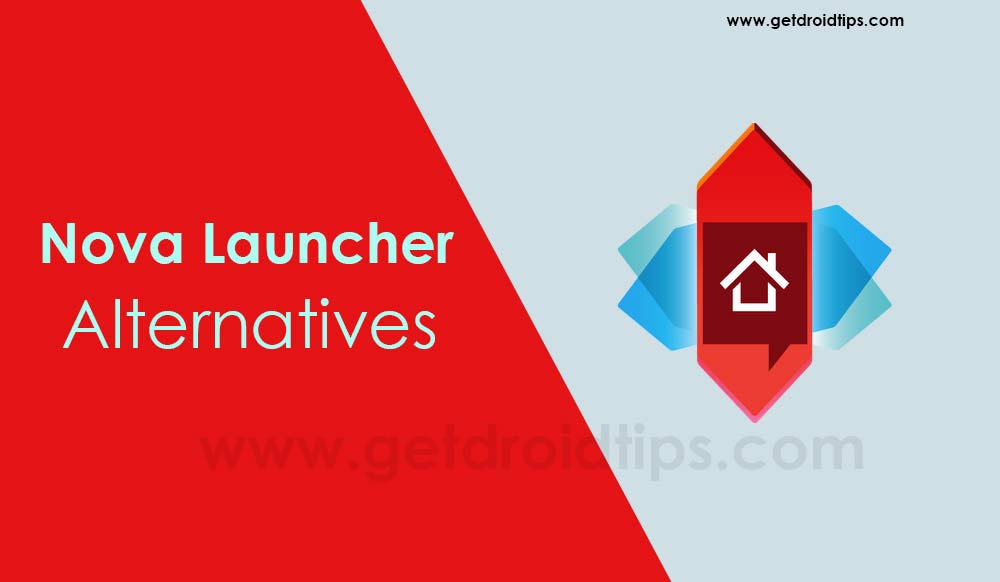 Why go for a third-party Launcher?
However, the best part about Android is you can swap launchers in and out, according to your liking. Yep, there are millions of launchers available on the Google Play Store that one can try out to see if it suits their needs the best. One of so many is Nova Launcher, pretty sure you've heard of its name. Nova Launcher is the most popular launcher in Android's history, and for many good reasons. It was released at a time when launcher customization was still restricted by a lot, and even to this day, it sports unique features that you might not find elsewhere. If you're however looking for the next best thing, we have a curated list for some of the best Nova Launcher Alternatives available on Android devices! Read on the list and maybe you'll find your perfect fit!
Top 13 Nova Launcher Alternatives for Android devices
All of the following apps are available on the Google Play Store for free to download. A few of the following picks may contain a "Pro Mode" too, which may unlock some of the features we'll be talking about below. However, all the launchers below are also 100% functional and fun to use even if you don't plan to spend any money on them. With that out of the way, let's jump right into our list!
1. Niagara Launcher
The first one on our list is itself a lot different in terms of design and UI than the rest. Niagara Launcher is great for those who like having all their dashboard items at a quick glance. All the apps are arranged alphabetically, and you don't even need to swipe to see your applications. You have all your notifications at a glance right on your home screen, and to view them completely you just swipe on them gently. Niagara Launcher also has a few nifty little tricks up its sleeve, like being able to hide your apps, create folders, tabs, and customizing the very layout of your home screen. Overall, this launcher is great for those who want a break from the traditional-looking ones, since Niagara Launcher may even help in boosting productivity a bit. You can grab the latest version of Niagara Launcher for your Android device by following the Google Play link below :
2. Poco Launcher
Talking about being different, Poco Launcher sets itself apart from all the other offerings by providing a few options that help the users properly arrange all their apps, and get to them faster than ever before. This launcher is made by Xiaomi and was extracted from the popular budget smartphone, Poco F1. The Poco Launcher is lightweight and incredibly resourceful to use. Our best feature about the app has to be being able to sort all your apps in the app drawer by their color codes, this helps in searching for your apps even faster since it's all brain psychology. This coupled with its otherwise minimalist design proves to be an offering that might as well be your next best bet after your stock launcher. You have the usual stuff like being able to customize your wallpaper, icon sizes, and shapes, and so on and so forth. Installing Poco Launcher is as simple as downloading it off of the Google Play Store, linked below :
3. Hyperion Launcher
Coming in next is a launcher that lives by the philosophy that a launcher is not an app but an experience, and it indeed lives up to its claims and is one of the best Nova Launcher Alternatives you can get. Hyperion Launcher boasts a lot of customizable features, but all while not deviating from the looks and feels of Stock Android. It has a powerful Hyperion dock, and you can even enable the Google Feed to the far left if you so prefer. If you do want to customize this to your own liking, then you can change the colors of every aspect of this launcher, including the dock background, app drawer shades, folder backdrops and so much more. You can select any icon pack you want, and for pro users, you can even select a neat typography font feature that personalizes your setup to its maximum! In our list, this launcher is the closest one that comes to beating Nova in terms of sheer customizability as there is really a lot. We wouldn't want to spoil the fun, so you should consider checking all the available features out for yourself. If you do choose to install and use Hyperion Launcher as your default one, you won't be disappointed, and we can promise that. You can grab the latest version of Hyperion Launcher on the Google Play Store as follows :
4. Lawnchair Launcher
Apart from its witty name, Lawnchair aims to provide the smoothest and most stock experience to devices that don't come with Google's stock launcher. This is personally my favorite launcher to use out of the bunch when I'm testing different custom ROMs since this one feels like home the most. If you don't choose to dive into the settings of Lawnchair, then what you get is basically Google's own experience, as stock as it can get. However, that isn't to say that this launcher packs in a ton of incredible features that users can use to make it their own. You can use a launcher-wide dark mode, select any icon pack of choice, blur away your wallpaper on many actions like popping open a folder or the app drawer, hide applications natively, and so much more. What I really love about Lawnchair is the stock-like app shortcuts that pop up when you hold down an app on the home screen or the app drawer. Overall, if you're looking for the smoothest and cleanest experience ever, we couldn't recommend Lawnchair Launcher any higher than we already do. You can grab the latest builds over at the Google Play Store by following the link below :
5. Action Launcher: Pixel Edition
Next up on our list, we have Action Launcher, the Pixel Edition. You may already have used earlier builds of Action Launcher, but this one is different because it extracts the source codes from Google's very own Pixel Launcher, and adds a thick layer of customization on top. We don't want to spoil much of what this launcher has to offer, but consider the few features we'll share as mercy. You can completely stylize the search box as you prefer, with your own splash of colors to make searching even more fun, and have the Google Now Feed to the far left preloaded within the launcher, and at a glance widget just like on the Pixel devices, and much more. The features and options available in this launcher make it one of the best Nova Launcher Alternatives out there indeed. If you do want to try our Action Launcher, you should consider going through all the menus inside and finding the best optimal feature settings for you. You can download it by heading over to the Google Play download link as follows :
6. Evie Launcher
Coming up next on our list of some of the best Nova Launcher alternatives for Android phones, we have Evie Launcher. You may or may not have heard about this launcher, but in case you have not tried it out already, we highly recommend you do. While it might seem like a big departure from Nova Launcher when it comes to the customization and feature set, Evie Launcher still holds up well when it comes to stability, performance, and ease of use. So in case, you did not really enjoy the complicated features and options that you get with Nova Launcher. As stated previously, the emphasis on Evie Launcher is solely on performance and ease of use. Thus, you get a very minimal user interface to work with. All of your apps are arranged in a scrolling list, so you can really quickly access them. Many users have also started switching to Evie Launcher because of just how quick and fast it is. Since it does not have any fancy elements to process, it is incredibly quick in the actions that it performs, such as opening app menus, browsing through your app list, and even launching apps is faster to some degree. Its other features include a universal search feature that you can use to not only look up for apps installed on your device but even contents within them to some extent.
Overall, if you have been wanting to try out something different than what Nova Launcher usually has to offer, then we highly recommend you try Evie Launcher out, you might end up liking it quite a bit! You can download the latest version of this Android launcher for your device by following the Google Play Store link given below :
7. Microsoft Launcher
In case you have been wanting to try out a launcher that provides a very different experience both visually as well as functionally, then you should definitely try out Microsoft Launcher. While Microsoft Launcher doesn't offer nearly as many customizability options as Nova Launcher or the other ones on this list, it still holds true to its word bringing a very unique interface and way of navigating about your home screen. It does this by distancing away from the traditional fancy and gaudy-looking interface choices such as unnecessary indicators on the home screen and cluttered apps.
When it comes to the features, it offers a whole set of them. You get a personalized news feed that brings you the latest and greatest from a source that's reliable and updated by the hour. You can still change the icon pack if you so choose to and match them to work better alongside your wallpaper. Talking about wallpapers, you can set the launcher to automatically show up different wallpapers from Bing to always keep your lock screen and home screen fresh.
Another area where Microsoft Launcher does exceptionally well is performance and battery life. Unlike many of the other feature-packed and fancy launchers that inevitably end up taking more battery than desired, this one sticks to the fundamentals and thus runs smoothly even on phones with older hardware. There is a dark theme like you would expect which makes visibility during nighttime a better experience. Lastly, the landscape mode further expands your workspace giving you more room to work with. You can download the latest version of this Android launcher for your device by following the Google Play Store link given below :
8. Apex Launcher
Next on our list of some of the greatest alternatives to Nova Launcher that you can try on your Android device, we have Apex Launcher. If you have been an Android user for the past couple of years then you must definitely have heard of Apex Launcher. Just like Nova, it aims at providing a very customizable and user-friendly experience. The launcher is best suited for the people who like having a very distinct and flashy home screen look. With Apex Launcher in hand, you can play around with stuff such as changing your icon packs, accent color, font, and more. You can also change the swipe and slide transitions and choose from a bunch of cool 3D ones as well. Other features of Apex Launcher include an app locker that you can use to basically safeguard any private app that you do not want anyone else to get their hands on. This launcher is also focused directly upon performance and delivers a very quick experience while scrolling, launching apps, or just having fun around in your home screen and interacting with the widgets.
There are a whole bunch of other features that Apex Launcher brings to the board which makes it a desirable alternative to Nova Launcher. You can download the latest version of this Android launcher for your device by following the Google Play Store link given below :
9. AIO Launcher
Next on our list of some of the best Nova Launcher alternatives to use on your Android phone, we have AIO Launcher. This one is fundamentally very different than most of the other launchers that we have talked about on this list. Instead of offering the usual launcher layout that most Android users are familiar with, AIO Launcher displays the most important information right on your home screen. You will be able to see the latest news, weather, notifications, and other messages alongside all of your most-used apps. The launcher also displays your phone's RAM usage, storage left, and battery status as a widget as well. AIO Launcher has a ton of different themes to spice things up according to your own taste. You can apply any icon pack you want to, change the shapes of the icons, and even play around with the font settings. You can add widgets to your home screen too. There is Tasker integration within AIO Launcher as well, which when done right can totally change the way you use your phone.
There are about a million other things that you can do with AIO Launcher and we highly recommend you try it out for yourself! You can download the latest version of this Android launcher for your device by following the Google Play Store link given below :
10. GO Launcher
GO Launcher is one of the most popular launchers to have ever existed on the Google Play Store. Not only has it been around since the early days of Android, but it's still going strong to this day with regular updates and a buttload of features. I remember using GO Launcher as my primary launcher way back in 2012 on my very first Android device.
The highlighting factor of GO Launcher is the sheer number of themes and wallpapers you gain access to. It was one of the first apps on Android that brought about the entire concept of a theme store. Currently, there are over 10,000 themes you can download, both free and paid. Obviously, the look and design of the 3D elements and excessive use of transitions might not make it suitable for everyone, but we're sure there's a huge market for people who like fancy home screens.
GO Launcher also comes with its own suite of applications that you may choose to never use. These include an app locker, a phone cleaner, a DIY live wallpaper app, and more. You can download the latest version of this Android launcher for your device by following the Google Play Store link given below :
11. Indistractable Launcher
Up next on the list is a very unique launcher that works on the sole principle of keeping all the clutter away. For people who remember the "Light Phone" which was a "smart" phone cut down to the bare essentials, this launcher might intrigue you a lot. There are no fancy icons, wallpapers, transitions, or even a traditional app drawer like you'd expect from any other launcher.
The only customization you get is switching between a light and a dark theme, and being able to use custom fonts. Everything else is essentially just text neatly laid out on your home screen. The launcher has an at a glance screen time widget that helps you in staying mindful about your usage from time to time.
The launcher is still in its early stages and has a few exciting features upcoming such as batched notifications to keep you less distracted and support for more shortcuts to help you get things done faster. The launcher is similar to Niagara Launcher, but obviously without all the sparkles. You can download the latest version of this Android launcher for your device by following the Google Play Store link given below :
12. Launcher iOS 15
Apart from being extremely ironic, this iOS-inspired launcher is actually pretty decent. While its entire purpose is to mimic the look and feel of an iPhone, the launcher has some useful features that even the stock launcher that comes with your phone might lack. This launcher also adapts the new and beautiful widgets from the iOS 14 update.
You get a very familiar home screen experience with all the apps laid out just how you would expect them. You can even find all of your other apps in the "App Library" just like you can on iOS 14. The launcher also works better with a few other utility apps made by the same developer such as the Control Center and Assistive Touch that you can download separately.
With over 10 million downloads and a dominant set of 5-star reviews, this launcher is your best bet to bring an Apple experience to your Android device. You can download the latest version of this Android launcher for your device by following the Google Play Store link given below :
13. Smart Launcher 5
In a world of launchers that offer excessive customization and several hundred options to configure your home screen just the way you like it, Smart Launcher 5 aims to make the user experience with your phone a lot easier. The first thing that the launcher does very well is the smart categorization of all the apps installed on your phone. This makes it extremely simple for users to sort and find just the app they have been looking for instead of scrolling through an endless list of apps.
Smart Launcher 5 also has decent customization options that help make your phone's home screen truly yours. First up is the smart ambient theming option that automatically chooses the accent color of the launcher based on the wallpaper you apply. You can also obviously change the accent colors manually, creating a combination that's truly unique to your phone.
Other nifty features of this launcher include a locker mode that lets you hide data-sensitive apps away from prying eyes. The smart search feature also allows you to perform quick calculations directly from the search box, add contacts, search the web, and more. Smart Launcher 5 also has several customizable gestures and hotkeys that you can use to maximize your productivity while using your phone. This launcher is truly a must-have for those who enjoy using Nova Launcher but need something a bit more user-friendly and toned-down.
You can download the latest version of this Android launcher for your device by following the Google Play Store link given below :
That wraps up our list of the Top 8 Nova Launcher Alternatives for Android devices! Which one among the list is your favorite, and why? We would love to hear your opinions and thoughts in the comments below. If you do have any queries regarding the article, then hit us up in the discussion box, we'd be glad to assist you!