Substratum Themes have become so popular among the Android phone users. In fact, a very large number of users have appreciated them. They are known to take the smartphones to a novel platform in terms of themes and elegance. If you own Galaxy S8 or S8 plus, we will guide you on how to simply use them on your device. Using this guide, you can use Substratum Themes on Galaxy S8 and S8 plus.
Galaxy S8 and S8 plus being the top smartphones of Samsung can be made more attractive with these themes. It is possible for you to simply theme all the apps you have in the device through Substratum theme engine. We understand that obviously don't want to root your Galaxy S8 or S8 plus and therefore this guide doesn't need you to go for it.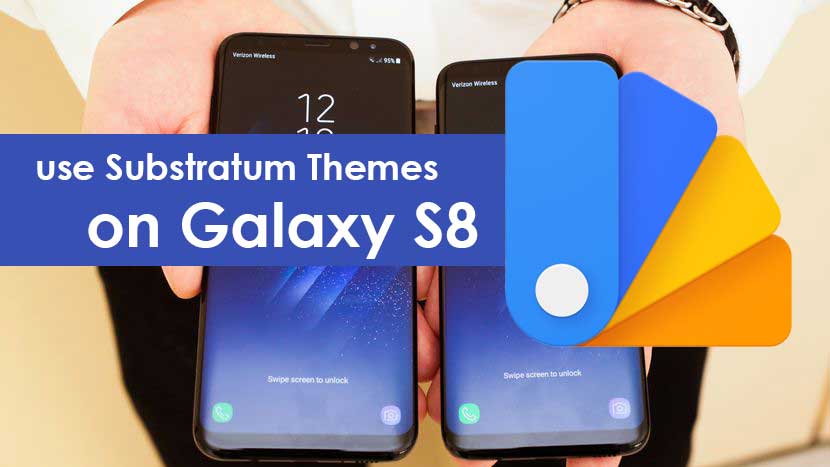 Guide to use Substratum Themes on Galaxy S8 and S8 plus
In the present scenario, a lot of modifications to the Substratum theme are becoming more and more visible. This is attracting the attention of a lot of people. You can easily have them on your Galaxy S8 and S8 plus device, but it must be noted that it may not work in a similar manner as they work on other devices which are based on Android. It is because of this reason we mentioned that you can theme your apps. To theme your OS, notifications as well as settings on Galaxy S8 and S8 plus, you need to wait as of now.
However, it works perfectly on the apps as of now and you can follow the below guide to theme your S8 and S8 plus apps.
Pre-Requisites:
Instructions to Use Substratum Themes on Galaxy S8 and S8 plus
Simply download the Substratum theme engine app on your device and install it.
You need to download Samsung add-on after this. After completing the downloading, install it too.
Open the Settings application after this.
Click on the Lock Screen and then on Security option.
Click "Unknown Sources". You will be asked for a confirmation. Click ok. This will enable it.
From the Play Store, simply download a Substratum theme and launch the theme engine application.
You will be asked for the permissions. Permit them all.
Some warnings will also appear. Simply ignore them.
Choose the theme you need to install. After this, choose the overlays and begin installing them.
You need to wait till the fresh app assemblies. After this, you can install them individually.
Finally, you can reboot your device and can enjoy themed apps.
The process is simple but may take time. This is because you need to consider apps one after one. It must be noted that having the Substratum theme engine is a must for you to begin with this method. Also, Samsung add-on might not be available free of cost to download. You need to pay around $2 for it which is a very reasonable amount.