Everyone wants their internet connection to be super fast. No one likes lag in downloading, webpage loading, etc. Also, folks want that their connection is not limiting to a few zones in the house. Who doesn't like to roam around anywhere in their house and still get a fast WiFi network.? Speaking of which this range extension can be made possible by WiFi extenders. One such product going by the name Superboost WiFi Booster has been creating hype on the internet.
In this guide, we will try to find out is the product worth the hype.? What are the real user reviews.? Is the device working as its claiming.? We will check out the testimonials right from the official Facebook page of Super WiFi booster. Also, we will take a look at the pricing and see whether users are justifying the pricing of the device depending on its performance. So, let's check that out.
How Does Superboost WiFi Works
It is a WiFi extender. You have to plug it somewhere. This gadget will amplify the existing WiFi network and will make its presence available in almost every room of your house. Normally, when you use WiFi if you move from one room to another network fluctuates. However, with a WiFi extender such as the Super WiFi booster, the network accessibility will extend throughout the house. Anywhere you can move around and still get a good signal. You do not have to waste time moving from one zone to another looking for a network.
Is Superboost WiFi Booster A Scam
Now, let's check out what exactly is the reputation of the product among the users.? How is their buying and using experience.?
No Facebook Review Section
When I searched up and landed on the Facebook page of Superboost WiFi, I noticed they do not have a review section. Any business that sells any product or service they are always having review sections open on their social media and e-commerce pages. I mean who doesn't want to see a bunch of positive and good reviews for their product.
So, this is quite shady and unreliable. At least, I always check reviews thoroughly on any e-commerce site or online platform before purchasing anything. I cannot think of wasting my hard-earned money on something that is not worth the use.
Negative Feedback
Now, customer feedback is what enables other customers to decide whether they want to purchase a product or not.? On Facebook, Superboost WiFi has a lot of negative reviews. Mostly, people have complained about the product that it doesn't work as claimed. Also, many have complained no tracking assigned for their order.
Most people have complained about faulty customer service that never responds to any query. Though on Facebook, the concerned page admin replies to the complaints of the users. I have attached some screenshots, that you may check out.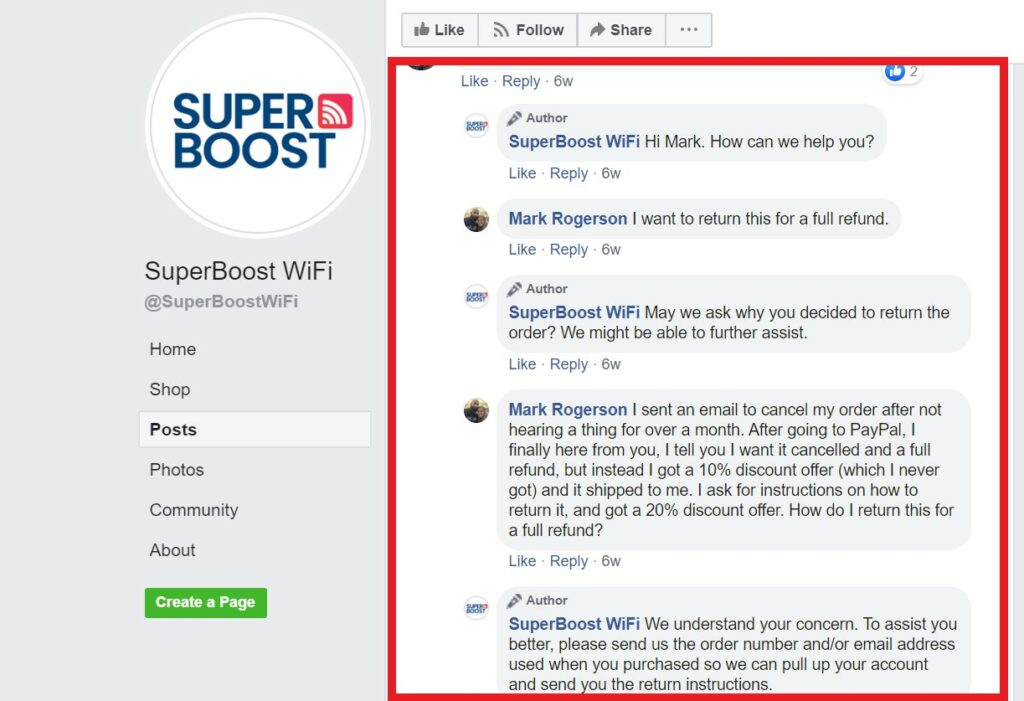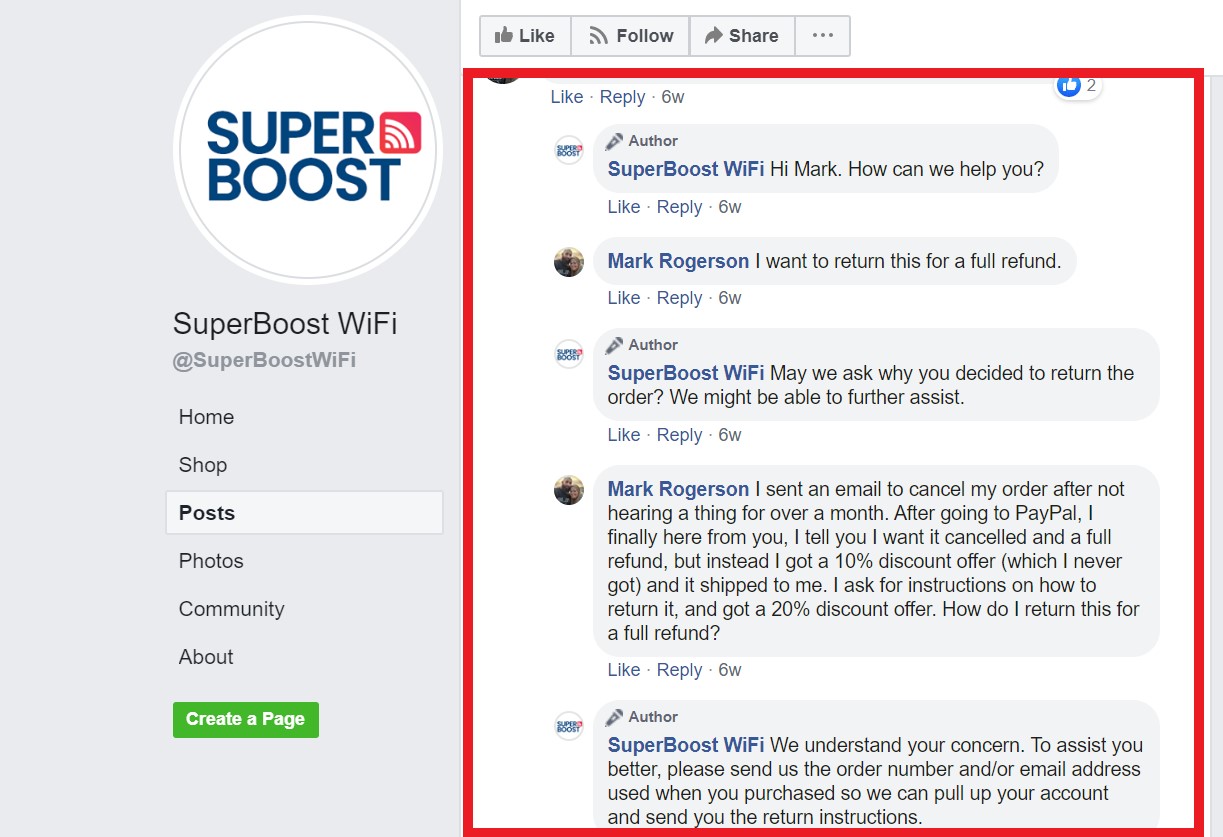 Another screenshot below shows a customer complaining that there are no tracking details available. The Superboost WiFi Facebook page says that the website does not support live tracking.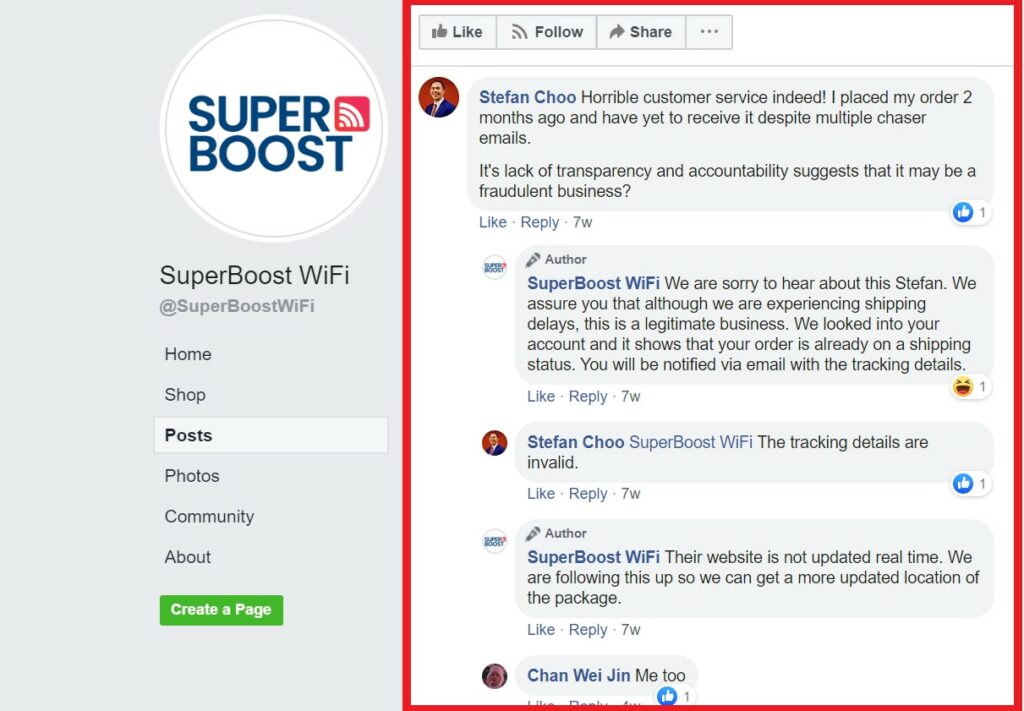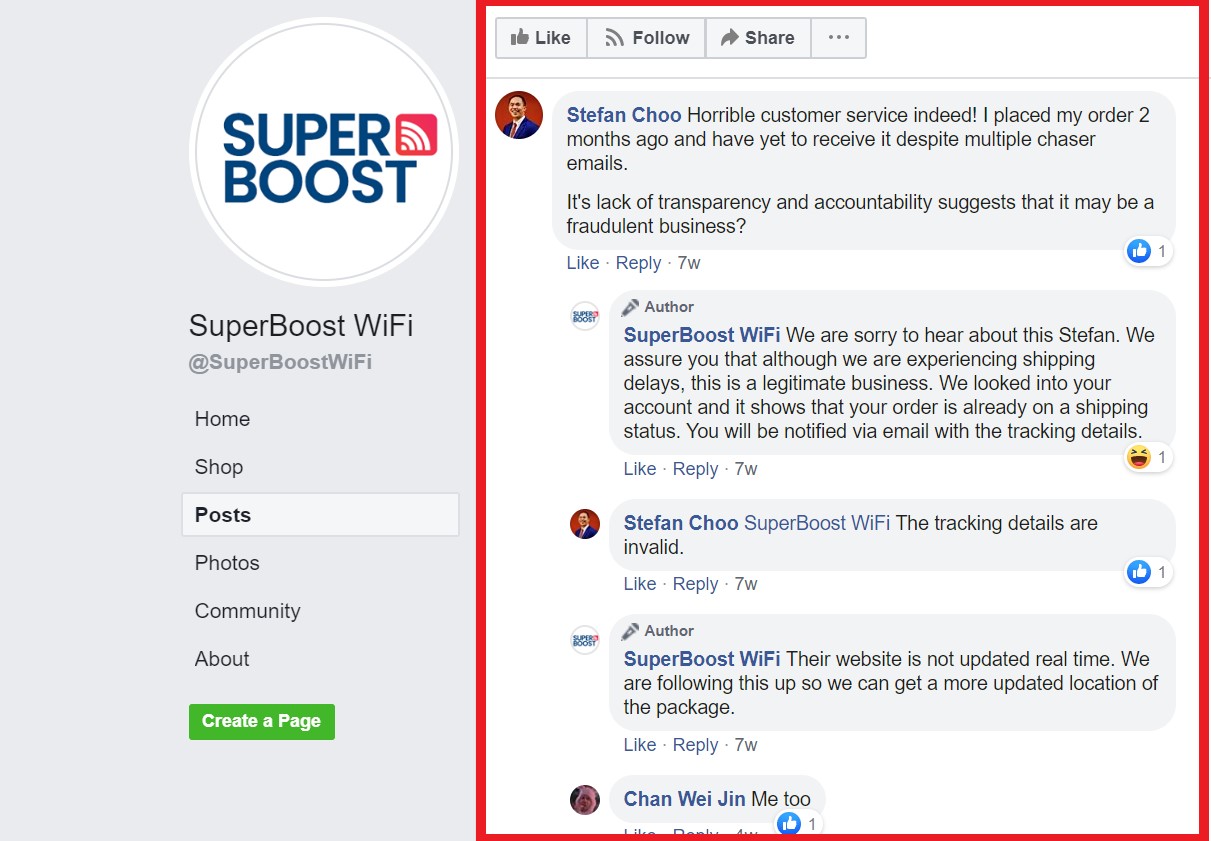 I mean this is ridiculous. Anyone running an online business always has a system to track the shipment right after the order is placed until its delivered. If you have ordered from Amazon you must know this. This is strange these guys are casually mentioning that there is no real-time update system with the website. This indicates a lack of professionalism. If you want directly check the Facebook page of this Superboost WiFi to check the reality on your own.
Deceiving Price Tag
This one is something that no product maker should ever do. However, Superboost WiFi is doing it and this will sure irk off the customers. They list their product priced at $9.97 which is a huge discount off its mentioned original price $83.32.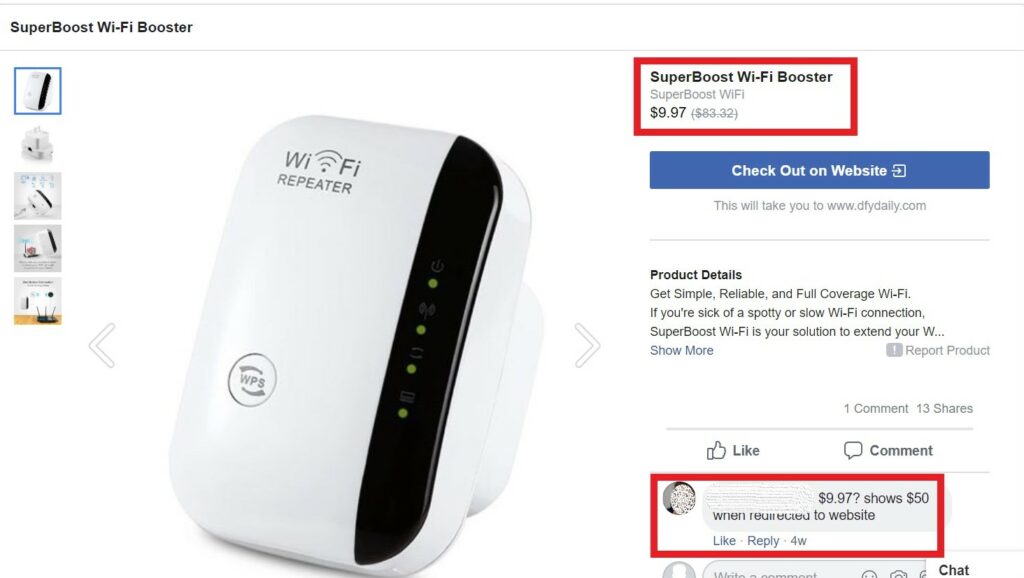 As you click on the Checkout on Website you will be redirected to dfydaily.com, where the same Superboost WiFi is listed for sale at $49.99. You can see the screenshots provided alongside. You can still search it up on Facebook yourself.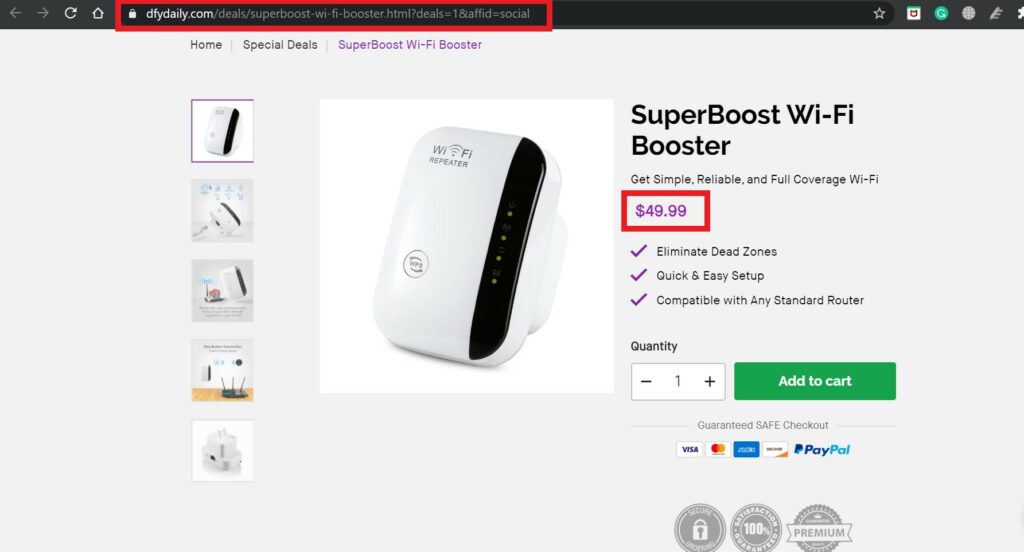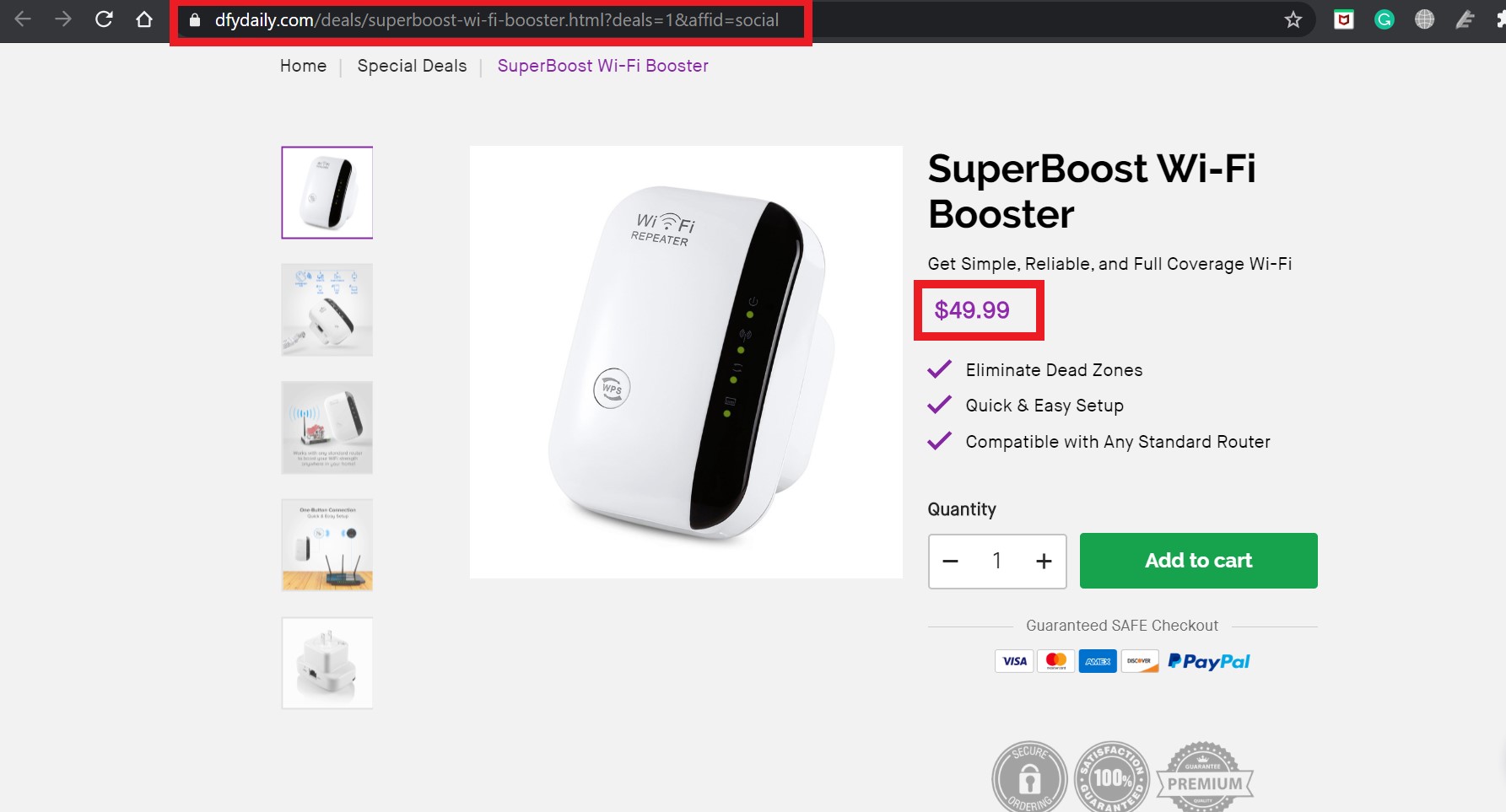 Either Superboost WiFi's team is not efficient enough to change the price listing accurately on all their platforms, or they are just cheating customers with fake pricing.
Fake Reviews
Also, while taking a close look, I came across one or two seemingly positive reviews. However, those Facebook profiles looked a little fishy to me. Upon looking a little bit closer I could decipher that those Facebook profiles are fake ones. They did not have any details. So, this is another shady outcome that you should be careful about while trying to purchase this product.
Third-Party Site Reviews
I looked for Superboost WiFi reviews on other places on the internet. The result was nothing but a lot of negative reviews. It has an overall rating of 1.2 stars. Here is a screenshot of reviews and ratings about the Superboost WiFi on Trustpilot.com.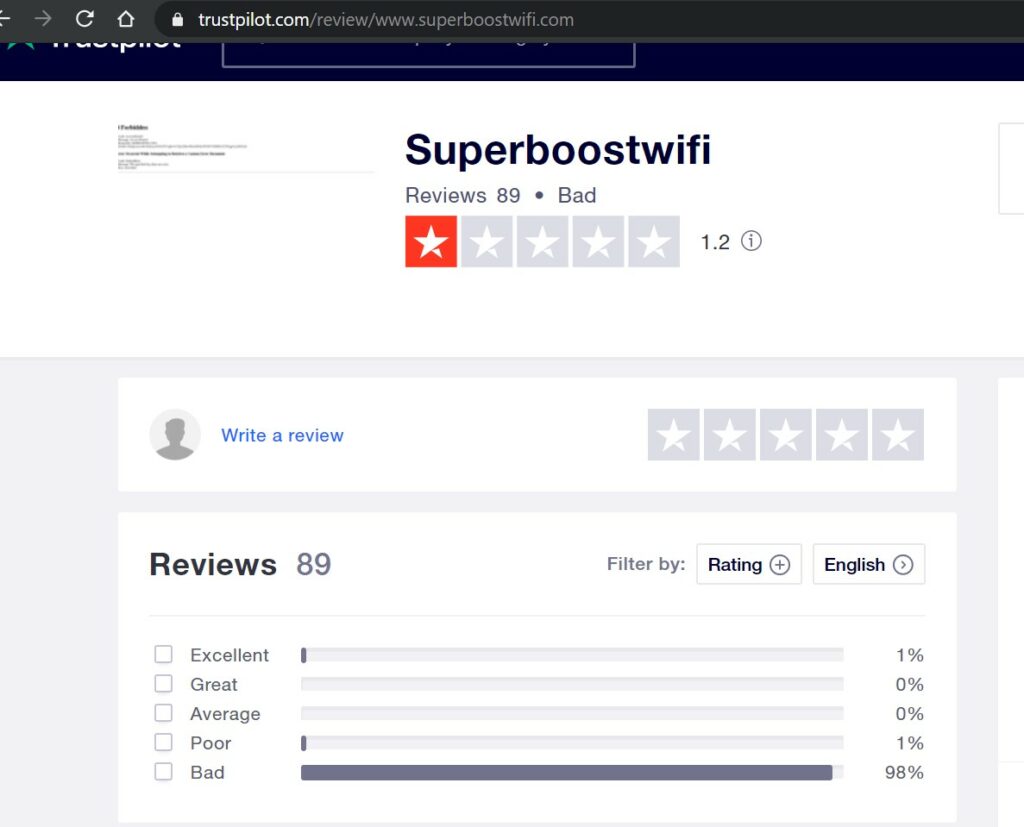 Comparing This Product with other Brands
If we compare the Superboost WiFi pricing of $50 with other brands such as Xiaomi or TP-Link, then the decision factor gets more clarified. Xiaomi's WiFi amplifier costs around $24. Even the TP-Link WiFi amplifier costs around $20. These are branded products with proper customer service. So, it gives you a clear idea of deciding what product to go for. I would any day go for a product that has brand value and quick disposal of customer grievances.
My Opinion
If you ask my honest opinion, then I will never suggest SuperBoost WiFi. They lack proper product dispatch monitoring, too much of real-life genuine negative reviews. A friend of mine did try out the product but he only had negative remarks to make about it.
I already mentioned several facts above. I only intend to say that if these guys are selling some product/service, they should be prompt in their customer query redressal. Also, the shipping process should be duly monitored if the customer already made a payment for the product. They are not at all doing that. More importantly, there is no transparency in the price listing. On Facebook, they are placing the product at a dirt-cheap rate, and the price increases 5 times as you go to the checkout website. This is wrong and deceiving. So, I don't think why I or anyone should recommend or go for the Superboost WiFi booster. Go for something else with better user reviews and fair pricing.
So, that's it, guys. This was just a clear reflection of all the user reviews of Superboost WiFi found on the internet, that indicates the worthiness of the product. Well, as we saw, the product is not worth it. Almost all users have bad remarks about it. Carefully investigate on any gadget and its legitimacy before purchasing it with your hard-earned money. Do share this article with your friends if you found this informative.
Read Next,