Microsoft Teams is an essential collaborative work platform that companies use to distribute work among their employees. With the active Live events feature, employees can get the latest tasks and assignments easily on a single dashboard. However, many users are reporting that these are some glitches or problems with the Microsoft Teams Live Events feature, and it is not working anymore. So if you're also facing the same issue that you are not alone. There are countless uses reporting an issue with the same problems. This issue can be due to the faulty internet or outdated software.
The issue of Microsoft Teams Live events not available is a major issue that can hinder your workflow. Today we will guide you to Fix, Set up guide, Create or edit policy for Live events dashboard. Since most of the assignments or work projects are distributed among employees or ten members using the current Live events feature. Also, you can keep track of your work and deadlines using their feature. SO it is very crucial to fix Microsoft teams Live events issue as earlier as possible. Good news for you, then the problem is not that complicated and can be fixed easily by following our troubleshooting guide.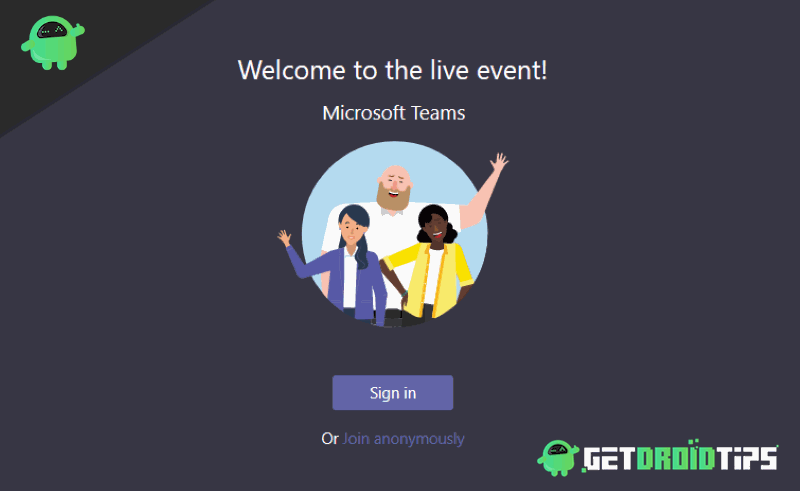 What is Microsoft Teams live events?
Microsoft Team's life event is basically an extension feature of the Team meeting. In a meeting, you can include a minimum of ten people, but live events allow you to broadcast to reach more people. Live events have a chat-based system; you can also collaborate with another streamer. This feature enabled the teachers to teach a large number of students.
There is a difference between channels and live streams; the channel feature enables you to reach many people. However, you cannot interact live with people. The live event feature enables you to interact live with your audiences. Thus, it can make the process of collaboration more easy and simple. If you wanna do, it is required that you put the schedule first so other users can get a notification of the live event. You can give live presentations, interviews, reviews, and much more.
How to Set up, Create, Edit Policy, or fix for a live event in Microsoft Team if a live event is not available?
There are several steps you must take to set up a live event; even more, if you haven't done live broadcasting before there are lots of things to configure, by default, you will face the Live Events not available issue. Follow the guide below to know how to edit the policy, create, fix, and set up a live event in Microsoft Team.
Before proceeding to do anything make sure that you have prepared your Organization network in Team and that you have assigned all the necessary licenses
Enable Live Events in Microsoft Teams
Enabling Live Events in Microsoft teams in an easy process. The settings are straight forward, and everything can be enabled with a single toggle button.
Step 1) Open the Admin center in Microsoft Teams. Select Meetings from the left menu options
Step 2) Choose the Live Event policies option.
Step 3) Now select Atendee visibility mode. Here choose everyone. And it's done!
Creating and Editing To Set Up A Live Events Policy
Step 1) In the Microsoft Teams application, navigate on the left to Meetings and select the Live events policies option.
Step 2) Click on the New Policy option, or if you don't want a new policy, you can leave it as default or choose Global.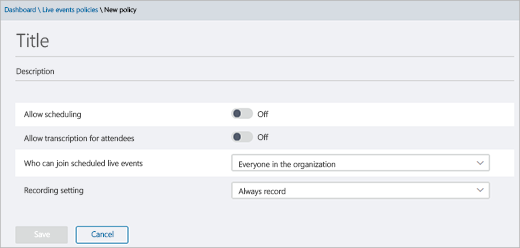 Step 3) To customize the policy, click on the Edit button and select the options there, depending on your needs.
Assigning a live event policy to users
If you have customized the policy, then you will need to assign the policy to the users. Follow the steps to know how to assign your policies.
Assigning policies to only one user
Step 1) Click on the Users icon on the left side of the window and select the users.
Step 2) Besides the Assigned policies label, click on the Edit option.
Step 3) Now, select the live events policy that you want to assign, after that, click on the Save button to confirm.
Assigning policies to one or more users
Step 1) Click on Meetings > Live events policies and select the policy by clicking on the left of the policy.
Step 2) Select the option Manage Users and in the manage users pane navigate to users' names and click on the Add option.
Step 3)  Repeat the above step to assign policies to more users, and then you can click on the Save button to confirm it.
Conclusion
Microsoft Teams is such a great platform for work from home scenarios. With Live events, you can see active work projects and incoming work assignments easily. If the feature is faulty or not working in your case, then you should immediately fix the issue. You can use follow our Microsoft Teams troubleshooting guide to fix such easy problems. I hope now the issue is fixed for you. In case you are facing any issue, then you can comment down below. I will be happy to help you out.