Terraria has pushed out its final update now, and during these initial days, Journey's End is making quite the news. Just recently, after Terraria Journey's End release, the game broke its record on the number of concurrent users on Steam. So basically, this update is bringing every fan of this game back to its platform, and it is quite understandable considering the number of new features that have been added to this update.
A total of 800 new craftable items have been added to this new version, and most of these additions are weapons. Considering the high amount of new weapons to choose from, it might be confusing for many to decide which weapon they should craft first. To help out in that regard, we have compiled this guide featuring the best starter weapon that you could use to move forward in the game.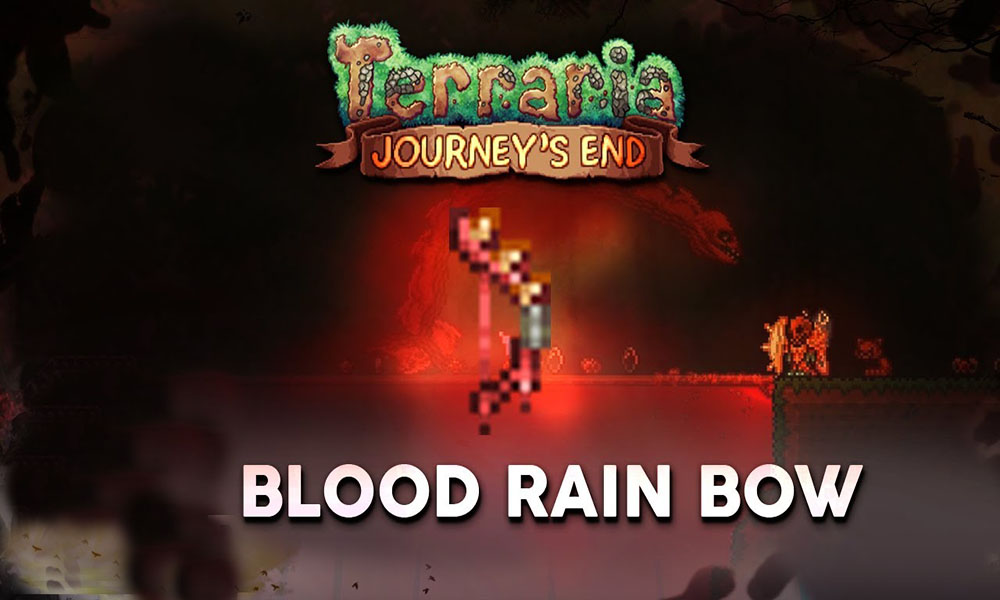 Best Starter Weapon for Terraria Journey's End
The best starter weapon in Journey's End as of now is the Blood Rain Bow. This could be the best weapon that you can craft first when it comes to Journey's End. Even getting your hands on this weapon is quite easy as all you need to is fish and kill enemies. The best choice for this would be Wandering Eye Fish that we see in the Blood Moon event. This weapon acts similarly as the Daedalus Storm bow and is pre-hardmode early game weapon with a wide range when it comes to attacking and killing enemies.
Now as far as the statistics for the weapon is considered, it is available in the game as follows:
14 Ranges Damage
4% Critical Strike Chance
Very Fast Speed
Very Weak Knockback
Rains Blood from the Sky
'Reign in Blood'
As you might have guessed the name, it is a weapon that turns the arrows you shoot into bloody indicators that fall vertically on enemies. Yes granted the 14 range damage seems like a little number, but the way that this weapon function makes it a weapon to have against the pre-hardmode early-game enemies. The falling bloody arrows make it a natural weapon of choice to hunt down enemies like Cthulu and Eater of Worlds.
Once you take care of these enemies, more and more raw materials will add up to your inventory for crafting more weapons. Then you can choose to craft a weapon that deals with a higher damage rate as it will be a perfect weapon combo to go with the Blood Rain Bow. If you want us to make a guide on which weapon to choose for this category, then comment down below, and we will arrange that for you too.
So, in a nutshell, now you know which weapon to craft first in Journey's End that will give you an edge with most of the enemies you face in the early stages. Be sure to check out our other guides on iPhone Tips and Tricks, PC tips and tricks, Games and Android Tips, and Tricks. Moreover, you may also subscribe to our very own YouTube Channel and participate in the $150 giveaway contest.