Las Vegas is known all over the world as the centre of gambling and casino entertainment. Steve Wynn, a businessman who has earned the title 'King of Las Vegas', has contributed greatly to its success in this area.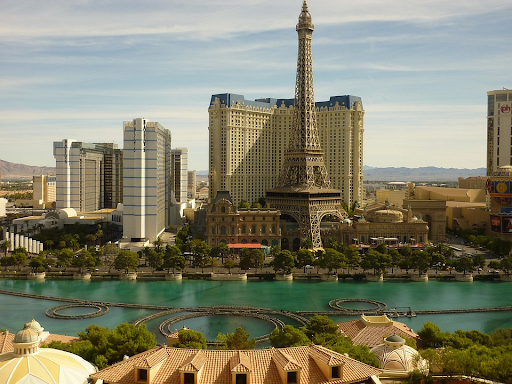 BestAuCasinosOnline tells who Steve Wynn is and how a man who inherited a few gambling parlours and a pile of debts turned Las Vegas into one of the most popular gambling areas in the world.
First steps
As a child, Steve lived briefly with his brother and parents in Las Vegas. At the time, his father, Michael Wynn, was attempting to become an artist and custom made cards for one of the bingo parlours.
The father wanted to provide his sons with a quality education, so they went to study at the Manlius Military Academy. After the academy, Steve Wynne went to the University of Pennsylvania to get a Bachelor of Arts in English Literature.
He was just finishing his studies when he received the news of his father's death from a heart attack and returned home. An inheritance awaited him there — several gambling parlours and $350,000 in debts. This forced him to give up his law degree at Yale University and start his adult life.
Starting a business in Las Vegas
In 1967, Steve Wynn bought a share of the famous Frontier Hotel in Vegas. The 3 per cent stake cost him $75,000. Although the deal was not profitable and Steve lost his share a few years later, it brought him back to the vibrant and luxurious Las Vegas.
After the failure of the Frontier story, Steve was determined that he wanted to become a casino owner. He started organising shows in Las Vegas gambling establishments and in the meantime was looking for investors. Then he met Perry Thomas, one of the most influential bankers in town. He helped Steve secure a $1.2 million loan and purchase the land next to the famous Caesars Palace Casino. A year later, he sold it for twice as much, paid off the loan and made $700,000.
Perry Thomas advised Steve to buy a share of the Golden Nugget casino. At the time, one of the most popular and oldest casinos was going through bad times — revenues were down, the premises were in need of refurbishment and staff were in need of personnel changes. Wynn heeded the advice, and bought some shares.
Steve Wynn became the youngest casino owner in Las Vegas and managed to take the Golden Nugget to the next level. He renovated the premises, and started putting on flashy shows and concerts by then celebrities, including Frank Sinatra. The casino quickly began generating decent profits.
In 1980, when gambling was legalised in Atlantic City, Steve Wynn decided to grow his brand and build another Golden Nugget casino in the new gambling hub. When the businessman realised that Atlantic City would not replace Las Vegas after all, he sold the new establishment and made $440 million.
Developing Las Vegas
The new establishments that Steve Wynn built in Las Vegas with investors were Mirage, Treasure Island and Bellagio.
The Mirage Casino opened its doors in 1989. It cost $630 million to build. The Mirage immediately took the Vegas gambling market to a new level. It was an entirely new luxury and fashionable establishment – from the design and styling to the entertainment offerings. The huge investment in the construction of the complex paid for itself in the first months of operation. Mirage's profits exceeded those of Vegas' most popular Caesars Palace.
In 1993, Treasure Island opened and became a casino hotel. $430 million was spent on its construction. This complex was not meant to attract the elite, but ordinary families with children who came to Las Vegas on holiday. Everything here is decorated in a pirate style, confirming the hotel's name — Treasure Island.
In 1998 the world was presented with another Steve Wynn's establishment – the Bellagio, which cost an impressive 1.6 billion dollars to build. The casino-hotel complex is truly unique and luxurious – it even has its own conservatory, botanical garden and art gallery. The purchase of the artwork for the gallery alone cost $400 million.
Steve Wynn didn't stop there, and in 1999 opened the Beau Rivage casino-hotel in Mississippi, which eventually failed to turn a profit and led to the company's financial problems. To sort this out, the businessman sold Mirage Resorts in 2000. MGM Grand paid $6.6 billion for it. Steve Wynn himself received $500 million.
For this money he bought the Desert Inn hotel and several other neighbouring buildings. This was necessary to build the huge entertainment complex Wynn Las-Vegas, which opened in 2005. Wynn Las Vegas included a 45-storey hotel, casino, restaurants, golf club, art gallery and even Ferrari and Maserati dealerships. The complex had no chance of failure and became a new symbol of Las Vegas.
The businessman decided that he needed to go beyond Las Vegas and the US. He started negotiations with representatives of the Chinese Macau gambling zone. They gave their approval for Steve Wynn to build a new complex. Already in 2006 Wynn Macau appeared – a huge casino hotel with restaurants, attractions, expensive shops and spas. The complex was named one of the top 10 hotels in Asia.
In the same year, Forbes magazine named Steve Wynn one of the world's most influential people. This further motivated him and he started to develop his own business even more actively.
He opened another Wynn Las-Vegas hotel block called Encore. Like the other Wynn establishments, it is overflowing with additional entertainment — shops, swimming pools and picturesque gardens. But the highlight of Encore is the Sky Casino, where the minimum wager is $300,000.
In 2010, another Encore enclosure also appeared at Wynn Macau, and solidified Wynn's position in Asia. Very quickly it is starting to be hailed as one of the largest and best entertainment complexes in the world.
In 2016, Wynn Palace officially opened in Macau. Wynn even had to sue to get permission to build it. The complex has a 28-storey hotel, a 40,000-square-metre casino, 13 gourmet restaurants, brand-name shops, a salon, a swimming pool and Macau's largest spa.
Steve Wynne leaves the gambling arena
2019 was the year Steve Wynn's career in gambling came to an end. Back in 2018 he stepped down as CEO of Wynn Resorts amid allegations of sexual harassment, which he denied.
He later obtained a court injunction banning him from organizing and running gambling businesses in the state of Nevada, including Las Vegas. And Wynn Resorts was fined $20 million. Then Wynn was able to somehow resolve the conflict, but soon the company was fined $35 million.
Steve Wynn has now retired from the casino business and is engaged in philanthropic activities. In May 2020 his fortune was estimated at $3.1 billion.
Many gamblers would like to visit Las Vegas and Macau, enjoy the luxury of Steve Wynn's creations and play in his casinos, but you can freely choose any mobile casino online.