Is Ticketmaster not letting you buy tickets for your favorite concert, sport event, or theater, this guide has many solutions that can quickly fix the issue on your computer or mobile phone. You are not the only one facing the issue, dozens of users on popular forums such as Reddit have reported on this issue. And fortunately, some have managed to fix it by tweaking some settings. The Ticketmaster not working issue is not just limited to a single browser, as it has been reported by many Google Chrome, Safari, and users of other OS.
As soon as the user tries to book a ticket, the website shows an error that contains the following message:
"Pardon the Interruption As you were browsing something about your browser made us think you were a bot. There are a few reasons this might happen:
You're a power user moving through this website with super-human speed.
You've disabled JavaScript in your web browser
A third-party browser plugin, such as Ghostery or NoScript is preventing JavaScript from running."
Some users have reported that they are getting a different error message that says "We apologize. We are unable to complete your request on this device. So that you may continue to show, we recommend using a different device…".
Both kinds of error messages leave users scratching their head. But you do not have to worry, there are some nifty ways to quickly fix these issues and get your ticket booked in no time. So, let's move on to the solutions.
Ticketmaster Not Working on Safari, Chrome or Any Browser, How to Fix?
Below, I've mentioned some fixes that have worked for many users. Make sure you do not skip any step and try the fixes in the order in which they are written.
Method 1: Check Ticketmaster Server Status
Before you make changes to the browser or device settings, it's important to check if there's a problem with the Ticketmaster server. Unfortunately, Ticketmaster does not show the current server status, but there are some third-party tools such as Downdetector which keep track of problems on the site. If it shows some big red spikes, it means that other users are also facing issues on this site. In such a case, you need to wait until the developer fixes the issue. You should try booking a ticket from that site after an hour or two. If the problem persists after a few hours, you should definitely try other solutions.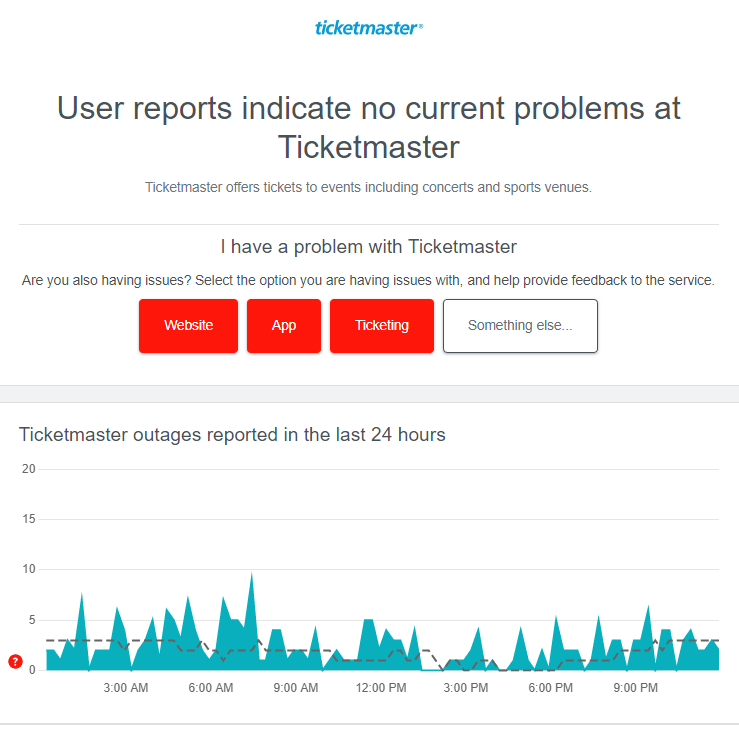 Method 2: Use Your Mobile Data
While the exact reason is unknown, many users are not able to book tickets via Ticketmaster when they access the site over a Wi-Fi connection. And switching to mobile data has done the trick for many users. If you have also connected your device to a Wi-Fi network, switch to mobile data and check if the issue is fixed.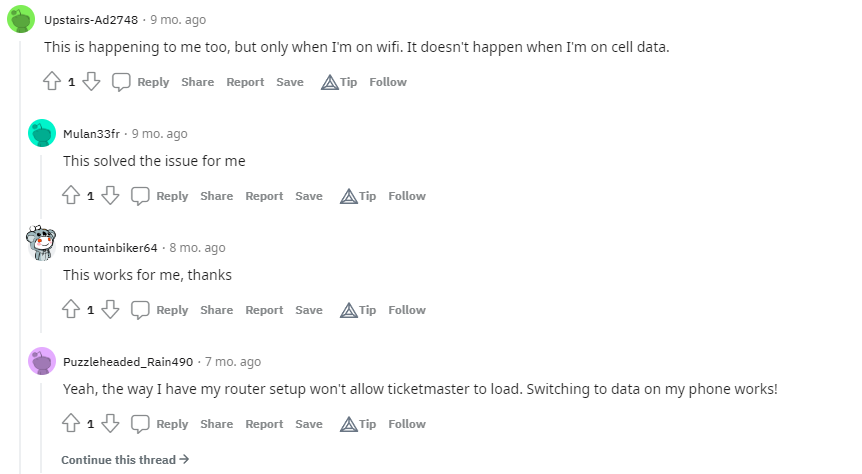 Here's what a Redditor said, "oh my god. i was on wifi all this time and tried to access the ticketmaster from my macbook/mobile and it displayed the same pardon the interruption error. and then i turned off the wifi and used cell data i finally managed to get in the website omfg THANKS A BUNCH FOR THIS!!!! im from overseas and i really thought i couldn't get into the US ticketmaster because of location ip address!!! thank you thank you!!!"
Solution 3: Turn off the VPN
You should disable the VPN service on your device to get your tickets booked via the Ticketmaster website. The VPN connection can reduce the internet speed and even block connection to some websites. Hence, you should also disable the VPN service before accessing the Ticketmaster website. Not to mention, this solution has worked for many users, and probably it will work for you too.
Solution 4: Disable All Extensions
If you're using the Google Chrome on PC, temporarily disable all the extensions and close the browser. Now, restart the browser and try to book tickets via the Ticketmaster website. You should be able to book tickets without any issues. However, if the issue persists, try out other solutions I've mentioned below.
Solution 5: Clear Cookies and Site Data
Clearing the cookies and site data can fix issues if the website is not loading properly, there's some caching issues, etc. This method is highly recommended when a website does not load. In our case of Ticketmaster, you should give this solution a go.
Here's how to clear cookies and site data on Chrome:
Open Chrome on your PC.
Tap on the three dot button at the top-right corner.
Select Settings.
Select Privacy and security from the left-side menu.
Click Cookies and other site data.
Find and tap on See all cookies and site data.
In the Search cookies box, type ticketmaster.
Tap on the delete icon next to the ticketmaster.com.
Restart Chrome browser, open the Ticketmaster website and check if you can book tickets.
Solution 6: Enable "Allow Apps to Request To Track" on iPhone
If you are facing issues while booking ticket from the Ticketmaster app on iPhone, enable Allow apps to request to track, restart the app and check if you can book tickets.
You can enable this option by navigating to Settings -> Privacy -> Tracking.
Final Words
I know it can be frustrating for anyone when you can not book tickets for your favorite concerts, movies, or sport events. In this guide, I mentioned effective solutions which have worked for many users. And I am very hopeful that at least one of them will work for you too. Did you find this guide useful, share it with others? Let us know your thoughts or suggestions in the comments below.