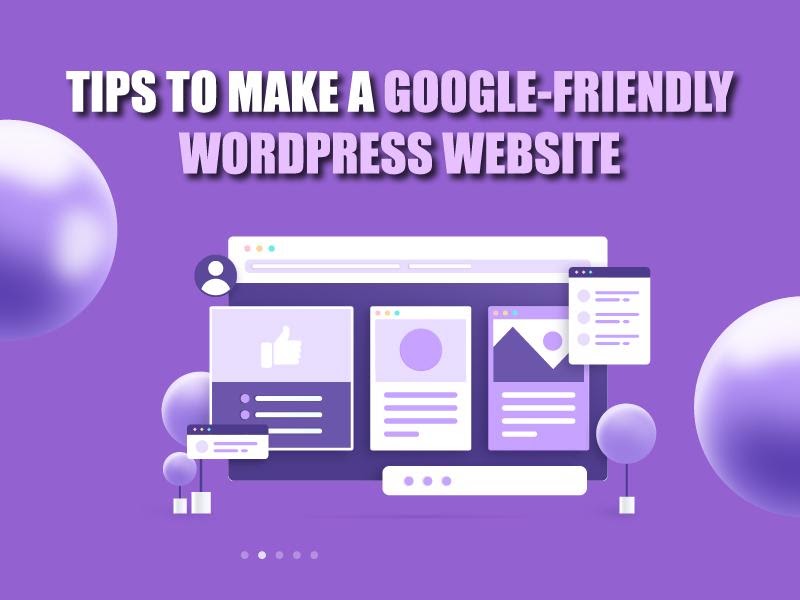 People rely on Google for almost everything nowadays. Simple questions, latest fashion, foods, locations and, even sending out professional emails.For website owners, it is a huge opportunity to cater to the needs of the masses online. But, to cash in the opportunity, they would need to get their website SEO done first.

According to research by Bright Edge through SEO, you can derive 1000% more traffic than your social media accounts.

Only when a website is SEO friendly can it be Google friendly. So, here are seven tips that can help you create a Google-friendly website.

7 effective tips to make your website Google friendly

Page loading speed is one of the biggest factors in ranking on Google.

The search engine giant's Page Algorithm Update has listed a few ranking factors in the form of points, and the website loading speed is one of them.

Ideally, if your page does not load within 3 seconds, the user will bounce back, and Google will mark your website as slow, dropping your rankings down.

Thus, it is important to have a swift load speed. You can employ online tools that can help you figure out your loading speed, and by adjusting your content, you can drop the number down.
SSL certificate is paramount
Website security is another factor in Google's Page Algorithm Update. For example, if your website has an HTTP (Hypertext Transfer Protocol) encryption, Google will mark it as "Not Secure", and users will be warned before visiting your website.
On the other hand, if your site has an SSL cert installed, it will run over HTTPS (HTTP + SSL = HTTPS) protocol, which complies with the search engine's PEU (Page Experience Update) and will encourage users to visit your website.
Now, you must be wondering, what is an SSL after all?
An SSL or Secure Socket Layer certificate is a security technology designed to protect your website from malware and data thefts posed by cybercriminals.
SSL uses PKI or Public Key Infrastructure to encrypt data and send it over a secure network in an encrypted format.
SSL comes in three types, namely, Regular single-domain, Wildcard SSL certificates and multi-domain SSL certificate.
A regular SSL can only protect a single domain or subdomain, wildcard SSL can protect multiple subdomains to level 1 in addition to the chosen main domain and Multi-Domain SSL can protect multiple domains in a single ssl certificate.
There is a plethora of cheap SSL certificate providers in the market but a few of them like Cheapsslshop is a best platform to buy SSL certificate at the lowest price.
Use readable URLs on your website

.
Readable URLs are easy to read. Using a URL, users can easily figure out what they will see on the page they are about to visit.
For example, a URL such as www.giftsandpresents.com/five-benefits-of-having-an-awesome-sister is easily readable.
But a URL like: www.giftsandpresents.com/0212-5%&-1212 is impossible to read. Therefore, a user can never tell what they are about to visit.
Thus, choose easy-to-use URLs to help users and search engines know what your content is all about.
Image optimization is a must

.
Images make a website look professional. Infographics and videos serve the same purpose too.
But images also grab a lot of space, decreasing the site's speed and eventually making them rank lower.
So, you must optimize your images before uploading them. Compress them to a small size where they look good but eat up less storage space.
Moreover, use alternate text to educate your readers about your image. For example, Alt-text is necessary for ranking as well as letting people know about the image details.
Get your broken links fixed

.
Nothing ruins your WordPress SEO more than a broken link.
Broken links occur when your website fails to redirect your users to the link they clicked. Instead, it shows a 'Page Not Found' sign, which is frustrating when a user needs some information.
Google's crawlers are quick to figure out broken links, and if they are not fixed, the search engines will automatically start to drop your rankings.
Broken links also increase your bounce rate and promote a bad customer experience.
The best way to avoid them is by using online tools to fetch them. You can run a regular site audit where you can figure out and fix them.
Your website must be mobile-friendly
A good website has a mobile-friendly interface. Therefore, it can work equally effectively on both the desktop and the mobile device.
People do not use laptops and desktops these days unless and until it is necessary. More than 51% of web traffic comes from mobile alone.
Thus, web designers must know how to create a simple interface compatible with both devices.
If your website is mobile-friendly, you automatically gain compliance with Google's PAU.
Much like the alt text in your image that teaches the readers what a particular image is all about, meta tags and titles educate a user about the content piece inside the link.
It also gives an idea to Google's algorithm as to what its users will get after visiting the link.
A clear and well-defined title tag should not exceed 60 characters and, a good meta tag comprises 150-160 characters.
If your title and meta tags exceed this limit, Google will consider them complex and not easy to read in one go.
Thus, keep your meta and title tag under a limit, and your rankings will improve.
To Conclude
Ranking on top of Google's SERP is easy when you know exactly how to comply with Google's search algorithm.
However, algorithms keep changing, but the basics remain the same. If your website is protected, optimized and, appropriately designed, ranking on Google might not be an issue for you.
Remember, Google does not want to complicate things for you and make it hard to rank on it. All search engines are looking for is the quality user experience, which is important for you too.
Thus, if you can simplify the experience for your users, topping the search engine giant will be easy for you.
Follow these seven tips to ensure that you make your ranking journey easy and smooth.