Unlike Android and other operating systems like Linux and Windows, there is not much you can do to personalize or customize your iPhone or iPad to your taste due to the boundaries imposed by Apple's operating systems. Thankfully, there is something like jailbreaking, which offers a way to personalize your iOS and iPadOS devices outside these default boundaries; you can add third-party apps and other add-ons to your smartphone to get the best out of it. In this article, we'll look at Titan, a new jailbreak tweak that enhances the picture-in-picture mode on your iOS and iPadOS devices.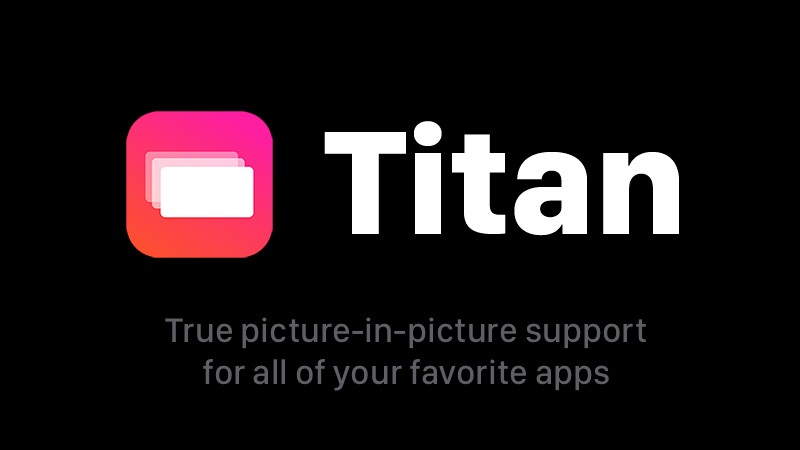 Titan Jailbreak Tweak for Better PiP
Picture-in-picture mode allows you to watch videos from an app on your device in a smaller, separate window while doing some other things on the main window on your phone. The PiP feature launched with support for a limited number of apps, which kind of defeats the purpose as many of the applications people use daily cannot be used with the mode. This is where jailbreaking tweaks come in.
Titan is a jailbreak tweak that helps expand the number of apps with which you can use picture-in-picture mode on your device, above the limit originally offered by Apple. Titan has however not been launched yet; it is still upcoming. According to the developer of this tweak, TheSaltCracka, the development of Titan is in an advanced stage, and he has gone ahead to share some of the key features to look out for in the tweak when it launches, in a Reddit post.
Below are the features outlined by TheSaltCracka for Titan.
Titan Jailbreak Tweak Features (Upcoming)
Activator Support
This helps you to toggle the picture-in-picture mode as you would be able to set activator action for apps that do not have buttons, and if you don't want to use the activator, the tweak has two similar toggles for you to work with.
Auto Picture-in-picture
When you are watching anything on your device, and you exit an app or open a notification, etc., PiP will automatically start with an animation, the same way it is on iPad. The short video above uploaded by the developer shows how this works briefly.
Smart Positioning
This helps to position the PiP window to not get in your way by figuring out where the navigation and tab bars are, and then placing the PiP window in a position where it won't block them from being used properly.
Apps Supported by Titan Jailbreak Tweak
Some of the popular streaming apps that Titan will support upon launch are:
Netflix.
YouTube.
Hulu.
Twitch.
Disney+.
Prime Video.
ESPN.
Plex.
According to the developer, all the aforementioned features work with these apps and even more, and that there have been several rounds of testing to get the tweak to the stage it currently is. As most work has been done, it is only a matter of time before it is launched, so, get ready to have a wonderful picture-in-picture experience with Titan.
Watch this space for more information on Titan as is made available by the developer, and to know when it officially launches. In the meantime, browse through numerous other jailbreak tweaks we've covered in previous posts, including MuteVibes which allows you to customize your iPhone's silent switch sound and vibration, and Signe which gives you the ability to use numeric gestures as shortcuts for apps and websites.