Taking everyone by surprise, Google has unmasked the first look of Android Q. The tenth generation of Android OS comes with a new and enhanced avatar. As we have observed, the scope and possibilities of Android have grown even more with the release latest Android Q. In recent years, we have seen a boom in the smartphone industry which aims to break the boundary of generic smartphone usage. This has been complemented by the release of efficient Android operating systems. Google always makes the newest Android OS available for various devices out there regardless of flagship or budget status. Android Q is no exception to this. When we see a new version of Android OS, the first question that arises in our mind is about the features it packs. In this post, we will have a detailed glance at the new features of the Android Q first beta. We have put up Top 10 Features of Android Q beta. You can check it out below.
Already, Android Q 1st Developer Preview beta is available for Google pixel devices.  It's just the beginning and as the history goes we will definitely see a few more beta iterations which will follow in the coming months. So, expect a lot of enhancements and new features making their way to the devices.
Top 10 Features of Android Q Beta
Let's check the new features Android Q packs for various devices.
Location Control
Location access has always been an issue of debate. It's an important feature which is useful for various Apps. However, it has been also controversial when users complaining that the info of location breaches their privacy. With Android Q Google now introduces more control of the location in the hands of the user.
Android Q enables users to give apps permission to see their location in threefold options.
Never disclose location
only allow seeing location when the app is in use
all the time (when in the background).
For instance, If a cab booking App is asking for a user's location definitely user must enable the location. However, when the App is not being used, the user has the option in Android Q to turn off location access for the particular App.
Enhanced Privacy Protection
Android Q allows the users to have control of Apps forcibly running in the background. This also enables users to prioritize their Apps. So, there will be no forcible interruption of Apps. Whatever the user chooses to run, the same will reflect on the device.
Support for Foldable and Multi-Display Devices
There is a great deal of innovation that has been happening since mid-2018. It' the concept of foldable devices which has already been materialized by a few OEMs. So, keeping these unique devices in the target, Android Q has come up with new features that support Apps in dual fold screen. Below you can see the example. However, from what it looks this feature is yet to receive more enhancements in the future.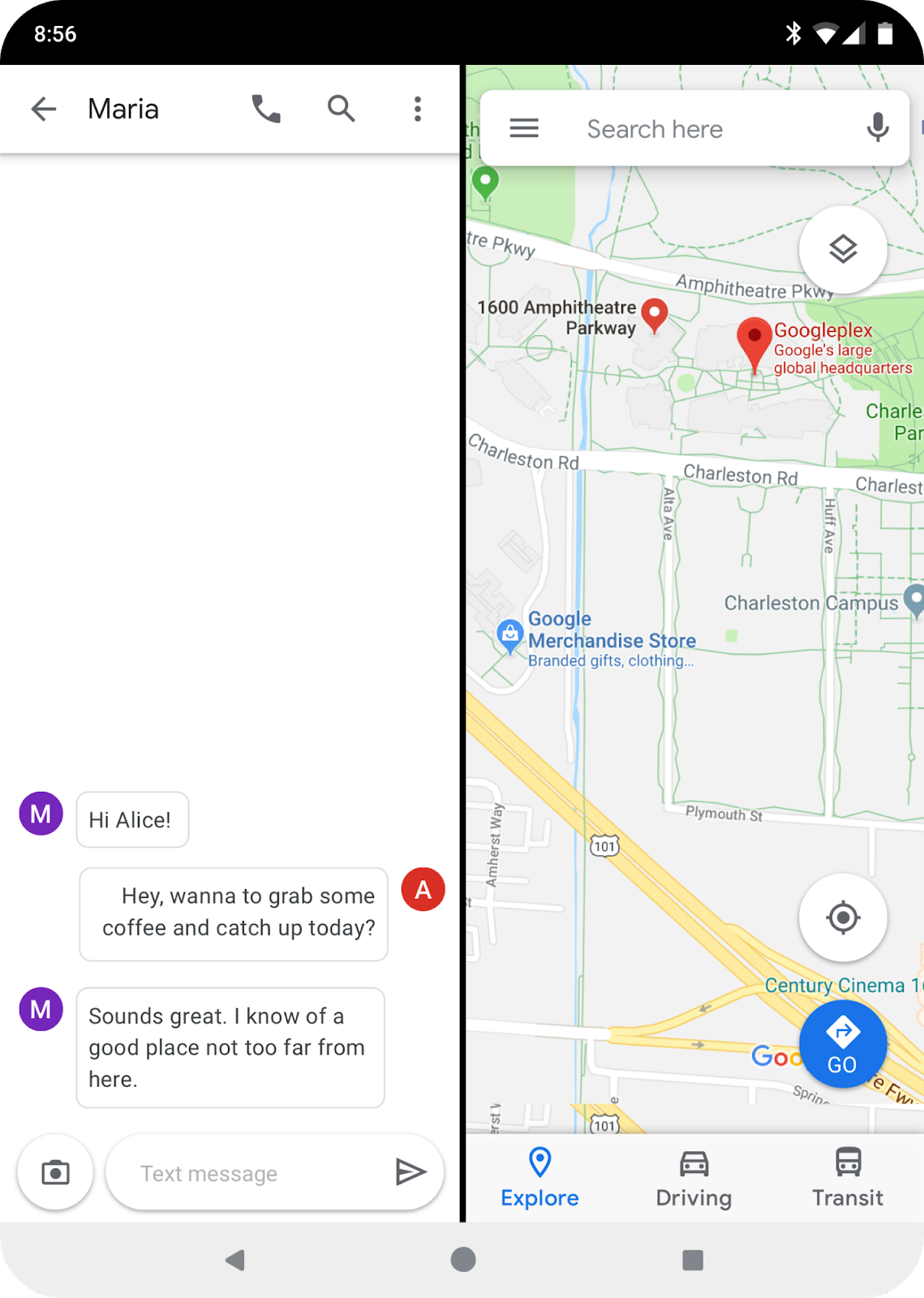 Sharing Shortcuts
File sharing is an everyday phenomenon and Android Q has taken a step forward to make the process faster. A new functionality called Sharing Shortcuts has been introduced with the new developer preview. It basically allows the users to jump directly into another app to share content.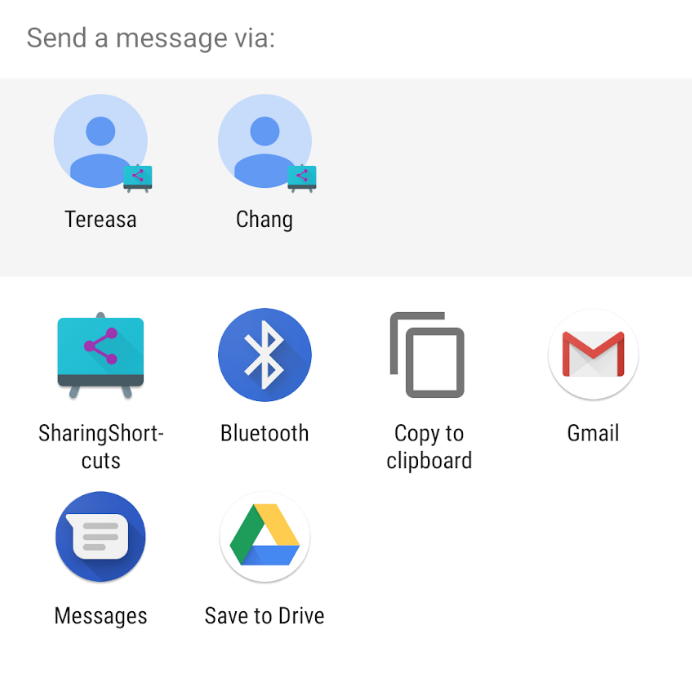 New Settings Panel Layout
From the time of Android Oreo, we have noticed the Settings layout keeps improving with each Android release. The trait continues with Android Q as well. This time Google has designed a new settings panel which is a floating UI that you can invoke from any of the apps you are using.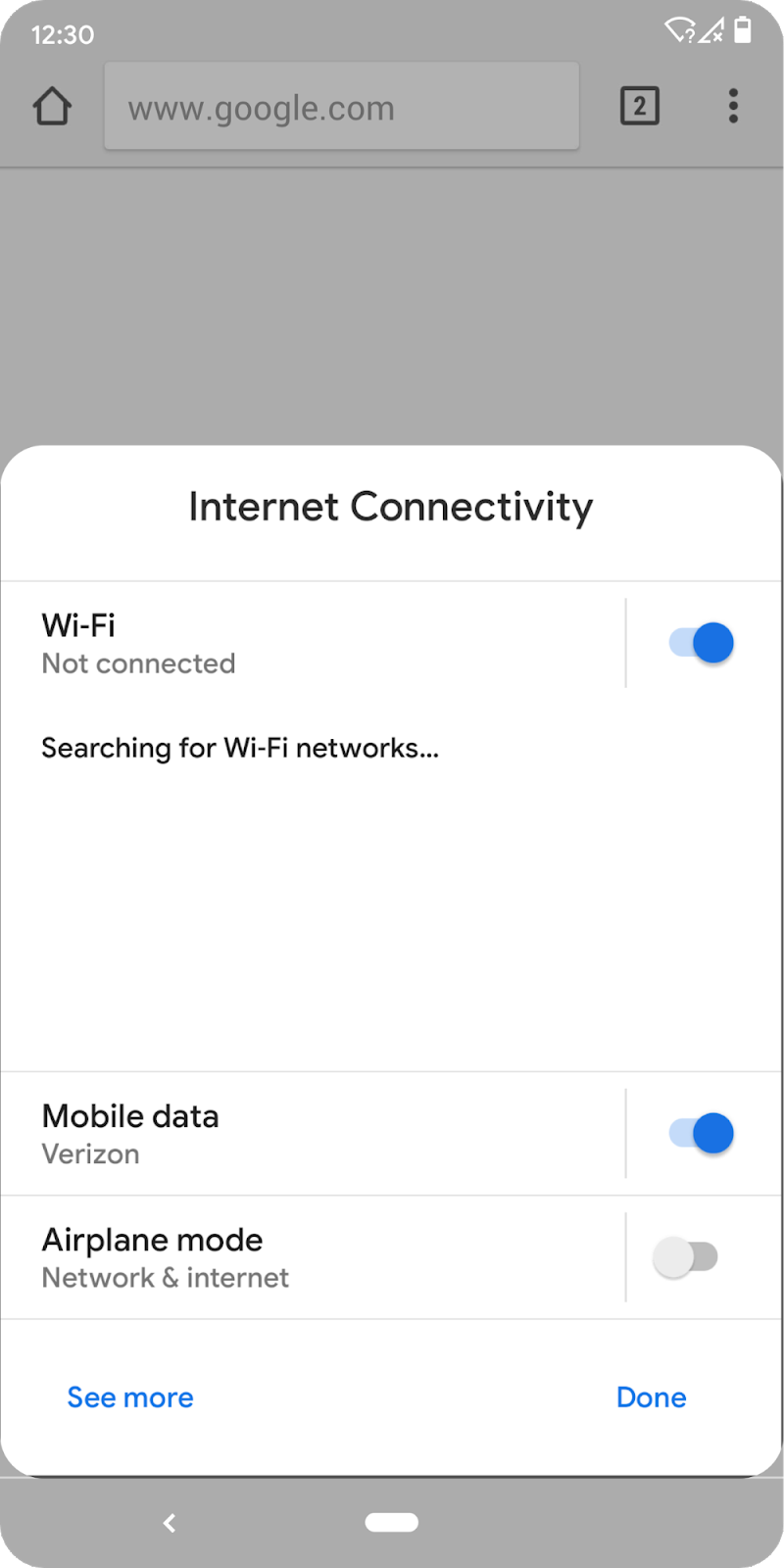 New Connectivity APIs
There is now an upgrade from COARSE location permission to FINE location permission for APIs running Bluetooth, Cellular and Wi-Fi. Android Q adds new Wi-Fi standard support, WPA3 and Enhanced Open, to improve security for home networks and public networks.
Wi-Fi Performance Mode
Android Q allows users to enable high performance and low latency modes. It will come in handy where low latency is important to the user, such as real-time gaming which has ping issues. Better network receptivity is allowed for the concerned gaming App. Also, its other uses can be active voice calls.
Improved Peer-to-Peer and Internet Connectivity
With Android 10 Q, devices can suggest internet connections without having to require location permission. It is now easier to manage peer-to-peer functions like configuring, downloading, or printing data. Enhanced network APIs now allow seamless connection based on past performance when a device is in the range of those networks.
Dynamic Depth for Photos and Camera Apps
As its predecessors did, Android Q is also aiming at improving the camera and photos experience of the user. Ths it introduces the concept of Dynamic Depth for images. Camera and Photos App can request for dynamic depth which will enable the user to personalize the blurring and bokeh effects on your photos. You can even use dynamic data to create 3D images or support AR photography.
New Audio and Video Codecs
Android Q now brings support for AV1 codec which allows media providers to stream high-quality video content on Android devices using less bandwidth. New Android Q also supports audio encoding using Opus. It is a codec optimized for speech and music streaming. It also brings the new HDR10+ for supporting high dynamic range video on devices that support it.
Neural Networks API 1.2
Neural networks have been evolving in parallel with each generation of Android OS. With Android Q, Neural networks API 1.2 has surfaced. The number of supported operations has been expanded with better performance optimization. The latest Android Q based neural Networks API 1.2 makes use of TensoeFlow machine learning framework.
Improved ART Performance
Android Q also brings improvements to the ART runtime. It will enable apps to start faster and consume less memory, without requiring any intervention from the developer's end.
So, as of now, these were Top 10 features of Android Q which comes with the first developer preview. There's more to come in the upcoming beta rollouts. So, stay tuned with GetDroidTips to get all the latest information about Android Q.