Although we get a wide range of fonts options for Android or Smartphones, for the purpose of Online projects or even printed form of work. For various reasons like education, assignments, office work, presentations going with the default or traditional methods and fonts are something that not all of us prefer. Hence, here is an article for those who want to spice up their projects or assignments by using free fonts.
From all that we could find, we have come out with top 10 Websites to download free fonts that would help you for downloading your favorite fonts even for commercial use. All of these mentioned sites are not listed in any particular order. Hence, I would suggest you all to go through each one of them since they all stand out in their own ways. Choosing the one depends on your priorities completely.
Top 10 Websites to Download Free Fonts You Should Use:
1. Font Space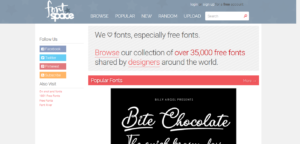 With over 20,000 selfless font designers sharing their work of art without charging anything and a wide range of options to choose from 35,000 fonts for the users, Font space is one of the best sites to use fonts from. The most noticeable part being, you do not have any obligation to sign up for the website and make use of it. You can simply drop that process and move further downloading fonts.
A well categorized interface that allows you an easy way access to download options you can choose with the help of tags. Also, to take your attention, do check the option- "Only Check Commercial Use Fonts" so as to filter out commercial fonts only. As there isn't any necessity to sign up, You can download free fonts in one single click.
Font Space allows you to preview multiple fonts at the same time and offer easy download options. The files here are downloaded in .zip file that contains .otf and .ttf files which are ready to be installed anytime.
Pros:
Widest Library for Font Options.
User Friendly Interface.
Commercial Fonts available for free.
2. Font Struct
The other free font website that offers you near around and more than 43,000 free fonts. Although the procedure of choosing the fonts begins with an obligatory Sign up to their website, they offer very unique font types. One of which is True Type fonts which stand out to be of a higher quality and can be used on Windows and Mac.
In the Font Struct gallery, you can come across the best fonts which are quite a lot easier to use even for the newbies. But do note, you have to sign up for the website before actually downloading any of their fonts. You are allowed to create customized fonts using the free font generated also called as FontStructor. It basically helps you to create fonts that other apps can support.
The most attractive feature of Font Struct being, you can willingly create custom fonts that will be compatible with other apps as well. Font Struct is a tool popular among the users for free font creation, indirectly boosting the creative levels of so any people with just one site.
Pros:
Filters Option for more relevant Search of fonts.
Custom Fonts can be created using Free font generator.
Unique Fonts Available in the library.
Also Check: Top 5 Most Productive Apps For Android
3. Google Fonts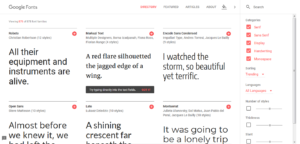 One another amazing feature by Google, Google Fonts. A very technical cum Formal font collection that introduces in its library the simpler fonts. Hundreds of free fonts with more than 135 languages absolutely ideal for Photoshop or designing projects or any thing similar.
If you are the one searching for a typical project or formal work this is the most preferred free font website, in my opinion. You get here a wise number of free fonts in Sans Serif, Monospace, Handwriting and Serif. However, for anything related to uniqueness or style, this isn't the one you might be looking for.
All you got to do is browse through the fonts and click the option- 'Add to Collection'. You will get this option for every font, choose for which ever you like. After having selected the fonts of your choice, you have to download them all in a .zip file. Now, when you unzip the same, you will find out the fonts in either .otf or .ttf for the installation process.
Also, all the fonts at Google Fonts are open source. That means, you can easily modify them or can even use them for commercial use.
Pros:
Preview Option
Filters Option to find more relevant fonts in terms of Thickness, Width, Slant, etc.
Fonts can be placed directly on the website.
4. Fawnt
Another Option for people or more particularly designers, developers all around the globe for the brightest quality of fonts. With more than some 10,000 free fonts available at the library of their website, they have a real variety in typeface and font families.
For aimless ones, a list that shows the most downloaded fonts of the time so as you can choose one of them. You can also browse through their index with variety of filter options to find what you want sooner.
Pros:
A blog is available where you can find out new designs.
You can Preview fonts with all characters given.
Filter Options and Index to Browse.
List of top downloaded fonts.
5. Font Squirrel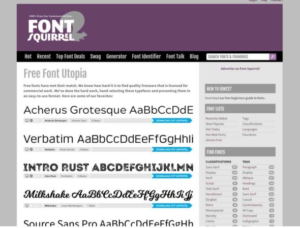 If you are looking for a website that can provide you "100% free for commercial use" fonts, Font Squirrel is your stop. Since their tag line is the one what you are lurking for. You get here a number of free commercial fonts and if you wish for more, you have an option of 'Almost Free' fonts to buy and use from.
In my Point of view, I could find Font squirrel to be the most useful and best website for commercial free fonts. Whatever criteria you choose, quality, quantity, easy usage or whatever, this font site turns out to be the one meeting all your needs especially for Commercial uses.
You get a number of filters that would help you to find the exact types of fonts you want. Some of which are Tags, Family Sizes, Languages, Licenses, Classifications. They also have the Sort feature where as like the traditional ones with Popularity, Recently Added and much more.
Pros:
You an find a particular font from its image through 'Font Identifier.'
Multiple Filters.
Sort options.
Quick zip file download with one click.
Build for Commercial use hence no worries about the license issues.
6. DaFont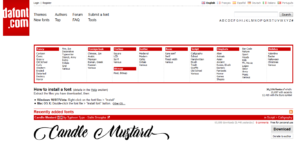 One of its kind, this legal website for free fonts comes with a wide range of themes to choose from. Although you might find it quite struggling to get to the commercial fonts at first, but when once you get the tact of using this site, you will be not less than addicted to it. Reason being you can get real unique and quirky fonts as per the themes.
Apart from the extensively huge library of fonts and a detailed category collection, this website also includes fonts themes such as Alien, Gothic, Halloween Horror, fancy and much more. There are also many filters available regarding Size, License, Variants, Sorting Way, etc. Another convenient way is to type a text to view a sample for all the fonts at a time. This way you can get all the fonts at one glance.
One of the tricks you can use to get in depth of this website is to click on "More Options" and also Check off "100% free" and "Public Domain" before searching for fonts. This would help you in many ways to download free fonts for commercial use.
Pros:
Theme oriented categories list available.
Good Option for Eccentric and Niche Fonts.
Unique, Quirky Fonts.
Cons:
Needs time to get used to the website.
Also Check: Connect to Free Wi-Fi Anywhere with this App
7. Urban Fonts

A pretty well combination of Link ware, Shareware and Freeware collection with near around 8,000 real high quality fonts both for personal as well as commercial use. Since this has all these ware and both type of fonts for use it would be recommended to check the terms and conditions of its usage before actually downloading the fonts.
For convenience of the users, this site has two separate sections for free fonts and Free Dingbats and the other Premium which you can check if the free section does not satisfy your demands. Even if said premium, the fonts here will for sure satisfy your needs and that too at a reasonable price.
Pros:
Wide Number of Categories.
User-Friendly.
Ease in downloading Fonts.
Relevant Search Results.
Multiple Filters.
Cons:
Some Premium Fonts.
Need to Check the Terms and Conditions before usage.
8. Abstract Fonts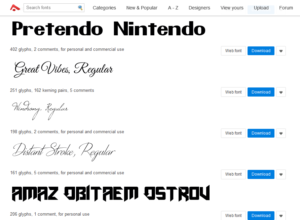 Being one of the most simplest User Friendly Interface and filled in with somewhere near around 13,870 fonts, Abstract Fonts is another best Free fonts website. Here you get around 80 Categories such as- Fuzzy, Retro, Celtic, Dingbats, Monospaced, and a lot more. You can download up to 100 fonts in one zip file.
You get an option of custom preview which allows you to view all the fonts in the color you wish them to be so as to help you in a better selection. You get a number of filters that include Popularity, designer, category, etc. The Interface is quite a lot pretty to use for Photoshop or designing purposes.
Pros:
Ease with categories section.
Regular updates providing newer and cooler fonts.
100 Fonts can be downloaded in one zip file.
9. Font Zone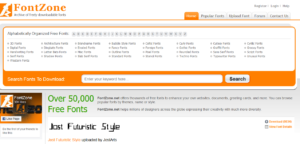 Font Zone is again one of the best free fonts website wherein you get thousands of fonts at your hand especially to over all the designers across the globe. Pointing to designers specifically because of the numerous unique and art-oriented fonts you get here. From Curly, 3D, Gothic, to Handwriting, Architecture, Rounded and so many others to experiment with.
You will see here very well categorized free fonts that you can browse soothingly from their library. This website has got covered a great number of design oriented fonts. So if you are looking for any sch, this one is surely recommended.
Pros:
Can Browse through categorized fonts.
Large number of fonts specially design oriented.
Custom Preview and registration option available.
10. 1001 Fonts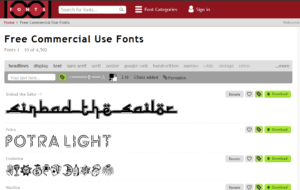 Although named 1001 Fonts, this website has got over 7360 free fonts in 9526 families to offer you. But note that not all of them are at service for commercial use. So to help you all to access the 4000+ free commercial fonts available on this website, you can get them by simply clicking on the link here.
The another drawback I could find is that you get here an user interface not as much friendly as others. However, neglecting that the fonts present here are all of great quality and worth giving a try. And also can be installed very easily. Also, some fonts may display a few characters only but you will find the full set on installing that font.
There is another unique thing about this website, since it has so many users, they have given a place for the comments section for every font. So these comments will surely help you to know more about a certain font and guide you on whether to download it or not. These opinions and views may help you a lot.
Another reason these comments being helpful is that the character map on the font web pages do not every time represent the characters accurately that come along with the font. So you shouldn't be depended on them is my honest suggestion.
Pros:
Download fonts without signing up.
High quality fonts.
Unique and impressive collection in the library.
Smooth navigation on website.
Conclusion:
I assume you all have found the kind of free fonts website you wanted. Though some of them have got fonts in a higher number than others, all of them are unique in their own way. Let us take for an example, Font zone works great for designers and creative fonts where as Google Fonts provides you Fonts in some 135 Languages. So the choice of website for free fonts to make entirely depends on your needs.
This was all about Free fonts Websites we could find the most reliable. If you are aware of any others than this, you can surely try them as well and let us know about the same in the comment section below. Hope you guys found this article useful!
For more such updates, tricks and tips, make sure you have subscribed to our Newsletter by now. Also, if you come across any queries or questions, feel free to write it down below.
Also Check: Gearbest Offer on original Xiaomi Ultra-thin 10000mAh Mobile Power Bank