If you have been searching for some good Dropbox Paper Alternatives for Windows and Mac, then we've got you covered. Read on to find some of our best handpicked note taking and management apps!
Note taking has become crucial in today's world. We have seen the amount of people change from pen and paper to stylus and smartphone. This is because note taking on screens with software is much more convenient than having to write them down on a piece of paper, only to misplace it later. With the arrival of smartphones, people have slowly gravitated towards using technology as a means to store and remember things. This is due to a couple of reasons. We have already talked about the convenience aspect, so now comes the functionality of using note taking apps. Most apps that allow you to take down notes or create reminders have grown very powerful in the recent few years. Let's have a look at a few such features that make these note taking apps so alluring.
Most of the reminder and to do list apps that we've talked about on our website before sport an insane amount of cool features. While previously the entire notion of taking a note was just you writing down things you want to get done, technology has made it possible for you to take things to the next level. While taking a note, you can now add images, links, or even videos. You can add more people to your to do list or note for collaboration purposes. You can customize the way your notes look to mimic paper and colorful pens. Best yet, what note taking apps for online devices allow you to do is sync all your data so you never lose them. One of the biggest note taking applications in the recent years has been Dropbox Paper, which is a service provided by the massive file sharing repository.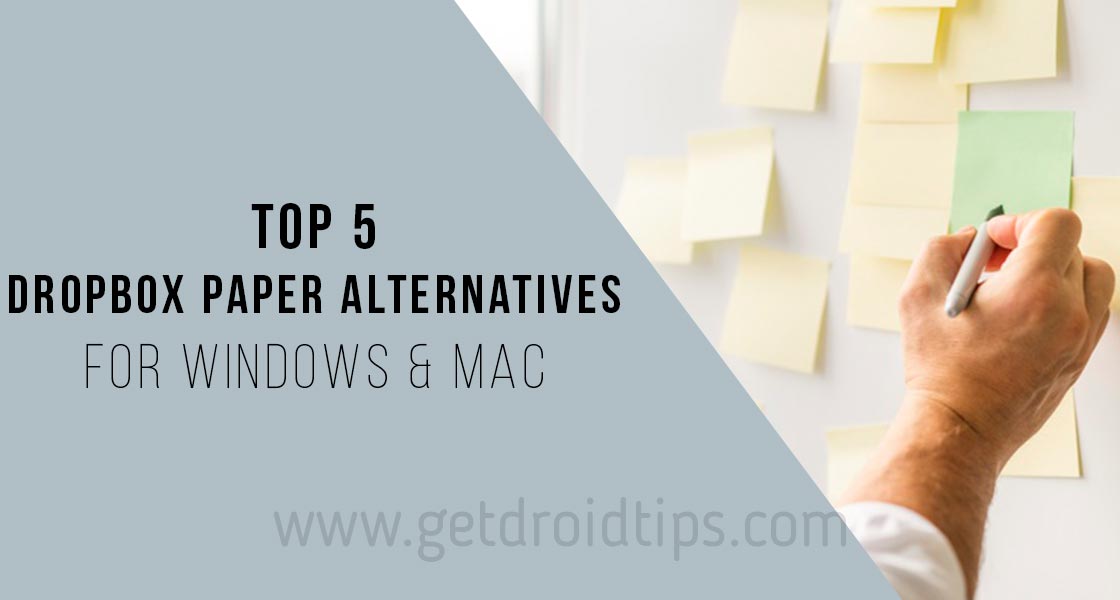 However, there will be people who use Dropbox Paper who maybe do not enjoy using it as much. This is why alternatives to everything are important. While Dropbox Paper has a great user interface and cloud saving features, there are other many note taking apps on the web that provide the same experience, if not better. Dropbox Paper excels when it comes to integrating within it a lot of links or media, but falls short greatly when it comes to the organization aspect. If anything, being able to organize your notes how you wish is a note taking app's biggest task at hand. Worry not, we have compiled a list of some of the best note taking applications available for users to try out for free. So sit back, and discover some of the best Dropbox Paper Alternatives for Windows and Mac.
Top 5 Dropbox Paper Alternatives for Windows and Mac
All of the services mentioned below have been tried and tested by yours truly, and I recommend only those services that provide a fulfilling user experience. As far as availability goes, most of the services we've mentioned about below are free, to begin with, but run on a freemium basis which means users can opt into buying the premium versions which unlocks a whole lot of other cool features. Overall, if you don't plan on spending any money for Dropbox Paper Alternatives, you can still enjoy most of the listings here too! With that being  said, let's take a look on our top picks!
#1 – Google Docs
Kicking things off is my primary note taking app of choice, and it comes straight from Google itself. While Google Docs might be seen more of an alternative to the likes of Microsoft Word, it still works great as an online service for taking down quick notes. Since it uses rich text to edit, you can basically use any font of your choice, play around with the colors, and do all of this in a traditional Word document style. While Google Docs doesn't support as many formats as Dropbox Paper or the other ones on this list do, it still comes in handy with the limited amount of formats it offers. Additionally, you can embed basically any kind of media into your document and not worry about it breaking. Overall, thanks to its powerful document editor and embedding features, we highly recommend you try out Google Docs as a good alternative to Dropbox Paper. You can download or use the latest version of Google Docs on your Windows or Mac device by following the link provided below :
Try out Google Docs
#2 – Evernote
Evernote is probably the best regarded note taking app in existence right now. This is all thanks to the elaborate formats and the sheer amount of customization that Evernote provides to its users. This note taking app is also highly recommended for those who work in groups and collaborator a lot with others. Evernote has a ton of group collaboration based features such as being able to assign tasks to someone particular, view live edits, and even create different labels for different people to sort things out the easier way. Evernote also has a powerful embed feature which will allow you to place any kind of media, be it a link, video or image right within your notes with ease. Overall, thanks to its super intuitive user interface and ever updating  and bug squashing developer team, this is one of the best alternatives you can find in place of Dropbox Paper. You can download or use the latest version of Evernote on your Windows or Mac device by following the link provided below :
Try out Evernote
#3 – Quip
If you love Google Docs for its rich text editing capabilities but also simultaneously dislike it for being so old school in terms of design and user interface, try out Quip. This alternative to Dropbox Paper brings all the goodies from other note taking apps, and packs it into a very minimal and user friendly design. Quip also has a powerful view history option which ensures that you always have backup of your old documents in the unfortunate event of you accidentally changing or deleting information within a file. Moreover, Quip makes use of visual aids such a pie charts and bar graphs which makes it a viable option for those in the marketing or research field. The website is very responsive, and the tools it gives to its users are great to begin with. You can download or use the latest version of Quip on your Windows or Mac device by following the link provided below :
Try out Quip
#4 – Notion
If you want an all-in-one service to manage all of your notes, then you should definitely give Notion a try. While the other note taking apps do what they do best, Notion takes it up a notch and brings to the board even more functionality within a single service. Notion also allows you to create spreadsheets, jot down notes, create cards like you can in Trello and much more. This is in addition to its superior user interface which puts everything organized and easy to understand. We recommend Notion to those who wanted something more than just a simple note taking service, to replace the 4 other apps or websites that one users on a daily basis. Other features of Notion include being able to create new "workspaces" and add people so collaboration is made even simpler. You can download or use the latest version of Notion on your Windows or Mac device by following the link provided below :
Try out Notion
#5 – OneNote
Coming at last, we have OneNote, which is probably the best alternative to Dropbox Paper when it comes to features and design. OneNote is Microsoft's answer to note taking and organization of all your data. The coolest aspect about OneNote is the user interface thanks to the modern looking look and feel of the service. It gives to its users some powerful embedding features, rich text editing, and superior organizing options, just like chapters in a book! Since OneNote comes straight from Microsoft, it also benefits from features such as text to speech, OCR, and also being able to perform complex mathematical functions. Best yet, if you own a Windows based machine, OneNote already comes pre-installed, and we highly recommend it since it shows up as an app instead of a web-based service. This means the app runs very smooth and is highly responsive to your actions. You can download or use the latest version of OneNote on your Windows or Mac device by following the link provided below :
Try out OneNotehttps://www.onenote.com/
That's all folks! We hope you enjoyed our roundup of some of the Top Dropbox Paper Alternatives for Windows and Mac! Which one among the list is your favorite, and how many of these note taking services or apps have you already known or have been using? Know other good Windows or Mac Dropbox Paper Alternatives that you feel people might find interesting? Do let us know in the comments section below, we'd be delighted to hear from you guys!