Infrared Blasters have been around for ages, in Televisions, Microwaves, Air Conditioners, everywhere. It is indeed quite a retro piece of technology, but it still is the golden standard being used promptly as it is in today's modern world. Over the course of years, we've seen smartphones prevail this feature, sporting an IR Blaster within the chassis itself. While it is nothing surprising, it's a good thing to have in your smartphone, thanks to all the things you can do with it.
If you own a Xiaomi or an LG phone, chances are your device already has an IR Blaster up front. This can be used to control various appliances throughout your household. Such a concept comes in really handy when you don't want to scatter your life with specific remotes and would rather have one and only one universal remote – your smartphone. In this article, we'll be listing 5 such applications that grant the user full power over controlling IR based appliances from his/her smartphone itself. We will also be breaking down the reasons why we feel every app is unique and is up on this list. With that being said, enjoy your read!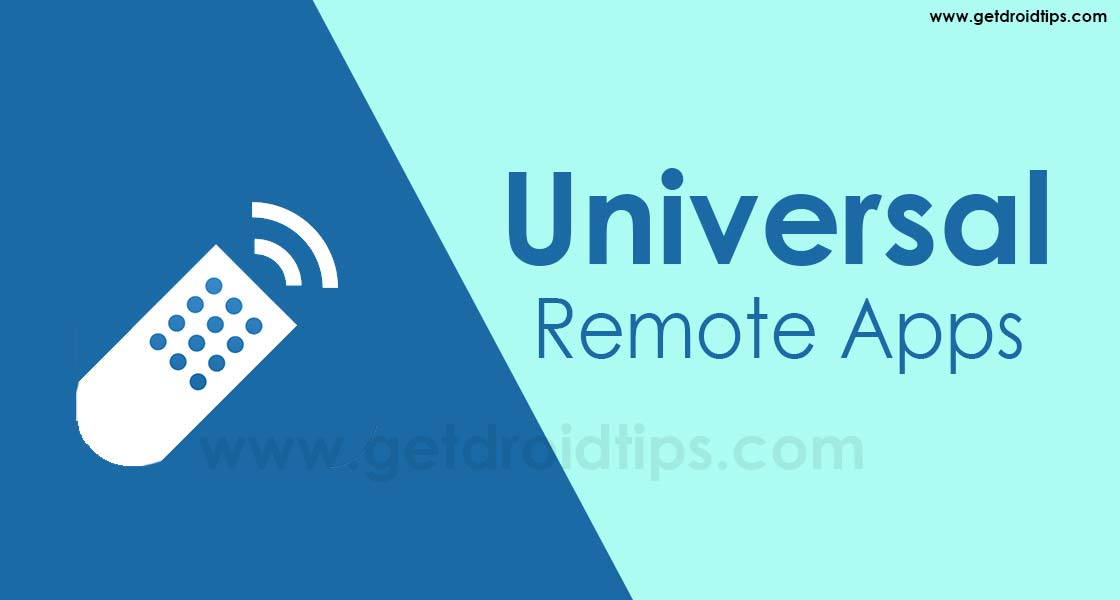 Top 7 Universal Remote Apps For Android devices
All of the mentioned apps below have been picked and tested from the Google Play Store. Some of these apps do work without an IR Blaster but require your appliances to be connected to the internet. The others, however, are much simpler but make sure your device actually has an IR Blaster to make use of these apps.
1. Twinone Universal TV Remote
The first in our list is a basic remote application that can be used to control a wide range of televisions and cable boxes. The app itself has an easy to understand UI with big colorful icons, so this could be very easily learned by even someone elderly. You can have multiple instances of a remote with several of the offered codes within the app at the same time, that's what puts this app in our list. Our only quirk with the app would be the prompt advertisements which may get annoying sometimes, especially when there isn't even a pro mode to get rid of them. Overall, if you're looking for a unified remote app to control your TV, then Twinone should be your one-stop shop. You can grab this app over at the Google Play Store by following the link below:
[googleplay url="https://play.google.com/store/apps/details?id=org.twinone.irremote"]
2. WaveSpark Universal TV Remote
Next up on our list is very similar to the first one, but this one differentiates itself by offering a few nifty little tricks and options. For starters, you can not only use this app to control your physical non-smart TV using the IR Blaster functionality of your phone, but you can configure the app to control various other appliances like the AC, or any smart lights/fans in your home. Using the sliding menu within the app, you can easily choose your code configuration and have your universal remote working under a few seconds. Best of all, this app allows utmost customization, you can change everything about your remote, the colors, the grid and each and every position of any button as well. This opens a world of creativity to suit your needs the best. You can create powerful macros to perform long tasks with just the press of a button. The app is free but is supported subtly by ads that don't get in the way as much. If you'd like to try it out for yourself, below is the link :
[googleplay url="https://play.google.com/store/apps/details?id=com.freeirtv&hl=en"]
3. Peel Smart Remote
Our next pick might be the most interesting one on this list. Peel Smart Remote aspires to be more than just a controller app and attempts to build its very own ecosystem of things around. Sure, with this app you can still easily configure any appliance you have using the set of codes within the matter of a few seconds, but it gets much more fun than that. The app itself is a library of content that you might be interested in. The gorgeous UI of the app makes it seem like a streaming service, while it really is not. The app connects to the internet, learns from what shows or movies you're into and suggests a few that you may like.  You can set reminders on the app to buzz your phone when your favorite show comes up on the television. Peel Smart Remote can obviously also replace other supported appliances like lights, air conditioners, fans, heaters and more. It does come with a tweaked lock screen that brings forth interesting news and one tap controls, although we weren't really into that. Overall, if you're looking for a service more than just a bare-bones app, we couldn't recommend Peel Smart Remote any higher. You can download it from the Google Play link below:
[googleplay url="https://play.google.com/store/apps/details?id=tv.peel.smartremote&hl=en"]
4. Google Home
While Google Home doesn't count as a universal IR blaster remote, it does work quite in a similar way. If you have a home filled with smart appliances like lights, a smart TV, a Google Home mini or anything that syncs over the internet, then this app is your best friend. It doesn't require an IR Blaster since everything happens over the air. You get access to one-touch controls for all your smart accessories right on the homepage of the app. You can rename each and every smart home item you own, categorize them and even use Google Home in conjunction with IFTTT to truly automate your home. If you happen to own one or multiple Chrome Casts, then using Google Home will only boost your automation to the next level. The app itself flows in and out of Material Design, since that's what's to be expected from Google, and has excellent responsiveness as well as stability. If you do plan on controlling your already-smart devices with a universal remote, Google Home is the only place you'd have to look for it.  You can download Google Home on your Android device from the link below :
[googleplay url="https://play.google.com/store/apps/details?id=com.google.android.apps.chromecast.app"]
5. Mi Remote
Next up on our list is probably what we would recommend to the masses. Mi Remote is not only an application that has a clean design with comforting options and toggles that are very easily understandable, but it gets frequent software updates thanks to its vendor – Xiaomi. Don't worry just yet, this app isn't restricted to only Xiaomi users since it should work just fine for any phone sporting an IR Blaster. The moment you launch the app you are greeted with a pleasant experience, with predefined presets to choose from. Like any other universal remote application, you can control a host of appliances ranging from television to washing machines. The custom presets allow the users to seamlessly control their smart appliances, with a great infographic for those using this as an AC remote too. Even if your device lacks an IR Blaster, you can use this app to control your smart devices over the air, although the compatibility may range vastly. You can grab the latest version of Mi Remote by following the link below :
[googleplay url="https://play.google.com/store/apps/details?id=com.duokan.phone.remotecontroller"]
6. SURE Universal SmartTV Remote
If your phone has a built in IR blaster, then we highly suggest you try this app out to control your TV or any other smart devices wirelessly. SURE Universal SmartTV is a great way to remotely control your home appliances. Even if your device does not have an IR blaster, you can grab the WiFi to IR converter which is sold separately by the same brand. When it comes to the user interface, you get a very clean and minimal space to work with. The blue and bright white theme makes everything pop and easily noticeable within the app. When it comes to the features, SURE Universal SmartTV Remote is packed to the brim.
You can directly use voice commands to do quick actions to your appliances like your television or AC. Another great feature of the app is being able to quickly stream any music or video that is locally stored on your phone to a TV nearby. This means you don't need to have the video or music file locally saved on your TV in order to play it. If you set up a shared network, you can easily and efficiently copy files to and fro your other devices or television. All the buttons and neatly laid out and easy for you to access them, in case you are not comfortable with using the voice command features. Overall, we highly recommend you try this remote out for your needs. You can download the latest version of SURE Universal SmartTV Remote for your Android device by following the Google Play Store link given below :
[googleplay url="https://play.google.com/store/apps/details?id=com.tekoia.sure.activities&hl=en_IN"]
7. AnyMote Universal Remote
Last up on our list of some of the best universal remote apps for Android is one by AnyMote. If you have a lot of appliances in your home that make use of infrared controls, then you might want to consider this app. AnyMote Universal Remote is probably one of the best remote control apps when it comes to product compatibility. It has support for over 900,000 devices from various brands and models, and the list is ever expanding too. So if you have a phone with an IR blaster laying around, you can consider this remote control app to be your one stop shop. You can control just about anything, including your TV, DSLR camera, sound system, Bluray player, VCR, amplifier and the list goes on and never ends. The user interface is highly friendly and beautifully designed. You can change the entire look of your remote by using the advanced customization options which are available such as being able to change the color of your remote or buttons, and rearrange them as you please.
You can even create macros to perform complicated tasks at the press of a single button. This app also has integration for Tasker, which means you can make your normal appliances smart. Just like a few other remote control apps, you can use voice commands to get things done quicker. Lastly, you can use the remote control in a floating app style, to make sure it doesn't interrupt any of the other apps that you might have been using. All in all, AnyMote Universal Remote is a great way to control all your home appliances and make the most out of your phone as well. You can download the latest version of AnyMote Universal Remote for your Android device by following the Google Play Store link given below :
[googleplay url="https://play.google.com/store/apps/details?id=com.remotefairy4&hl=en_IN"]
That covers our list for some of the best universal remote apps for Android out there. Which one caught your eye, and for what reason? Do let us know down below, we would love to hear your thoughts!