In the digital era, mind maps are transformed into SaaS-based apps. This allows users to collaborate online on ideas. However, the collaboration does not have to be linear. Visual collaboration can take place in the cloud thanks to these digital tools.
Their purpose is to act as an open-source whiteboard where the whole community can critique and comment. But, choosing the best mind mapping software is very difficult, although there are many softwares available like GitMind that offer you some extraordinary features. However, still, it is quite hard to decide which one is best for you.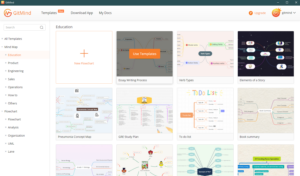 So, we are here with this article in which we have gathered and collected some of the market's best mind mapping softwares so that you don't have to worry. So therefore, let's get started with them.
What Are The Best Mind Map Software of 2022?
So, here is some best-in-class mind mapping software that you can use in 2022. Therefore, make sure to choose one that suits your needs.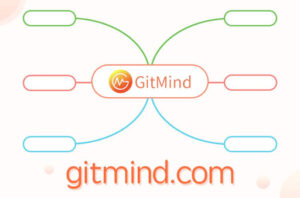 GitMind is an easy-to-use freemium mind mapping tool that allows users to plan projects, develop concepts, and brainstorm. Among its features, it allows them to make lists, create presentations, and visualize complicated concepts, thereby improving their productivity.
GitMind enables remote teams to collaborate online while they create mind maps. However, its cloud-based storage makes it easier for them to store and access their files securely. Moreover, the updates are synchronized across all devices as soon as the user makes them.
In addition to mind maps, logic diagrams, org charts, fishbone charts, flowcharts, and UML diagrams, GitMind provides a large template gallery and themes.
In the meantime, if you are a designer, writer, professor, engineer, etc., you can use these through your creative work.
However, with GitMind, it's also possible to switch between an outliner and mind map in batches when working with files created on the platform. Moreover, you can hover export your mind maps in electronic formats like PDF, TXT, SVG, etc.
#2. Miro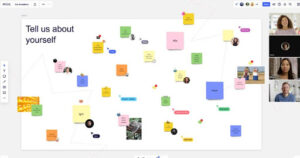 With Miro, you can collaborate online with distributed teams, brainstorm with digital sticky notes, plan and manage agile workflows, etc. It is competent, has a wide range of features, and is very easy to use.
There are plenty of things to discover, making it a worthwhile purchase. Through this software, you can create notes and designs, drag and drop items, and communicate with others via online chats and video calls.
However, previously, if you'd had some doubts like whether or not to make collaboration and virtual projects using this tool, then I think after reading the above statement, you now have a clear idea.
#3. Mindomo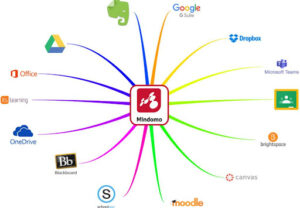 Mindmapping, concept mapping and outlining are all functions of Mindmapping software. When students' minds map, they explore information and decide what's important and how it connects to prior knowledge.
Using mind maps, you can brainstorm and understand ideas revolving around a particular theme. Mindomo is a freemium software; therefore, you will be able to access a free version by creating an account.
Using this, you can easily visualize and plan information of mind maps, concept maps, Gantt charts, and outlines.
#4. Coggle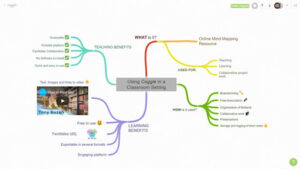 The Coggle platform makes sharing and understanding complex information easy. You can use it to map out ideas collaboratively. You can easily share your mindmaps with your existing Google contacts by seamlessly integrating Coggle with Google Drive.
This tool aims to assist individuals with taking notes, brainstorming ideas, visualizing connections across concepts, and collaborating with others. However, this software allows individuals and teams to take notes, brainstorm, plan, research, create reports, or use any other creative endeavor.
#5. LucidChart
With Lucidchart, you can create visually compelling diagrams at a reasonable price, with several impressive features. Since Lucidchart is easy to use, looks good, and provides great value, I recommend it to anyone who needs to create a diagram.
Users can create professional flowcharts on Lucidchart as well as manage projects using these diagrams. The technology behind Lucidchart can be highly beneficial, but few people know this.
It offers four levels of service: Free, Individuals ($95.40/year), Teams ($108/year-person), and Enterprise (custom pricing). Despite some limitations, you can use a free account for as long as you like. So, if you are looking for such mind mapping software, you must go with this.
#6. Conceptboard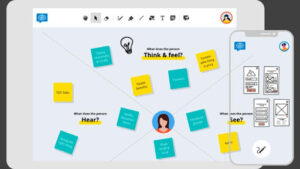 Team members use Conceptboard to brainstorm ideas, collaborate on projects, and synchronize their documentation. Give collaborators different levels of access permission to maintain complete control over your boards.
So, do you work with a lot of teams? Manage access to your boards at the board or folder level by organizing them into specific project folders. However, by integrating Conceptboard with existing collaboration tools like MS Teams, Google Drive, Dropbox, & more, you can streamline your workflow.
So, these were our recommendations on some best mind maps software that you can use in 2022. We hope that you find this guide helpful. However, for any further details, comment below and let us know.