In this new guide, we will take you through some of the common bugs reported in Totally Accurate Battle Simulator, and list potential solutions to fix them.
The Totally Accurate Battle Simulator, or in short TABS, is a popular battle simulation game that features some interesting ragdoll physics. You get to place your armies all across the battlefield and then plan out strategies on how to tackle enemy forces. As of now, the public alpha version of the game is available on Steam. Players get to experience a campaign with 20 quests and a sandbox mode as well, with many more features to be added soon.
Considering that this is an early version of the game, it is comprehensible that there are reportedly quite a few technical glitches and issues to be found in there. These include problems like crashing and the game locking up while running. Apart from this, there are also some important game units that are allegedly not working as they should.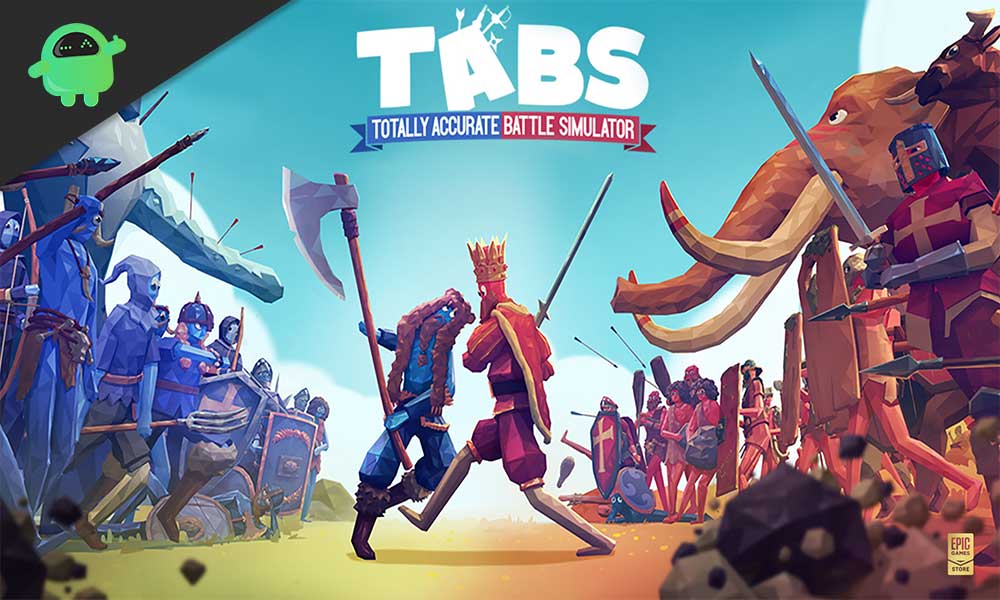 Common Bugs in Totally Accurate Battle Simulator
These are the four bugs which are being encountered by a number of players in Totally Accurate Battle Simulator:
Game crashing
Loading error 3:0000065432
Ranged units bugs
Slow framerate
Let us take a look at all of these in a little more detail.
Game Crashing
This is one of the most commonly reported problems in the game. Several players have complained that the game tends to crash during battles, or sometimes when exiting. Although the latest patch seems to have solved a part of the problem for some users, it has not fixed it entirely.
Loading error 3:0000065432
This is another error message that some players have encountered during gameplay. It is possibly due to some underlying problems with the Steam client itself.
Ranged Units Bugs
A number of players have reported that ranged units seem to be firing abnormally. This leads to some bizarre scenarios, such as archers shooting arrows high above their targets, causing no damage at all.
Slow Framerate
Obviously, this refers to the game dropping frames and getting stuck in slow motion while playing.
Let us now proceed to take a look at the fixes for the bugs listed above.
How to Fix these Common Bugs?
Fixing game crashes in Totally Accurate Battle Simulator
You might be able to fix the crashing issues in the game by forcing it to run in DirectX 11. Just follow the instructions below to do that successfully:
Open up your Steam Library, right-click your game's icon and choose "Properties."
Select the "General" tab and choose "Set Launch Options."
In the dialog box that appears, type in –force-d3d11 and click on "OK."
Shut down the Properties window and try running the game to check if the problem has been resolved.
Fixing the Error 3:0000065432 in Totally Accurate Battle Simulator
As we mentioned before, this error could be caused due to damaged files in your Steam library. This method could also help you fix the abnormally functioning units in the game. Check the instructions given below for this:
Open up the Steam client, right-click your game's icon there and choose "Properties."
Go to the "Local Files" tab and click on the "Verify Integrity Of Game Files" button.
Wait until Steam verifies all of your game's files.
Re-open Totally Accurate Battle Simulator, and see if the error has been fixed.
Fixing the Slow Frame Rate in Totally Accurate Battle Simulator
For this, you can consider updating your graphics card with the newest drivers or disable the vertical sync. The latter can help by controlling graphical tearing. If the issue persists, you can try re-enabling vertical sync or choosing a lower detail setting. Hopefully, this should fix the issue.
We hope our guide helps you successfully fix these common bugs in the Totally Accurate Battle Simulator. Don't forget to check out our other Wallpapers, Windows Guides, Gaming Guides, Social Media, iPhone Tricks, and Android Tricks for more guides. Subscribing to our YouTube Channel will help you win the $150 giveaway contest. If you have any doubts or feedback, comment down below with your name along with the e-mail ID, and we will reply shortly. Thank you.