In this guide, we will show you how to transfer messages from the iPhone to an Android device. While both these platforms have their own set of backup and restore functionalities, however, it is limited to their OS itself. For example, you could take a backup of all the data on your Android by signing in to your Google Account. Then upon signing in with the same Google ID on another Android device, you could easily restore all the data. Along the same lines, iCloud would come in handy for the Apple devices.
However, the real issue arises when you are trying to transfer your data across both these platforms. This is because there is no native option for cross-platform data transfers in either of these two ecosystems. As a result, users might have a hard time dealing with such a scenario. Fortunately, there's a handy way out to deal with it. And in this guide, we will help you with just that. Given here are the steps to transfer messages from the iPhone to an Android device. Follow along.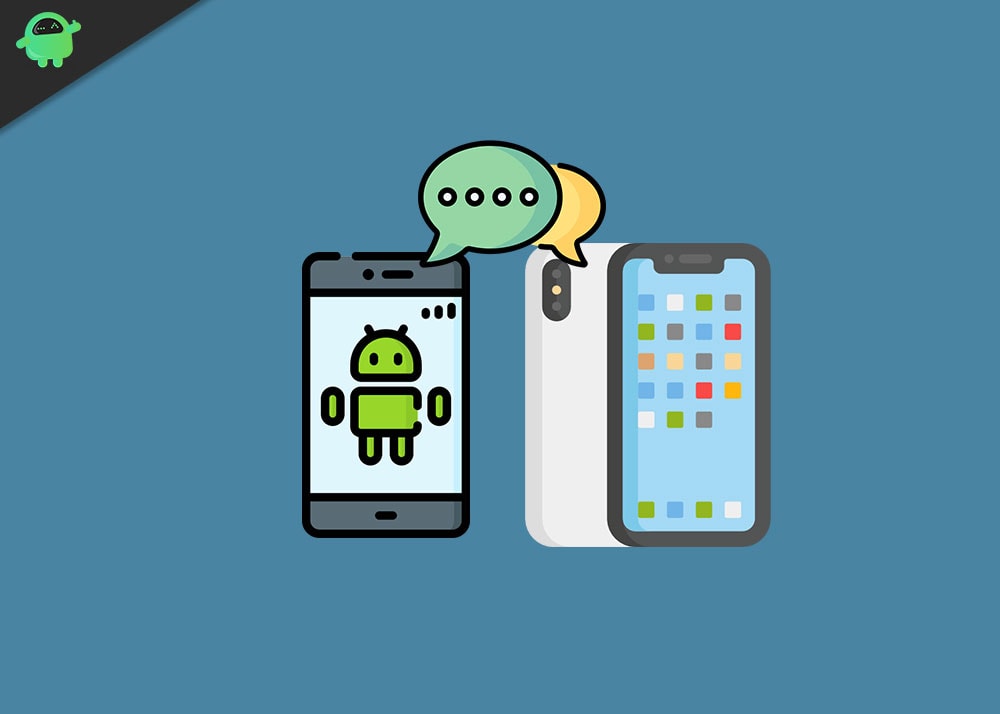 How to Transfer Messages from iPhone to Android Phone
There are quite a few third-party apps that are capable of performing this functionality. We tried our hands on a few of them and settled down for the Wondershare MobileTrans. The app provides an easy-to-use interface and does its job in the easiest way possible. As for this guide, we will show you how to transfer messages from iPhone to Android using this software. However, if this app fails to meet your requirement for some reason, then fret not. We will also be sharing an alternate method to carry out this task. Join us!
Via Third-Party Software
Launch the setup and process with the on-screen instructions to install it.
Now connect both the Android and iPhone devices to your PC.
Launch the tool and click on the Transfer button under Phone Transfer.

Since you are doing a transfer from your iPhone to Android, set the former a the Source and the latter as the destination.
Now select Text Messages under the Content to Copy section and hit the Start button to initiate the process.

The transfer shall now begin and should only take a couple of minutes. Once done, you may remove your device from the PC and close the app as well.

So this was one way of transferring your messages from iPhone to Android. Let's now turn our attention to the second method.
Transferring via Third-Party Android App
If for some reason, the first method didn't manage to give out desirable results, then there's another way out. In this section, we will be using the iCloud messages backup file and then restoring it on your Android device via a third-party app. Follow along for the detailed instructions.
To begin with, connect your iPhone to the Mac or Windows PC with iTunes installed.
Now go to the Backup section and select the option to backup the files to the PC.
Along the same lines, make sure that your backup is non-encrypted. For that, uncheck the Encrypt local backup option.

When that is done, hit the Back Up Now button. Once the backup is created, you could access the file via the following location:

Windows: C:\Users[YourUsername]\AppData\Roaming\Apple Computer\MobileSync\Backup\
macOS: ~/Library/Application Support/MobileSync/Backup/

Within that directory, go to the 3d folder and you should see your messages backed up under the following name (or along similar lines):

3d0d7e5fb2ce288813306e4d4636395e047a3d28

Transfer this file to your Android device. Then download and install the iSMS2droid app on your Android device from the Play Store.
Launch the app and tap on the Import Messages option. You will have to make it the default SMS app for the time being.

Do so and then browse to the backup file that you had just transferred. Select it and hit the Import All button.
Wait for the process to finish. Once done, you may switch back to your default SMS app. That's it.
With this, we conclude the guide on how to transfer messages from iPhone to Android. We have shared two different methods for the same, do let us know in the comments which one you ultimately settled for. Rounding off, here are some iPhone Tips and Tricks, PC tips and tricks, and Android Tips and Tricks that you should check out as well.