Tronsmart has gained a cutting-edge patented technology again to challenge the outdoor party speaker field.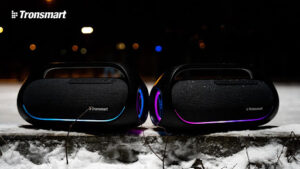 Since Tronsmart introduced its SoundPulse® technology, a range of Tronsmart speakers like Force has received very positive feedback from customers worldwide. As a well-known technology brand, Tronsmart continues to specialize in the latest technology to meet customer needs and produce competitive products. Besides, Tronsmart has gained another cutting-edge patented wireless transmission technology – TuneConn™ which integrates Dual DSP Audio Processing, giving you all-around processing ranging from EQ to enhanced bass & treble, dynamic equalizer, dynamic EQ, various DRC processing, and digital amplifier so as to deliver higher resolution & rich-detailed audio streaming with lower distortion. Tronsmart's exclusive TuneConn™ technology ensures excellent synchronization between different Bluetooth speakers, allowing more than 100 speakers to be connected and play music to the same beat.
Party has always been a lifestyle that people are passionate about. People wonder if there are any portable speakers that could pair with multiple Bluetooth speakers so that they can party in various situations. As demand increases, Tronsmart is dedicated to innovating on the former products and putting forward brand-new speakers to offer an audio feast with stunning stereo sound.
The Tronsmart Bang features patented SoundPulse technology, giving a louder sound and bigger power than ordinary speakers. Designed to provide a better sound quality through its two tweeters and two woofers for a cleaner treble and bass, Bang covers all frequencies at a high standard with professional acoustic tuning.
For the ultimate party showpiece, the BANG puts on a beat driven immersive light show where the LEDs phase, pulse and shine with the rhythm of the music. The BANG is also capable of syncing with up to 100 other Bang speakers thanks to Tronsmarts TuneConn™ technology to amplify the audio and visual experience. The innovative speaker also supports advanced Bluetooth 5.0 and NFC seamless Connection.
To customise the music to everyone's particular tastes the in app equaliser allows users to switch to multiple pre-set modes such as Hi-Fi, Classical, Vocal, Deep Bass, Rock and 3D as well being able to customise the EQ.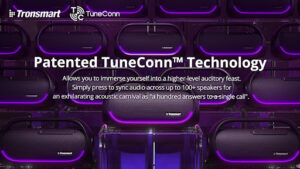 The sturdy design with built in handle allows for easy portability and IPX6 waterproof protection guards against rain, dust, snow and a spills making it perfect for the beach or pool without worrying about water damage. With a charge time of just 4.5 hours delivering up to 15 hours playtime (At 50% volume) the Bang will keep the party going for as long as needed without stopping the music. In addition, it also doubles up as a power-bank when not in use and on the go, making it the ideal travel accessory.
The Tronsmart Bang portable speaker is available to purchase from the Tronsmart official website with Amazon to follow.
Features
Patented SoundPulse® Audio Feast with Impactful Stereo Sound.

Patented TuneConn™ Technology

Creative Utilized handle

Beat-driven Light

IPX6 Waterproof

Built-in Power Bank

Personalize App Control

Customizable Eight EQ Effects

Supports NFC Seamless Connection

Supports Voice Assistant
To celebrate the launch of the BANG speaker, Tronsmart has created a video challenge with hash tag#Tronsmartbangbangjump on TikTok where creators who take part will have the chance to win free Bang speakers. Additionally, visitors to the Tronsmart official website on March 7th will have a chance to win a free Bang speaker by hitting the golden egg.
About Tronsmart:
Established in 2013 and celebrating its 9th Anniversary in June, Tronsmart is a tech brand that designs and manufactures world-class tech accessories which has been recommended by Qualcomm, Forbes, Yahoo, and many other big companies and media. It also signed Luis Suarez as the official ambassador in 2018. The company has rapidly expanded and sell its products to over 70 countries in many regions including North America, South America, Europe, The Middle East and Asia and has over 40 patents including its SoundPulse® technology. The core value of Tronsmart is to make life easier by providing customers with high-tech, high-quality and high-performance products.