Most of us have faced the charging issue on our smartphones at least once in our life. Sometimes, it may appear within the 2-3 months of interval. This issue is quite common and can be fixed via some of the possible ways. Additionally, a smartphone can cause charging issues for so many reasons. You can't blame the company or yourself for those issues. That may be display issues, software conflicting issues, or any other hardware or third-party app issue as well. We will cover all of these in this guide.
Meanwhile, it's worth mentioning that OnePlus devices are also facing these types of issues mostly. Recently, the top flagship killer OnePlus 7 Pro has been launched at a quite respectable price tag. So, in case if you're planning to buy the OnePlus 7 Pro handset, check out the details first. Here in this article, we will share with you the steps to Troubleshoot the OnePlus 7 Pro charging issue easily.
Also Read: How to fix OnePlus 7 Pro screen flickering issue
How to fix OnePlus 7 Pro charging issue
Finding out a charging problem on a smartphone can be a little bit of tricky. Some of the issues mentioned below which may cause trouble to your phone.
Force Reboot
In some cases, charging issues are caused by temporary bugs that prevent a device to work normally. While the older devices with removable battery can be fixed easily by removing the battery. This is not possible for the OnePlus 7 Pro handset due to a non-removable battery. Before doing the force restart, charge your phone battery at least for 15-20 minutes and then follow the below steps:
Press and hold the Power button for 10-12 seconds until the phone restarts.
If the device is still unresponsive, press and hold the power button for 10 seconds again and it will forcefully restart your device. If not, then follow the next step.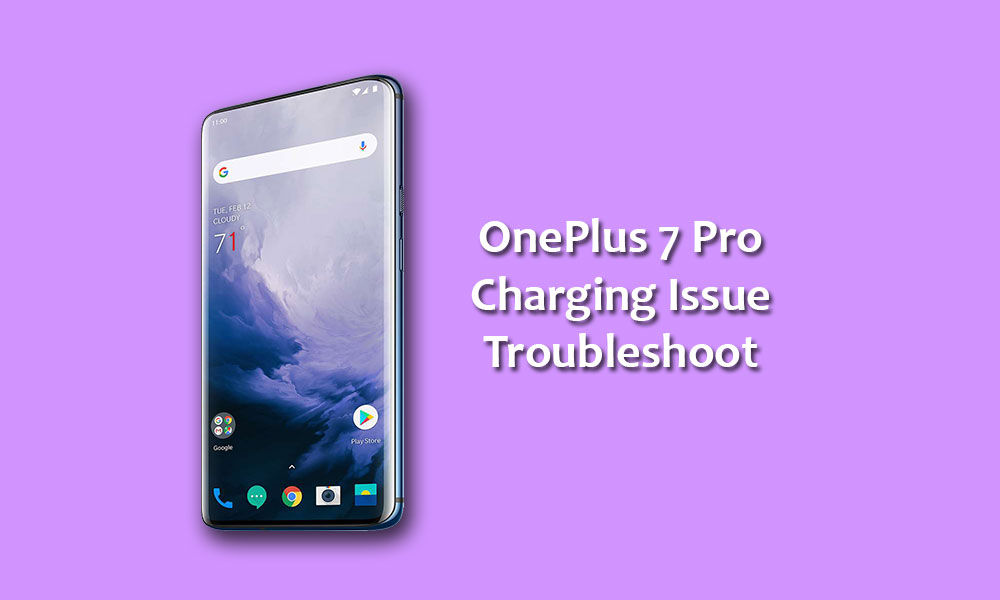 Use other charging accessories
It's recommended to check your charger properly whether it's damaged from inside or not. The official stock charger is best. However, you can check from another charging accessories as well whether it's working or not. Sometimes, a damaged cable or adapter can cause the charging issue.
Use another switchboard
Try to use another switchboard while charging your device to check the issue still appears or not.
Must Read: How to fix a OnePlus 7 Pro won't turn on issue
Check the charging port
Sometimes, a non-visible charging port on our devices and even inside of the charger pin connector can cause serious issues to your device. It's better to check your charging port to recognize the actual issue of charging. Due to the issue, sometimes your device shows it's charging but actually, it won't. That means your time and electricity unit both are going in vain without your knowledge.
Check for the screen issue
Sometimes users think or assume that if their device isn't charging then it must be battery or charger or charging port issue. but it's quite obvious that may be your device screen occurring some issue and you can't recognize it. This often happens after any accidental handset drops on the floor or any hard surface. if your device vibrates or provides tones while plug-in or plug-out the charger that means the charging works perfectly.
Charge using your PC
Some users found this method useful to fix charging problems by connecting their device to a PC while charging. Make sure that your computer is turned on and has already installed the required device drivers properly. Then connect your device to the PC via a USB cable and set the USB connection to device charging. This may fix the issue completely by checking the device systems and files via drivers.
Reboot to Safe mode
Safe Mode is quite useful for these types of situations. The safe mode actually uses the system apps and frameworks and suspends all the third-party apps from running in the background. Therefore, you can understand where is the issue and what will be possible steps to fix that.
Press and hold the power button > Reboot to safe mode.
Tap on the Ok button to enter into safe mode.
Wait for your device to restart. [You can see the Safe Mode text appears on the bottom right side]
If your device reboots into safe mode that means there is some third-party app issue on your phone.
In order to fix that:
Boot into safe mode.
Check for the problem.
Once you've confirmed the issue of any app, just uninstall those apps individually.
Then reboot your phone to normal mode and check for the issue.
Factory Reset your device
If you can notice that your device software or any settings may cause the charging issue, just perform a factory reset simply. Make sure to keep a full backup of your device.
Go to device Settings > Backup and Restore > Factory Reset > Reset All.
This will erase all of your device data including internal storage, network connectivity settings, etc. Wait for the reset to complete and your device will restart into a fresh system again like a new device.
This is how you can Troubleshoot OnePlus 7 Pro charging issue step-by-step. Otherwise, if any of the mentioned tips won't work for you, try to visit a service center.