Did you hear about the TunesKit iPhone Unlocker? Well, most probably yes, because only iPhone users know the pain whenever they forget their iPhone's password. This amazingly useful tool helps you unlock your iPhone within a few clicks, even if you are not a tech-savvy person just like me!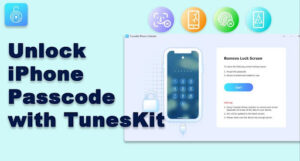 When it comes to unlocking iPhones, TunesKit iPhone Unlocker is a powerful iOS unlocking program that works well in most circumstances, including unlocking iPhones by entering incorrect passwords, broken screens, and unlocking second-hand devices. So, today in this article, you will get every single detail about the TunesKit iPhone Unlocker, including how to use it to unlock your iPhone. So, let's directly jump into it.
Why Choose TunesKit iPhone Unlocker?
iTunesKit iPhone Unlocker is software for unlocking Apple ID without a passcode or password, repairing and unlocking disabled or locked iOS devices. So, suppose if you have an Apple device that has been locked, you can restore access to it with TunesKit iPhone Unlocker. Furthermore, TunesKit iPhone Unlocker allows you to instantly remove all iOS device Touch locks. The article will show you how to do that.
Is It Safe to Use TunesKit iPhone Unlocker?
Yes, it is one hundred percent safe to use this software because we all know that TunesKit is a renowned brand that provides some premium iPhone suites software. Therefore, you do not have to worry about the reliability of this software.
Minimum Requirements for Windows
| | |
| --- | --- |
| OS: | Windows XP or newer |
| CPU: | 1GHz processor (32-bit, 64-bit), or above |
| RAM: | 256 MB or higher of RAM (1028MB recommended) |
| Free Space: | 200 MB or above |
| iOS Version: | iOS 7 to iOS 15 |
System & Hardware Requirements for Mac
| | |
| --- | --- |
| OS: | macOS 10.8 or newer |
| CPU: | 1GHz processor or above |
| RAM: | 512 MB or higher |
| Free Space: | 200 MB or above |
| iOS Version: | iOS 7 to iOS 15 |
What TunesKit iPhone Unlocker Can Do?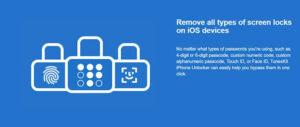 For many users, TunesKit has helped iPhone users over the years for different purposes. So, you must also try this out, but before that, let's check out some situations where it helps you:
Various methods are available to unlock iPhones.

It can be used for Touch ID as well as Face ID.

No iTunes or passcode is required.

Reset the 4-digit or 6-digit passcode on your iPhone.

Create your own code.

Enter any characters you want.

Work with any iOS device and version of iOS.

Three easy steps to bypass the iPhone passcode.

High success rate unlocking any screen lock.

Quite simple to use.

Includes lifetime software updates.
If you face any of these issues with your iPhone, TunesKit iPhone Unlocker will help you get back access to your iPhone. Also, this amazingly extra-ordinary software removes all types of screen locks on your iOS devices, like:
The screen has been damaged.

If you have forgotten your iPhone, iPad, or iPod touch's passcode.

Your iPhone has been disabled.

Passcodes are set unintentionally by others.

Face ID isn't working.

Touch ID isn't working either.

Several incorrect attempts have been made.

There is no response from the iPhone.

It is a second-hand phone.
Are There Any Charges to Use TunesKit iPhone Unlocker?
Of course, you need to pay a small amount to use the premium features. But, nothing to worry about as they have a free trial period offered to users so that first you try and then decide whether to buy this product or not. So, let's take a look at the pricing: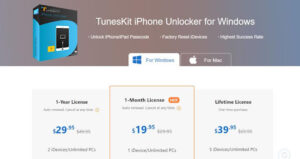 For Windows PC and Mac:
If you just want to purchase this software for one month, you can go with their one-month plan, which will cost you around

$19.95.

With this, you will get one iDevice/ Unlimited PC support with a 5-day money-back guarantee.

You can also go with their yearly plan, which will cost around

$29.95

for two iDevices/Unlimited PCs with a 30-day money-back guarantee.

There is also an option to get the software for a lifetime at just

$39.95,

giving you five iDevices/Unlimited PC support and a 30-day money-back guarantee.
How To Use TunesKit iPhone Unlocker?
Now, the most important that I think every viewer is eagerly waiting for. So, not without creating more chaos, let's get started with the simple steps you have to perform to use the TunesKit iPhone Unlocker. But, before that, make sure to keep these things in your mind:
All the iPhone data will be erased if you use TunesKit to unlock your screen passcode.

The latest version of iOS will be installed on your iDevice.

It is crucial to ensure that you keep your device charged during the whole process and always connected to your computer.
So, now, if you have no issue with the above-mentioned terms, then let's take a look at how you use this tool:
The first step is to download the

TunesKit iPhone Unlocker

app on your computer and open it. You can then connect your iPhone using a USB cable. That's it. Now, you are ready to go once you have launched the program and connected your iPhone. Then, hit the

Start

button.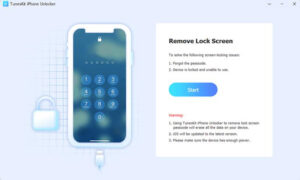 2.When your iPhone/iPad/iPod touch does not recognize your device, you need to manually put it into DFU mode or Recovery mode. You can now boot your device into DFU or Recovery mode by following the steps on the TunesKit interface shown below.
3.Then, you must have to make sure t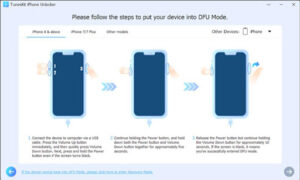 o download and install the firmware package if necessary.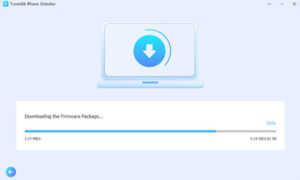 4.It might take a while to download the firmware package. The device will now be unlocked if you click the "Unlock" button. You can successfully unlock your iOS device within a few minutes after the screen lock has been removed.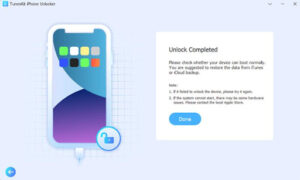 Conclusion
Easy to use and with a clear layout, this tool ensures everyone can utilize it without issue, regardless of their technical skills. And it's incredibly fast. Also, within a few clicks, you can easily unlock your locked iPhone. All these things make this software a highly effective tool for users when they can't log into their iPhones. So, we have mentioned everything about the TunesKit iPhone Unlocker and hoping that you get what you need from this article. Therefore, for any further info, comment below.