If you are looking for a fast charger that charges your device within a few minutes. Then, what better than the UGREEN? Yes, as we know, UGREEN is doing a very fabulous job in every segment, whether it's an earphone, cables, or charger.
Well, guess what? Today we are here with a complete guide on the new Ugreen 100W GaN Fast Charger. So, here we will discuss everything about this charger, therefore, make sure to read this guide till the end. Therefore, without wasting time talking here, let's directly jump into the guide.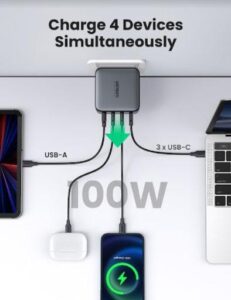 UGREEN 100W USB C GaN Fast Charger
This is the 100-watt charger that doesn't get much hot and charges multiple devices at the same time, even laptops. Our team tested the UGREEN 100W GaN Fast Charger with a 65 Watt laptop, a 55 Watt Android phone, and an iPhone in different configurations.
However, surprisingly, we didn't find any problems at all, even when stress-testing the 65W laptop. This UGREEN charger stayed cool and provided clean power. In addition, it will be compatible with almost every device. Therefore, you do not need to worry about that thing.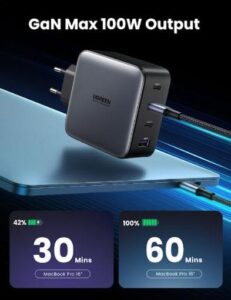 About UGREEN
UGREEN is around nine years older and makes high-quality electronic gadgets for global consumers. However, as per the stats, the UGREEN is a self-made brand with around 40 million users growing day by day in more than 100 countries worldwide, with a wide variety of products ranging from charging devices to home and automobile accessories.
Features:

The UGREEN 100W GaN Fast Charger has four ports in total, including two full-fledged USB C ports. However, these ports can do 100 watts charging, but only if nothing else is plugged in. Those who don't know, let me tell you that this charger support 2.0 and 3.0 power delivery, as well as the Quick charger 4+.
There's also a USB A port, but that can only support up to a maximum of only 22.5 watts. However, the two ports situated at the bottom will support the quick charge 3.0. In the meantime, the USB A port that is found at the bottom will support 12 watts (2.4 amp) charging so that you can even charge your Apple devices that are pretty much older now that was launched before 2017.
Considerably, the UGREEN 100W GaN Fast Charger will also keep supporting the BC 1.2, SCP, FCP, AFC, Quickcharge 2.0. UGREEN also worked on this and made this charger using the GaN Tech for better power and performance, due to which this charger has much smaller in size and is able to maintain lower temperature while charging. Also, this charger is very easy to carry due to its smaller size and compatibility.
Charging Speed
Now, talking about their 100W charger then it seems much heavier than the others available in the market. But, there is no competition for this one as it has four ports which means at a time you are allowed to charge up to 4 devices.
The USB-C1 / C2 gives an output of 100W Max, 5V/3A, 9V/3A, 12V/3A, 15V/3A, 20V/5A. In comparison, the USB-C3 Output supports 22.5W Max, 5V/3A, 9V/2.5A, 12V/1.88A. However, the USB-A Output gives you the power of 22.5W Max, 4.5V/5A, 5V/4.5A, 5V/3A, 9V/2A, 12V/1.5A.
Also, its fast-charging protocol contain PD 3.0/2.0; QC 4.0+/4.0/3.0/2.0; 5V1A; 5V/2.4A; AFC; SCP; PPS. You can better understand these things by the diagram below.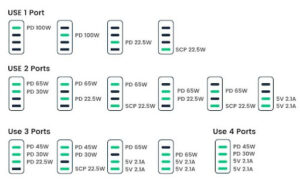 Pricing
Now, talking about the pricing, then you do not need to worry about your pocket as because originally this charger cost you around $79.99, but if you use our code 25UGREEN right now, you'll get $20 off, and at last the final cost will be around $59.99.
But, keep one thing in mind that this offer is only valid from Dec 12 to Dec 26 PST. So, what are you waiting for? Go and grab one for you from Amazon. Here is the buying link for the UGREEN 100W GaN Fast Charger.
So, that's all from our side on the UGREEN 100W GaN Fast Charger review. We hope this guide has helped you. However, in case you require any additional information related to this device, let us know in the comment section.