When it comes to discussing the most prevalent operating systems, Windows grab an epitome place among the users from which Windows 10 tops the list. But, there are a few errors that usually a lot of users witness while using the latest operating system. One of the most disappointing errors is the "DDE Server Window: explorer.exe Application shutdown error." DDE server window error usually occurs when users attempt the shutdown process of their computers. Due to this error, the users become unable to shut down their PC.
If you also fall under the category of such users who have witnessed DDE server window error, then the following guide can be assistive to you. In this guide, you will get to know what are the causes behinds this error and what are the ways with which you can rectify the issue effortlessly. With this, you will be successful in shutting down your PC whenever you want to do so. Scroll down to check the guide now.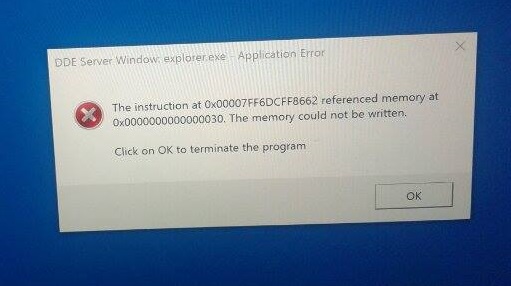 What is the DDE Server?
DDE is a service that allows users to access one or more programs to open the same data simultaneously. With the assistance of this service, you can share system memory between different applications by relying on established guidelines.
But, if you receive an error message saying "file is in use by another program," then you have visited such a program where your system does not support DDE or any other protocol. For instance, you can attach an image file to MS Outlook email while working on the same image file in Adobe Photoshop. Above that, you do not need to close the file in Adobe Photoshop to access the same in Outlook application.
How to Rectify DDE Server Window Error?
If you want to rectify DDE Server Windows Error, then you need to abide by the following five methods with which you will be able to shut down your computer effortlessly.
1. Update your Windows 10
Firstly, you need to ensure that your computer has the latest Microsoft produced Windows update. If your system does not have any update yet, then you need to install the latest Windows updates yourself. Here is the guide to get the latest Windows 10 update with the help of manual procedures. Follow each step carefully to avoid errors.
Open Settings application from your computer.
Now access to the Update & Security
Tap on Windows update and then press Check for updates
Now, Windows will then check if there are any available updates in your system or not. If there is any availability of updates, then Windows will begin downloading updates automatically in the background.
When the downloading procedure completes, Windows will then install the latest updates just after the rebooting of your system. Afterward, you will not see any error in shutting down your PC.
Do not shut down the PC from Start Menu.
Most of the users state that the DDS server issue occurs when they press the Power button present in the Start menu. Afterward, you can shut down your PC by using Windows + X menu. To do so, you need to go by the following steps:
Firstly, you need to right-click on the Start Button, or you can also tap on Windows + X keys together to access the Windows + X menu.
Then, choose Shut down or Sign Out, after which you can select Shut down option from the menu.
Or, else, you can try to force your computer to shut down by using the Shutdown command. The following are the steps that you can follow for doing so.
First of all, you need to tap on Windows + R key together to access the run dialog box.
After opening the Run dialog box, you need to type Shutdown/s in the input field, and then you can tap on entering or even press OK.
You can also choose to click on the Power button on your PC case to shut down your PC.
If that doesn't work for your system, then you need to check the Power Options and configure the PC to shut down while pressing the Power button.
3. Create a New User Account
DDE Server Window: explorer.exe Application Error can also be in linkage to the user account, so you need to ensure creating a new account. Try the below-given steps to create a new user account:
Tap the Windows option
Access to Settings
Press on Accounts
Choose Family & Other people option
Click the button stating "Add someone else to this PC".
Then, you will see the option to create a new user account. With this, you can create a Microsoft user account or otherwise, a local account.
Press on I doesn't have this person's sign-in information.
Select the option saying Add a user without a Microsoft account
Fill your account information with the right credentials, such as username and password.
After the creation of a new account, you need to see them if your PC still witnesses the DDE server Window issue or not.
4. Disable the Autohide Taskbar
You can also see DDE server Windows error when you hide the Taskbar. Therefore, disabling the auto-hide option for the Taskbar can help you in rectifying the issue.
Here are a few steps with which you can disable auto-hide taskbar property.
Tap on the Windows icon
Open settings folder
Press on Personalization
Choose Taskbar option
Check if you Automatically hide the Taskbar in desktop mode is enable or disable.
If it is showing enable, then you need to disable it, and afterward, the DDE server error message will not be present anymore.
With these steps, you can shut down your computer without any errors.
5. Perform SFC Scan
Performing an SFC scan can also assist you in solving the issue when you are unable to shut down your PC due to a DDE Server Window error message.
If you want to run an SFC Scan from your computer, then the following are the steps that you can follow.
Press on the Windows icon
Type cmd, and then right-click on the search option and choose Run as administrator
In the command prompt window, write SFC/scannow and press the enter key.
When scanning procedure completes, you need to see whether you can shut down your PC devoid of the DDE server error in Windows.
Additional tips:
Though the tips, as mentioned above, will solve your DDE Server Windows issue, if you still see an error, then you can disconnect any second screen or monitor that you are using. You need to ensure that you should remove the second monitor before you turn your computer off. It is a temporary solution but sufficient a plethora of times. You must try it if all other hacks fail.
All-in-all, the procedures, as mentioned above, are the five best ways to get rid of DDE server Window explorer.exe error. But, if you still feel any distraction in shutting down your PC, then you can also try deleting Acrobat Reader DC or other third party programs from your computer. Also, you need to ensure your computer does not have any malware.
To do so, you can try running a scan of your computer using anti-virus software with which you will be able to rectify the issue. Above that, you should not keep unnecessary programs or files into your computer, but you should keep your PC memory clean—all you need to use the Windows 10 PC smartly to avoid errors. After reading this writing if you have any queries or feedback, please write down the comment in the below comment box.