Google Nexus 5 was one of the popular smartphones, released back in 2013. Although the handset was discontinued after a couple of years, some of the users are still using this one as a daily driver or as a secondary device for customizations and flashing third-party firmware. If you're one of the Nexus 5 users and want to install a Custom ROM then you should check out this guide on How to Unlock Bootloader on Google Nexus 5.
Google Nexus models are one of the perfect examples for Android users to heavily customize or mod than any other older Android smartphone for years. Android developers and enthusiasts are always eager to test out mods, custom firmware, tweaks on the legendary Nexus 5. But before jumping into the customization world, you'll have to unlock the bootloader on your handset first.
Due to the Android's open-source nature, it's quite easy to unlock the bootloader, and then users will be able to freely install a custom recovery, flash custom firmware, installing Google apps, custom mods, enabling root access, and more without any second thought. It's worth mentioning that whether your Nexus 5 is running on Android 5.0 Lollipop or Android 6.0 Marshmallow, the bootloader unlocking steps will be the same.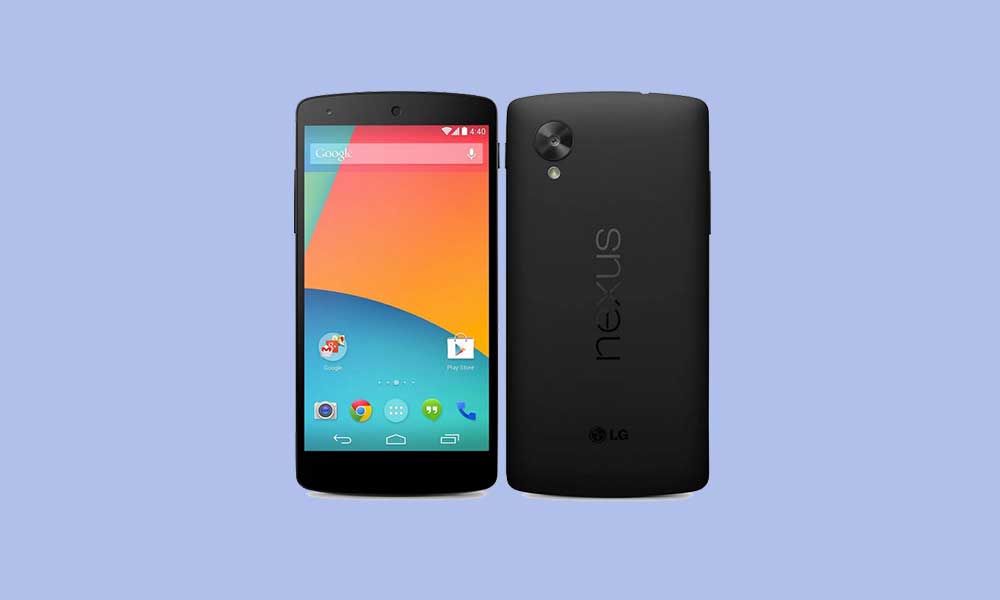 What is Bootloader Unlocking on Android?
A Bootloader on an Android device is a set of programs that basically runs on the hardware to help the device boot into the operating system or the recovery mode. It works as per the user's command by using the power+volume key combination mostly. A stock bootloader (locked) is a vendor-specific image file that loads up the device kernel and allows the hardware to run the system or recovery.
Once a locked device bootloader verifies the secure boot state of the device and recognizes that the device is trying to boot up the signed images from the manufacturer, the system, or recovery boots. So, if you're trying to boot a third-party unsigned image on a locked bootloader, it won't work at all. Most manufacturers provide a locked bootloader to keep your device system and data secured.
However, if you're interested in flashing any third-party file on your Android device, then you can unlock the bootloader, and start using your device accordingly. But keep in mind that unlocking the bootloader not only wipes out internal storage data but also voids the manufacturer's warranty on newer devices. Whereas an improper method can also cause bootloop or bricking issues on your device.
How to Unlock Bootloader on Google Nexus 5
Here we've mentioned all the requirements and download links before jumping into the bootloader unlocking method. So, make sure to follow everything properly.
Pre-Requirements:
You'll require to follow all the steps properly for a successful and hassle-free bootloader unlocking process.
1. Charge Your Device
Make sure to charge your device battery sufficiently (minimum 60%) to avoid occasional shut down during the bootloader unlocking process.
2. Take Backup of your device
It's highly recommended to take a full backup of your device data before following the steps because the bootloader unlocking process will completely format all the internal storage data. So, transfer your important files to another device or a MicroSD card.
3. Download ADB and Fastboot Binaries
ADB and Fastboot drivers or tools are really useful to run system-level commands on your connected device using the computer in a matter of seconds. Whether you want to run fastboot or adb commands on the device, or sideload OTA files, or remove programs, etc. You can grab ADB and Fastboot binaries here.
4. Download Google USB Drivers
USB Drivers are necessary enough to build a strong connection between the device and the computer via a USB cable for data transferring or flashing items. It ensures a smooth operation without any interruption. You can get Google USB Drivers here.
5. Requires a PC and a USB Cable
You'll also require a Windows computer and a USB cable to connect the Nexus 5 handset to the PC for ADB and Fastboot commands.
Read More: Download and Install LineageOS 18.1 for Nexus 5 (hammerhead)
Steps to Unlock the Bootloader
Ensure that you've installed the Google USB Drivers on your PC.
Now, extract the ADB and Fastboot (zip) into a folder and move it to the root directory of C: drive. [Where you've installed Windows OS]
Head over to your device Settings > About Phone > Tap on Build Number 7 times continuously to turn on Developer options. [You'll see a toast notification on the screen]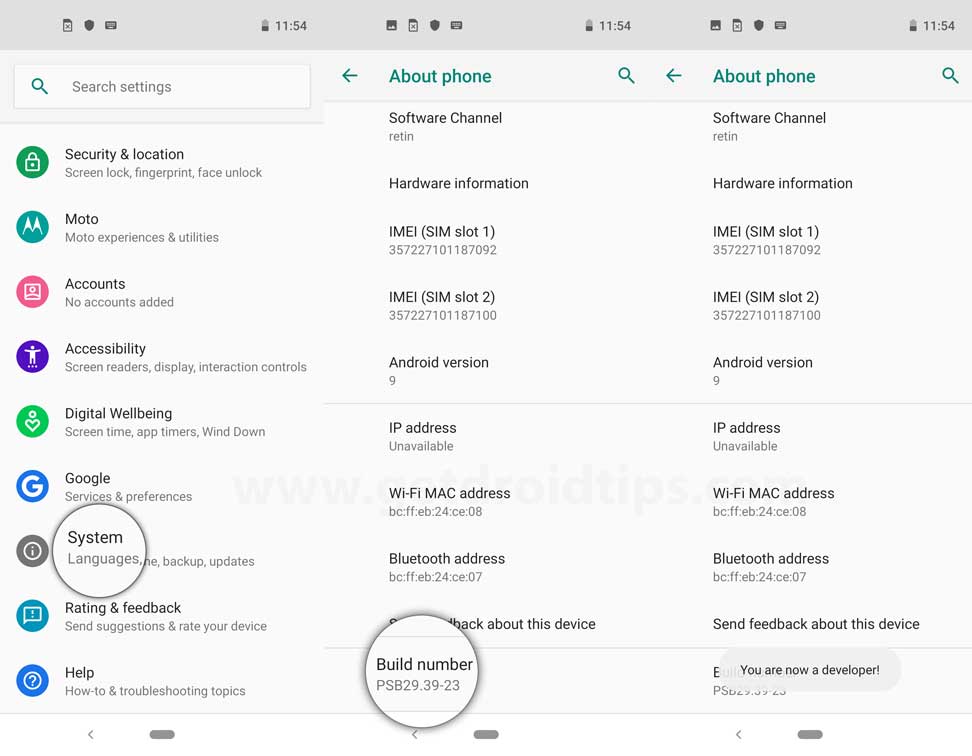 Now, go back to the main Settings menu.
Scroll down the page and search for Developer options.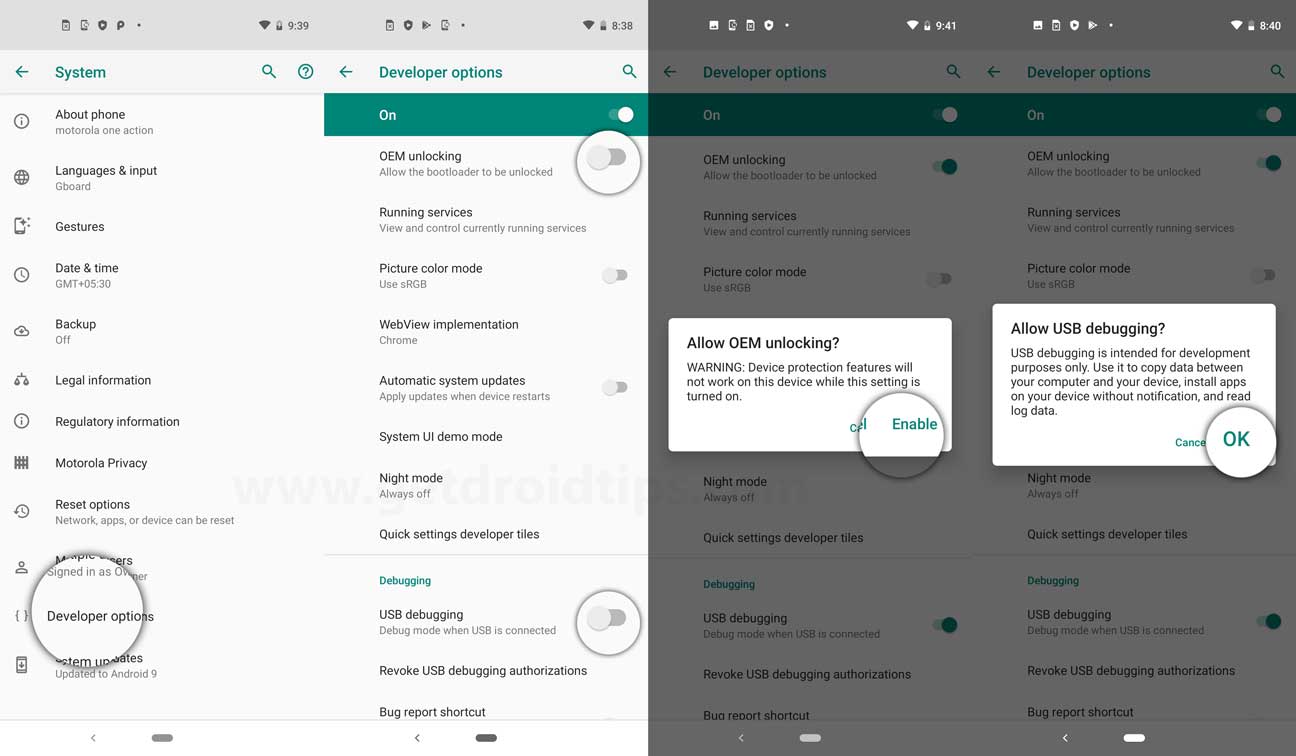 Tap to open it and check the USB Debugging box to turn it on. [If prompted, make sure to Allow everything]
Next, head over to the extracted Platform Tools (ADB Tools) folder inside the C: drive.
Click on the directory path > Type cmd on the address bar and hit Enter to open the Command Prompt window.
Just double-check that USB Debugging is turned on.
Then press and hold the Power + Volume Down key to enter Fastboot Mode on the Nexus 5.
Connect your Google Nexus 5 handset to the PC using a USB cable.
If in case, you receive the 'Allow USB Debugging' popup on your device screen, tap on OK to continue.
Now, type the following command on Command Prompt and hit Enter to execute it:
fastboot devices
If the device is properly connected in Fastboot mode, then you'll see a random number on the command prompt window as a device ID. [If not then enable USB Debugging again, reinstall USB drivers, and try the above steps again]
Now, run the following command to get into the bootloader unlocking screen:
fastboot oem unlock
You'll see a screen on the Nexus 5 device that whether you want to unlock the bootloader or not.
Then use the Volume keys to scroll and navigate to Yes > Once highlighted, press the Power button to confirm the task.
It may take a couple of seconds to unlock the bootloader.
Finally, run the following command to restart your device:
fastboot reboot
Your Google Nexus 5 will now reboot with an unlocked bootloader. Once the device restarts, you can either restore backed-up data or start installing custom recovery, custom firmware, etc.
Enjoy!
That's it, guys. We assume this guide was helpful to you. For further queries, you can comment below.