Today we will guide you on How to Unlock Bootloader on Redmi 2 Smartphones. So before installing TWRP, Redmi 2 smartphones should be unlocked. So here is the full guide to Unlock Bootloader on Redmi 2 Smartphone. If you unlock bootloader you may void the warranty. By Unlocking Bootloader you can install TWRP, Flash Rooting Zip file or custom ROM on your phone. Read more What is unlocking below. Follow this guide on How to Unlock Bootloader on Redmi 2. Try this only on Redmi 2 smartphone. This method to unlock bootloader on Redmi 2 is simple to follow. But please do read the steps below carefully.
Now you can unlock the bootloader easily by following this simple guide on How to Unlock Bootloader on Redmi 2. Official Bootloader Unlock for Redmi 2 will also void the device warranty. So if you planning to unlock the bootloader on Redmi 2, then it's always better to wait until your warranty gets over. In case if you have unlocked bootloader, then you can always relock the bootloader on your device anytime.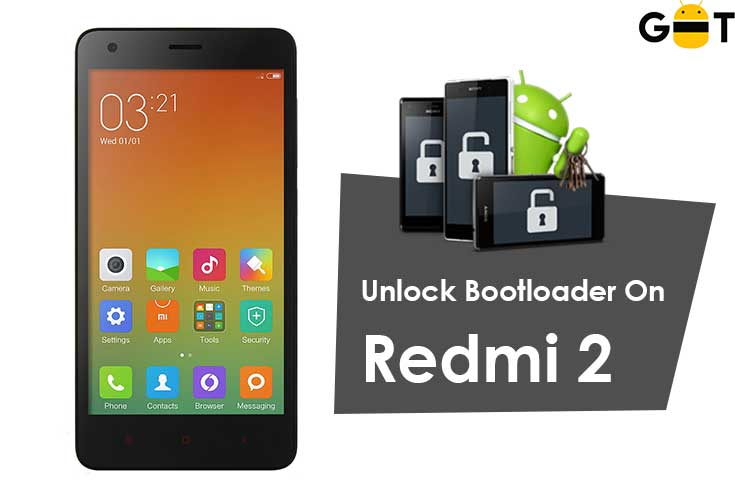 What is Unlock Bootloader?
A Bootloader is a code which runs when we turn on our device. This code initializes some hardware and then loads the kernel and ramdisk, and gets the boot process going. So this process is known as Bootloader. The same concept applies to all the technical stuff such as Laptop, PC, Smartphones and any such device. Every Android OEM manufacturers lock the bootloader even though it is an Open Source. So if you want to try any CUSTOM ROM, it is impossible to load the CUSTOM ROM without the Unlock Bootloader. So Manufacturer made a policy of making the smartphone with Unlocked Bootloader will void the warranty. They want you to stick with the Stock ROM. Unlock Bootloader allows you to Root your android smartphone, Flash TWRP and Custom ROM in a simple easy method.
Before doing the methods, I just want to warn you that. By doing this, you will loose the warranty and sometime if you dont read the steps and do something wrong can brick your device. So read carefully before doing something wrong.
What you need:
1) Laptop or PC
2) Charge your phone to at least 70%
3) Back up your device just in case if you need it later
4) Working USB Cable
5) Download ADB and Fastboot Tools to your PC and Extract it
6)Download Mi Flash Tool – CLICK HERE
Steps for How to Unlock Bootloader on Redmi 2
To Unlock the Bootloader on your Redmi 2, You need to download the Mi Flash Tool First
Extract the downloaded file MiFlashTool Zip
Now Open the MiFlashUnlock from the folder that you extracted
Click on Agree
Now you will be asked to Log in. Log in with your Mi Account, If you dont have one then Sign UP – CLICK HERE to Sign Up
After Login, the validation process will start and you will get a message that "Your device is not Supported". Don't worry! Now Click the "Go" button and it will take to the pagehttp://en.miui.com/unlock/
You will see a blue screen in the page with text UNLOCK YOUR MI DEVICE
Click the Unlock Now button
In the browser you will be asked to log in with Mi Account again, So log in and Fill your details with your Mobile Number
You will receive an OTP for verification on your phone.
Enter the OTP number on the browser to complete the process.
You need to wait until your application is accepted.
When your Application is approved, you will again receive an OTP in your registered phone number.
Now confirm the OTP number on the Unlocking screen
You are almost done. Now you will have the ability to Unlock your device from Mi FlashTool
Open the MiflashTool from the extracted folder and now you should have the permission to unlock the phone.
Once your phone is connected, the Unlock button will become active.
Simply Click on Unlock and your bootloader will be unlocked and Start Flashing Custom Recovery, Custom Rom and more.
Enjoy!