If you own a Samsung Galaxy Device prior to the Galaxy Note 3 and want to upgrade your phone manually with the latest firmware version then, Samsung Kies is the software that you need to use. Moreover, this tool also lets you create a backup of all the data stored on your phone and lets you transfer media content between your PC and smartphone.
In this post, we will be guiding you on what is Samsung Kies and how you can use this official tool provided by Samsung, to upgrade your smartphone via the Samsung Kies. However, users should note that you cannot install region-specific ROMs to your device using the Samsung Kies software and also not custom ROM installation is supported by this tool. So, that being said, let us get straight into the article itself: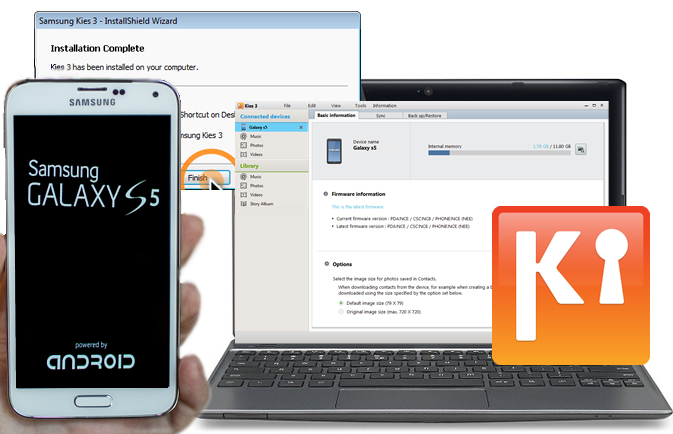 What is Samsung Kies?
Samsung Kies is the official software from the Korean OEM Samsung itself, which helps you to upgrade your smartphone to the latest firmware version, if available for your smartphone via Kies application. It is better suited for the older Samsung Galaxy devices. The Kies application also helps you to sync the data of your phone and backup your contacts, which can prove very helpful if accidentally the data on your phone gets erased. Moreover, it has an option via which you can transfer media files like music and video from your computer and your phone and vice versa. You can use this Kies tool for almost all Samsung phones. Talking about the usability of this application, it sports a simple user interface, and you just need to install Kies software on your computer and plug your phone to PC, and you are good to go.
Features of Samsung Kies
Kies is the official software by Samsung that allows you to manage, transfer, and enjoy the content, including photos, videos, music, contacts, and calendar events between your compatible mobile device and a computer.
Kies also allows you to synchronize your Microsoft Outlook content on your PC with a mobile device.
Update your mobile phone.
Advantages and Disadvantages
Let us take a look at the advantages and the disadvantages of the Samsung Kies software:
Advantages
The tool frequently updates that brings in new features.
Better compatibility with older devices.
Get the latest firmware update with the latest version of Kies.
Backup the data on your phone to the PC.
Transfer files from PC to your phone.
Disadvantages
Kies is only supported by older Samsung Galaxy devices released before Samsung Galaxy Note 3.
You cannot install ROMs from other regions.
You also cannot install the unofficial custom ROMs on your device using Kies.
Note
If your Samsung device is running on Android 4.3 or later, you should download Kies 3.

If your device is running a system older than Android 4.3, you will need to download Kies 2.6 instead.

Before upgrading, it's always better to back up the existing data in your Samsung phones in case the upgrade process goes wrong, and all your data evaporates just like that. Don't worry, this happens once in a new moon, and besides, we are already taking precautions.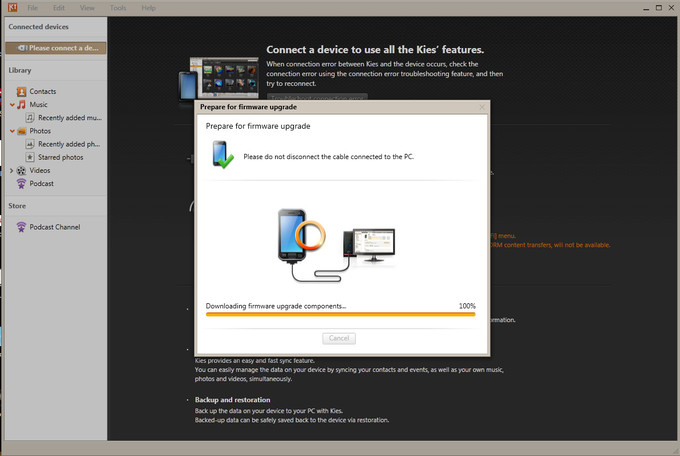 How to Download and install the firmware using Samsung Kies:
To Download any latest firmware for Samsung smartphone – Go to this Samsung Firmware list and Search for your device model.
Follow this method to upgrade to the latest firmware using Samsung Kies.
Please note that Samsung Kies does not automatically back up your data (contacts, calendar, photos, and other files). Please back up all of your data manually before proceeding with the update below, or your data will be lost. So follow this post on How to backup your data without root.
First of all, download and install Samsung Kies software on your computer.
Now also make sure you download and install the USB Driver on your computer (recommended)
Open and Run the Samsung Kies software
Now connect your Samsung device to the computer using USB Cable.
Once connected, your device name/model will appear on the left side of the screen.
Click on the name/model of your device (e.g., GT-I9250M).
Now click the import/export tag and make sure to export all your contacts to your computer
After exporting all data, you will see a pop up with a notification to upgrade your phone if any new version available.
Click on Update. If any update pop up comes
Make sure to read the on-screen instructions. Check the agreement box and click on Start upgrade
The software update will begin. The entire process can take up to 60 minutes, and you will not be able to use your device. Do not disconnect your device until the update is complete.
That's it! Your phone will get updated to the latest Android version on the Samsung device.