Rooting a smartphone has its own pros and cons. However, in the present time, a huge community of Android smartphone users loves rooting their devices. The reason is very simple and i.e. Android is actually equipped with several hidden features that can only be enjoyed when you have a rooted device. One of the widely discussed topics on the World Wide Web currently is how to use Android pay on a rooted smartphone. Actually, it has become a war between Google and the community developers. I hope this guide will be helpful to Use Android Pay on any rooted or Bootloader Unlocked device.
This is because developers often come with methods that work fine and Google can be seen stopping it immediately. If you have an Android device with an unlocked bootloader, Android Pay wouldn't work on it. This, in fact, is the reason that why you fail to use it most of the time. However, you are going to share something very useful with you in this post. It is possible for you to simply integrate your credit card with the Android Pay even you have performed rooting your device or has unlocked its bootloader.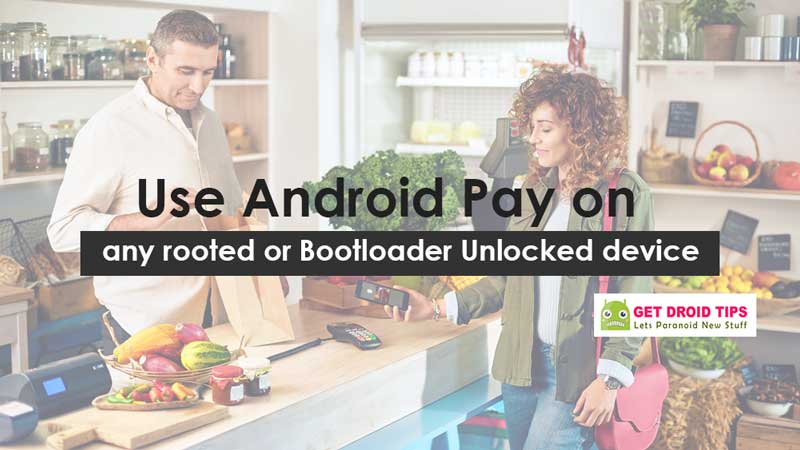 How to Use Android Pay on any rooted or Bootloader Unlocked device
Android Pay is grabbing the attention of a lot of people and those who have rooted smartphones already worrying whether they would be able to keep up the pace or not. However, there is actually a way that works pretty fine. Thus if you are one among them, there is no need to worry about anything.
Pre-Requisite:
Using Android Pay on Rooted or unlocked bootloader device
Well, there are a few things you need to do and in fact, keep them in your mind. The very first thing is that you need to bypass some of the safety restrictions imposed by Google on android Pay. It is possible to use a modification which is popular as Magisk to use Android Pay. However, we would like to make it very clear that it doesn't work on all the devices. If you are lucky, you can enjoy it.
Only a few devices from Huawei and a few other Chinese manufacturers have issues with it. There is actually a zip file which you can consider and thus we recommend you to try this method at least once. It must be noted that this method needs you to have a root method that is system less. Thus you need to remove the SuperSU in case it's not system less. This can simply be done. There is nothing to worry as Magisk is equipped with its own solution for root. Simply get the latest version of Magisk and use a custom recovery to flash it in your smartphone.
This method has been reported to eliminate the issue on a number of smartphones and thus we are sure you can also enjoy it. You only need to flash a single zip file and thus the task can be accomplished shortly. In this way, you can Use Android Pay on any rooted or Bootloader Unlocked device.
Good Luck!