We all use a lot of different social media sites as well as other sites and applications. Most of the sites and applications require a user id and password. We create an ID and password and use it, and later, we forget the password or ID. This happens a lot with most of us. Also, when we have a lot of different IDs and passwords, it is hard to remember all of them. Well, writing them down or store them is a solution, but there is a chance that it can get to someone else's hand. And here, the Android Autofill feature can save both your time and money.
When we use the internet for most of our work and shopping, we need to enter our details or credit-debit cards to continue. It is a frustrating process to enter all the stuff manually every time. These problems occur with all of us. The best and secure solution to them is using the Android Autofill feature. Here we are going to tell you how to use the android Autofill feature to make your work easy and faster on your smartphone.
What is the Android Autofill feature?
In simple words, Android Autofill is a service which stores our different type of various information and fills it in when needed in a single click. When you log in to a site, autofill asks you if you want to save the login information or not. If you permit it to save the login information, the next time when you visit the same site, you just have to select the account from the Autofill feature. When you select the account Autofill feature will enter the saved login information, and this way, you can log in faster and without any frustration of remembering details.
Also, if you have a credit or debit card to use with different shopping sites and other websites, you can save your card information with Autofill. Autofill is completely secure, and it will keep your details safe. The same goes for your phone numbers, addresses, etc.
Is Android Autofill Safe?
Yes, of course, because Android Autofill connects with Google, and all your data is highly encrypted. It means it is completely secure. It saves passwords with a chrome password manager means it is totally safe to use. Now, let's see how to use The Autofill feature.
How To Enable Android Autofill Feature?
It is a simple and easy process. Just follow the steps we are providing you, and you can enable it in no time.
Firstly, go to settings of your Android device. Once you are in settings, scroll down and go to the system option and click on it.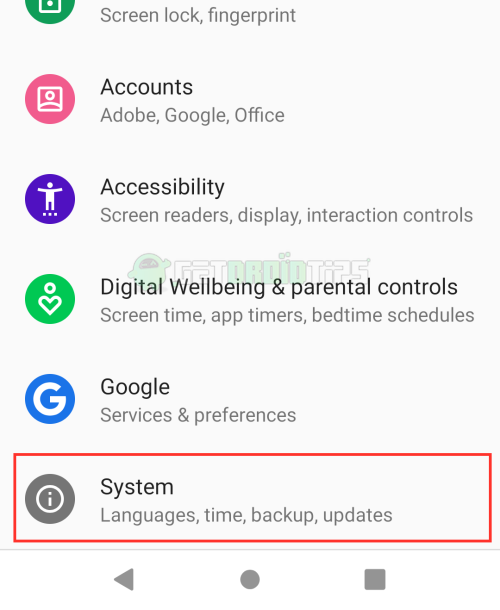 Secondly, you need to click on Languages and input settings. It will open the following screen.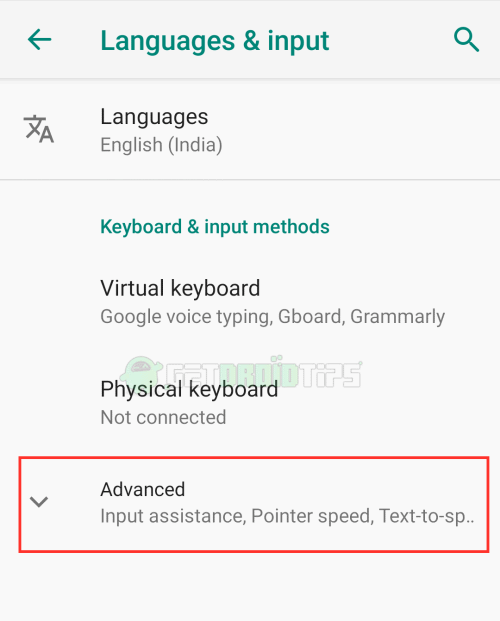 You will see an option named Advanced click on it. Once you click on the Advanced, it will show you the following screen.
Here you can see the option named Autofill service. If you have no Autofill app selected, you will see None as selected.
Thirdly, you need to click on the Autofill service option and go to the next screen.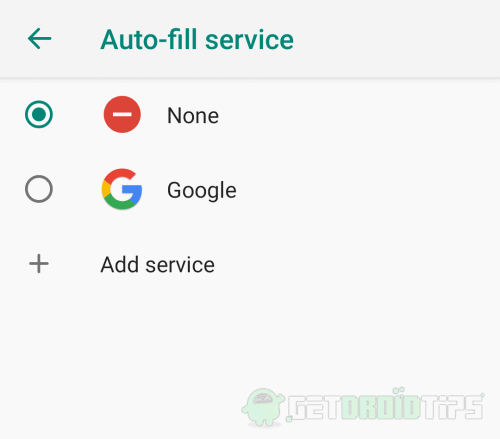 Lastly, select Google, or if you want any other app to be your Autofill app, you can click on the Add Service option. Clicking on it will redirect you to play store, and you can choose and download other Autofill apps of your choice from them.
This way, you can easily enable the Autofill setting.
How To Customize Google Autofill Feature?
If you choose to use Google as your default Autofill app, you will see a Settings Icon next to the Autofill service option. Click on that icon, and it will open the Customization menu of Google Autofill.
You can choose different google accounts if you want for Autofill.
The first option is for personal information. If you want to modify it, just click on it. It will redirect you to your Google account, and once you are into your google account, you can modify your details from there.
The second option is for managing your addresses. If you wish to modify or add new addresses to your Autofill, just click on that option. Clicking on Addresses option will redirect you to the google maps App. Here you can add different addresses for your different uses.
The third option is for modifying or adding a payment method. Clicking on this option will open the Google Payment Method page. Here you can add different payment methods according to your uses.
The last option is the Manage Password option. Clicking on it will open a password manage page. On this page, you will see different sites and their password if you have saved any, and you can also manage or delete them. Google password manager also offers a password checker, which tests if your password is strong enough.
To sum up, google Autofill provides the best possible options for saving different kinds of information.
How To Disable Android Autofill
To disable the Autofill setting, you have to follow the same steps as you did for enabling it.
Once you are in Languages and input > Advanced, you will see the following screen.
Click on the Autofill service option. On the next screen, Google or any other Autofill app will be selected now select None option to disable Autofill feature.
Click on the back and exit the settings. You successfully disabled the Autofill feature.
Conclusion
This is one of the best services offered by Android. It makes our work so easy and fast. We have used a device running on Android 9. Other devices running on the different operating systems may have a different way to enable Autofill settings, but most of the Android devices have the same way to do it.