Vivo is launching new devices day by day and this month is no exception. Vivo latest smartphone – Vivo Y95 was launched in November this year. It comes with a beautiful and stylish waterdrop notch with a stylish body. However, Vivo users are concerned more about the security of this new device. These include Gorilla glass protection, dustproof, splashproof and waterproof. Now many customers are eager to know wether ths new device can withstand harsh rainy environments or not. To check this up, we need to perform Vivo Y95 waterproof test.
Vivo Y95 will survive under rainwater? – Waterproof Test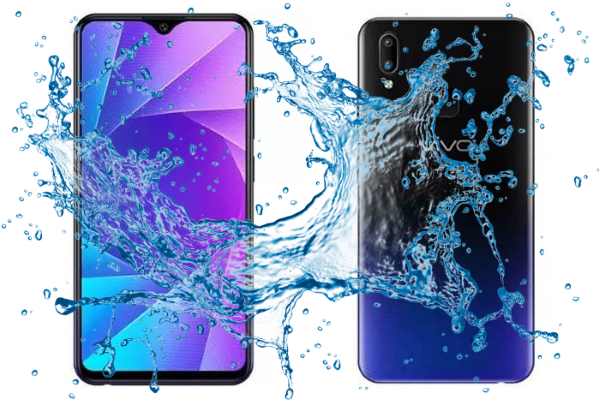 Vivo has recently announced a new device Vivo Y95 which is catching customer's eyes. However, the device doesn't come with certified IP67 or IP68 waterproofing rating. This means that the device is not splashproof nor waterproof at all. However today, we will test it to the extreme and will find out whether Vivo Y95 can survive under rainwater or not with our Vivo Y95 waterproof test.
Quick specification for Vivo Y95:
Vivo Y95 comes with a 6.22-inch waterdrop notch screen
Screen resolution of 720 by 1520 pixels with 270 PPI pixel density
The device is powered by 1.9 GHz octa-core processor coupled with 4GB of RAM
13-megapixel primary camera and a 2-megapixel secondary camera on the rear and a 20-megapixel front shooter for selfies
Full day battery backup with massive 4030 mAh battery
Vivo Y95 Waterproof Test
There are a couple of tests we can perform to find whether Vivo Y95 is waterproof or not. These include Splashproof test, water immersion test, rainwater test, and dustproof test. Today, we are going to perform Vivo Y95 waterproof test. So stay tuned for the results.
Vivo Y95

Splash Proof Test
In this test, we are going to put some water droplets on the device to find out how the device reacts to it. Since most of the devices have an oleophobic coating which saves them from any kind of water splash from fatal damage. After performing the splashproof test we came to know that:
| | |
| --- | --- |
| Touchscreen | Touchscreen is not responding to user input |
| Camera | Camera works perfectly |
| I/O ports | No water damage found |
| Speaker | Little distortion which turns normal after 10-20 minutes (Normal) |
Vivo Y95 Rainwater test
In this test, we are going to suspend the device in artificial rain environment. Later one we will see if the device is ideal to use in rainy conditions or showering conditions. After testing Vivo Y95 in artificial rain condition, we came to know:
Also read: Vivo Y95 with waterdrop notch launched in India
| | |
| --- | --- |
| Able to use in Rainy conditions | N0 -Speaker damage is expected |
| Abel to use in Showering conditions | Yes, but not recommended (Speaker damage is expected) |
| Possible damage due to rainy conditions | Speaker malfunction, Fog in the camera lens |
Vivo Y95

 Immersion Test
In this test, we are going to immerse the device with a bucket full of water for 1 minute and will see whether it survives this or not. After performing this test we found out that:
| | |
| --- | --- |
| Touchscreen Control | Doesn't respond to touch inputs |
| Water damage with hardware | Not found |
| Speaker | Non-functional |
| Camera | Working fine |
Vivo Y95 DustProof Test
In this test, we will keep the device in a sandy environment with lots of grain and sand particles with a running fan around it. This situation mimics dust storms and will check how the device holds in such conditions.
Also read: Oppo Released ColorOS 6.0
After the dustproof test, no dust was found in the internal parts fo the device. This shows that indeed Vivo Y95 is dustproof.
Conclusion: Can Vivo Y95 survive under water?
After performing the rainwater test on Vivo Y95, we can say that the device is not ready for any water-related activities. During the test, the device was not responding to touches and the speaker was also distorted. So the user can not use Vivo Y95 in rainy weather or while showering. Apart from that, the device is splashproof to some extent. So users are advised not to use this device near or in water/moisture environments. Because this can potentially hard the device.
Interested in more waterproof test articles? Check out these: