By the way, there are many TV manufacturing companies, but one company that is known for its parent organization is VIZIO. Yeah, I am talking about VIZIO TV which made such a place in the global market that today it has 18 million active user accounts. Not only that being an American TV manufacturer, they are well known for their full array of local dimming backlight that produces deep blacks and it feels good while watching any show or playing a game.
Even VIZIO TV has plenty of fans, but the past records show a lot of downsides people face over it. The one concern is that VIZIO TV turns off on its own. In contrast, there are some who claim VIZIO TV turns on and then goes dark. I know that seems a big issue on such TV but don't worry, developers already pointed out the cause behind it. But the problem is even though people know about such developers' actions, they don't know how to execute them. So, here we will guide you on it.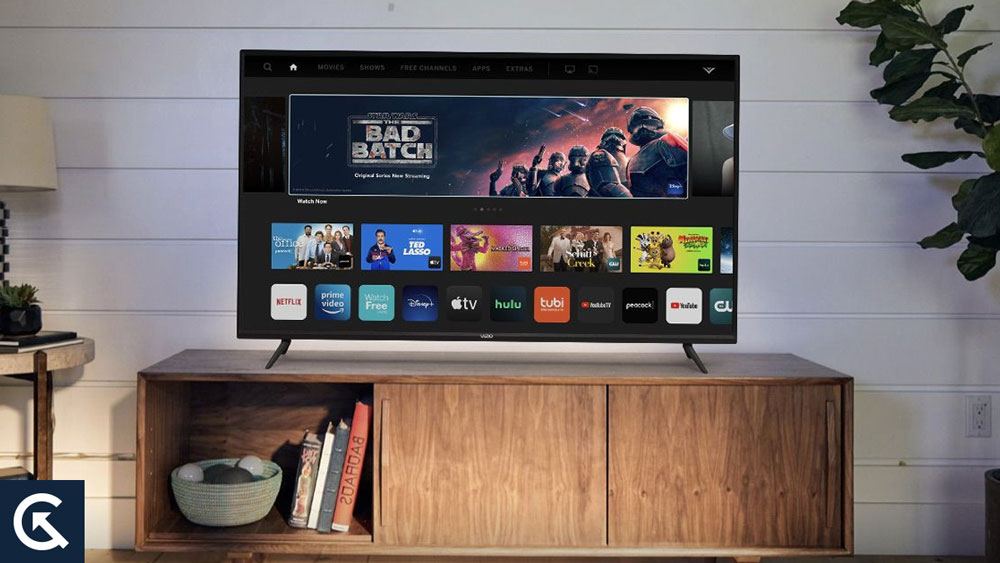 Fix: VIZIO TV Keeps Turning Off Issue
Simply read the phrase that VIZIO tv turns on by itself and think what could be the causes that influencing such problem. I am sure you will land on the things such as loose power cords, outdated firmware, or something physical damage. But it would be best if you considered other factors that place the most prevalent role. Because if you look over the developer's mentioned troubleshoots, you will find some more things causing such damage.
Having reviewed different sources, we have discussed different aspects that explain why VIZIO TV turns on and then goes dark. Regarding that thing, many things came to mind, and after analyzing numerous things, we came to a surprising conclusion. When a VIZIO TV turns on but does not display, you may have a power issue, an electrical outlet issue, or a problem with another VIZIO remote. So, let's look at these problems and try to fix them.
Ensure the Correct Power Cord Placement
The foremost thing behind VIZIO's tv turning on itself is a power issue. I mean to say if the tv itself turns off that means somewhere there is a power interruption. And this problem seems consistent until you fix the power cord. For this concern, the prior thing that can be done is to remove the power cord from the existing scenario. Then place these cords firmly so that the power supply continues its flow and VIZIO tv resumes its normal working.
Attempt a power cycle
The Second thing you can try to fix VIZIO tv turns on itself is to power cycle your tv. Since your tv running for a long time, it needs a fresh start and set up to regain its efficiency. Further, it can continue that flow which it use to do when it purchased. Meanwhile do a simple restart of your VIZIO tv. After that, the tv come to new tv like working. To do that, follow up on the below-mentioned instructions and fix the issue now.
Simply, Turn off your VIZIO tv.
Then remove all the devices plugged into it.
Now Unplug the VIZIO TV from the power outlet.
After that, Press the Power button on the TV for 30 seconds.
Next, wait for 10 minutes and later plug the devices above removed.
Lastly, plug in the VIZIO tv and hope to be your issue has fixed now.
Configure VIZIO TV Settings
There are numerous settings relating to VIZIO tv power on/off that can cause this VIZIO tv turns on itself. For this, we need to check whether auto power off settings does not enable CEC Enabled, Sleep Timer, Disabled Quick Start mode, and enable eco mode. I agree with these multiple settings, you might be confusing. Don't worry. Below are a few combined instructions that set up all the settings required. Now let's check it.
Press the Menu on the VIZIO Remote.
Go to System >> Power Saving >> Set Auto Power off to Off.
From the same system section, select CEC >> Turn off CEC.
Next Under System Tap on Sleep Timer and disable it.
Now back to the system section, Tap on Power mode >> Eco Mode >> Enable it.
Return to the System menu, Tap on Quick Start mode, and enable it.
Lastly, Save the changes and you are done.
Update the VIZIO TV Firmware
The other thing you can look for is your current tv firmware. Even now, you have tried different troubleshoots to fix the VIZIO tv turns on itself. But still, if don't get it resolved, then there might be a possibility that your VIZIO tv has outdated firmware. In such a case, you need to update it and resume working. I know you might face difficulty in that, for which I already mentioned below a few instructions which guide on updating the firmware.
On your VIZIO TV remote, press the menu button.
Then find the system tab and check for updates.
Following this, the tv will present your latest update.
Now download that update and install it as per the on-screen instructions.
That's it, you are done.
Contact VIZIO Support
The last and final option we have after doing these troubleshoots is VIZIO Support. Because we have tried all the things that can be possible behind VIZIO tv turns on itself. Even after that, the tv behaves in the same manner which means you need personalized guidance. So that you can fix the problem more closely. I mean to say raise a help request over VIZIO Support and enjoy your Tv experience from scratch.
Conclusively, VIZIO tv turning on itself seems a big issue for users. But I think those who have tried these troubleshoots get it fixed. But as a precautionary always check the HDMI Cable that conveys the current. While researching we found this is the most common issue. From now on, I hope you got completely known about the issue of the VIZIO tv turning on itself and fixed it firmly. But In case any users have queries then ask them all below.