The famous action-adventure sandbox game by Re-Logic, Terraria, received a very favorable response from critics and fans alike. Thanks to the enthusiastic response from fans and critics, the game's popularity remains exceptionally strong to this day. It has sold over 30 million copies as of April 2020. There has been much praise for its focus on compelling combat and tactical mechanics while staying true to the sandbox genre. With the efforts of the developers and the love of the gaming community, the game went on to win the 2011 Indie of the Year Player Choice award on IndieDB.
There are things you need to know to excel at the game, though. The items found during the gameplay in Terraria are so bountiful that your inventory will become full before you even realize it. This could result in your inability to access your chests or other objects concealed at your home. With the latest update 1.4, Re-Logic has provided players with the opportunity to create a new inventory even if their character's initial one has been filled up. This is the Void Vault, a location where you can store a number of objects. You can then access them anytime using a Void Bag. Given below is our guide to help you obtain the Void Vault and Void Bag in Terraria 1.4. So let's get started.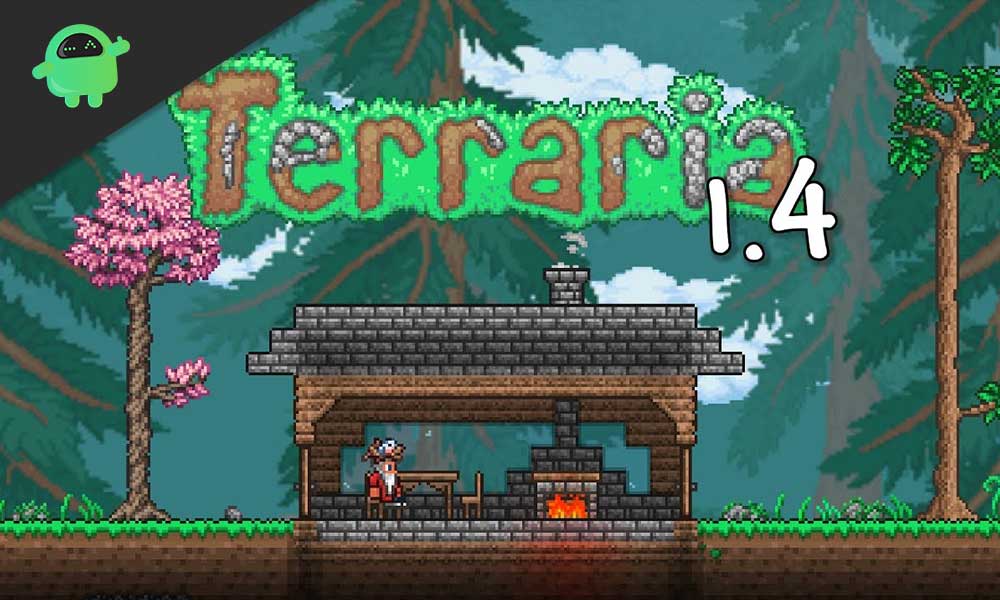 Getting the Void Vault in Terraria 1.4
You need to create a Void Vault first before working on the Void Bag. For this, you must track down a Demon or a Crimson alter. Both of them can be found underground and are recognizable thanks to their characteristic glowing aura. Finding these alter is the most important step in your mission to create one. After this, you will have to go around looking for certain ingredients. The two main ingredients are 15 Bone and 8 Jungle Spores. The third ingredient is variable, depending on the alter you discover. Finding a Demon alter will require you to fetch 15 Shadow Scales. On the other hand, a Crimson Alter will cost you 15 Tissue Samples.
Once you have obtained all the required ingredients for the alter, you can simply walk up to it and work on it as a standard crafting station. After the Void Vault has been crafted on your server, take it home with you and use it just like a normal chest. Once your character's inventory has been completely filled up, all additional objects you collect will be transferred to your new Void Vault. This ensures that you will not lose any items generated in Terraria. Possessing the Void Bag will enable you to access your Void Vault from anywhere. Let's take a look at how that can be done.
Getting the Void Bag in Terraria 1.4
You need the Void Bag in order to use your Void Vault up to its full potential. After you have defeated the boss Skeletron, you can start working on crafting a Void Bag. The procedure is identical to what we did to craft the Void Vault. You will first have to visit the underground portion of biomes to dig up a Demon or Crimson alter. After finding one, you can use it as a crafting station. Obviously, you have almost created a Void Vault at this point, so this shouldn't be too hard.
Depending on the alter you obtain, you will now have to find ingredients to create your Bag. In both cases, you will need 30 Bone and 15 Jungle Spores. A Demon Alter will cost you 30 Shadow Scales, whereas a Crimson alter will require you to fetch 30 Tissue Samples. Once this has been completed, you will obtain the Void Bag. You can now use it to access your Void Vault anytime conveniently.
Wind Up
This guide was to help the players of Terraria to craft and get the Void Vault and Void Bag in the game. After reading our guide, they will be able to do so easily. We hope our guide proves helpful in your quest. If you have any queries or feedback, feel free to comment down below with your Name and E-mail ID. Likewise, check out our iPhone Tips and Tricks, PC tips and tricks, and Android Tips and Tricks for more such tips and tricks. We urge you to participate in the $150 giveaway by subscribing to our YouTube Channel. Happy Gaming!