Snapchat is one of the most popular social media apps out there with millions of users using it every day. The app that was earlier available in just one theme i.e. light theme now has an option called "App Appearance" following a recent update that rolled out dark theme or mode on the app on-board. Toggling the "App Appearance" changes how you want the Snapchat app to 'appear'.
Snapchat Now Has A Dark Mode
Almost every social media app out there has a dedicated "dark mode" but Snapchat didn't actually have one up till recently. Apparently, Snapchat has rolled out a Dark Mode on its apps allowing users to toggle to the darker theme. This in turn saves a lot of battery life given the fact that dark modes have proven to have less impact on one device's battery when compared to a brightly lit appearance or "Light Mode/Theme".
Plus, it also puts a lot less strain on one's eye, especially in the nighttime. Snapchat has all the theme settings under the "App Appearance" option in the settings.
Even when Snapchat has rolled out "Dark Mode" on its Android and iOS app clients, it is still rolling out in batches and has reached Australia and some parts of the United States among other countries. This means that it would still take some time for the update to arrive allowing users to toggle to a darker theme and enjoy one of the most anticipated features on Snapchat. For those who might have received it, here's how you can turn it on.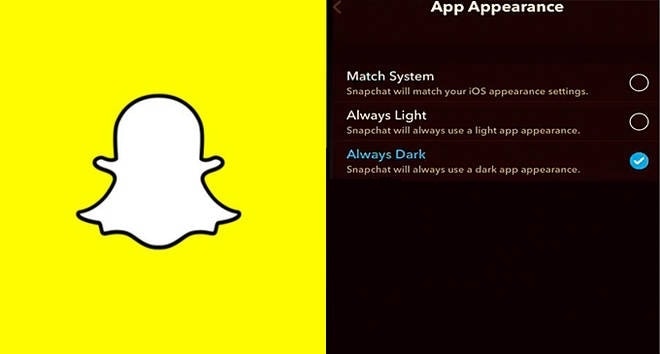 Where is App Appearance on Snapchat?
App Appearance is one of the sub-option under the Settings section of the Snapchat app that contains the options to turn on dark mode or light mode or otherwise. Here's how you can find it.
#1: Firstly, open your Snapchat app assuming that you have the latest update.
#2: Next, click on the profile photo on the top-left corner of the screen.
#3: Now, you need to hit the 'gear' icon on the top-right corner that will lead you towards the App Settings.
#4: Now, scroll through the sub-items to find "App Appearance" and open it.
#5: There are three options to choose from: "Match System", "Always Light", "Always Dark" which is pretty self-explanatory. You need to choose any one of the options to get started. Here's a short brief for each option available under "App Appearance".
Match system: The app will automatically match with the phone's theme which could be either light or dark and dynamically change accordingly.
Always Light: No matter if your phone's theme is light or dark, once you open Snapchat, it will have a light mode enabled by default.
Always Dark: Here, the Snapchat app will stay in a dark mode no matter if your phone's theme is dark or light. Selecting this option will load Snapchat in dark mode by default unless changed.
Why Can't I Find an App Appearance On Snapchat?
If that's the question you have in your mind, it is because App Appearance as a whole hasn't arrived on all devices just yet. Snapchat is rolling our dark mode (and App Appearance settings that have both light and dark mode toggle) in a batch-by-batch method. At the time of writing this, the feature is available in the U.S. (at least most of the parts) and Australia. This means users will have to wait to get their hands on the update as it is gradually rolling out.