In this article, we'll show you the options that you can do to Fix Windows Update Error 0xc1900223 in straightforward steps.
According to Microsoft, the error means that there was a problem downloading and installing the selected update. Windows Update will try again later; there is nothing you need to do now. But we have a few works through. Follow the below article to do so.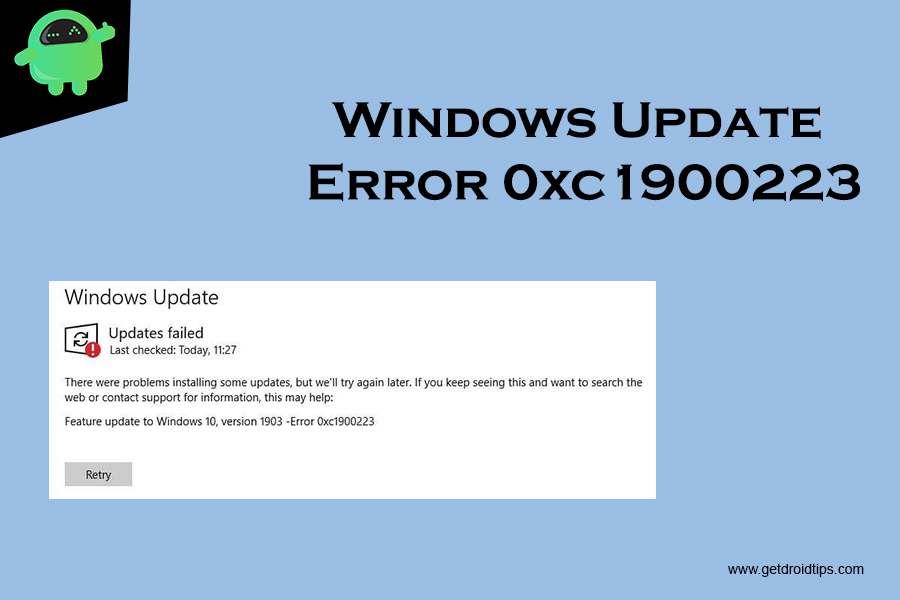 Fix Windows Update Error 0xc1900223
Before applying/implementing any of the below solutions:
Make Sure That:
Make sure that your device has enough space.
Run Windows Update a few times.
Check third-party drivers and download any updates.
Unplug extra hardware Check Device Manager for errors.
Remove third-party security software.
Repair hard-drive errors.
Do a clean restart into Windows Restore and repair system files
Check Internet connection
Disable metered connection
Click on the Wi-Fi icon available at the right side of Taskbar and then select Properties from underneath the Network name.
When the related settings page comes up in a separate window, move down a bit and turn off the toggle switch for Set as metered connection.
Download updates over metered connections
In case of not having a problem with extra charges, you can use a metered connection to download Windows update also. Here's how –
Launch Windows Settings app (Win+I) and click Update & Security.
Go to the right pane and click on Advanced options.
Next, turn off the toggle switch for Download updates over metered connections (extra charges may apply).
Disable your VPN software
If you are using a VPN or Virtual Private Network for connecting to your work network then you might need to disconnect it for a while and turn off the VPN software (if applicable) and try upgrading again.. VPN software can interfere with the Windows Update process sometimes.
Open Windows Settings.
Tap on Network & Internet.
On right-hand side, you will see the list of different sections.
Tap on the VPN.
And disconnect the VPN until the upgrade.
Run DISM and SFC tools
Here is how to proceed –
Press Win+R.
Type cmd.exe in the text field and press Ctrl+Shift+Enter on your keyboard.
Type the following line after blinking cursor and hit Enter –

DISM.exe /Online /Cleanup-image /Restorehealth

After 100% completion, reboot your PC.
Once the system powers up, once more open Command Prompt as Administrator and this time enter the below command –

sfc /scannow

Wait until the process is finished completely, restart and then check for the error 0xc1900223.
Rename your HOSTS file (temporarily)
Open the folder

C:\Windows\System32\Drivers\Etc

Rename the file named HOSTS to HOSTS.OLD. You'll be asked for consent (admin consent) to rename the file. Click Continue when prompted.
Open a Command Prompt window and type the following command to clear the Windows DNS cache:

ipconfig /flushdns

Attempt to install Windows Updates again.
Once done, rename HOSTS.OLD back to HOSTS. Also, inspect your HOSTS file and make sure you don't block Microsoft Update server addresses.
Change your DNS resolver
If you've been using Pi-Hole at the router level, then you'll need to revert to the ISP-default DNS resolvers, or use one of the free DNS servers (temporarily):
Google Public DNS: 8.8.8.8 and 8.8.4.4
Cloudflare: 1.1.1.1
And then, flush the Windows DNS cache by running the ipconfig /flushdns command from a Command Prompt window.
Reset Windows update component
Unfortunately, if the troubleshooter didn't work to fix the Windows update error, there might be a possibility that the component itself is corrupted. In such a case, reset the same is the thoroughgoing solution. Here is how to proceed –
Press Win+S and type in cmd.
When the result shows up, click Run as administrator.
Click the Yes button if a UAC prompts.
On the Command Prompt window, type the following and press Enter after each line –

net stop wuauserv





net stop cryptic





net stop bits





net stop msiserver
Thereafter, copy-paste the underneath commands and press enter as earlier –

ren C:\Windows\SoftwareDistribution SoftwareDistribution.old

ren C:\Windows\System32\catroot2 Catroot2.old

In the end, you need to run the below commands one by one –

net start wuauserv





net start cryptic





net start bits





net start msiserver