Are you looking for a reliable data recovery source for your damaged device? Then, what is better than the Wondershare Dr.Fone? Today in this article, you will go to learn about every single aspect of Wondershare Dr.Fone. So, without wasting your valuable time here. Let's jump directly into the article and see what we have for you today.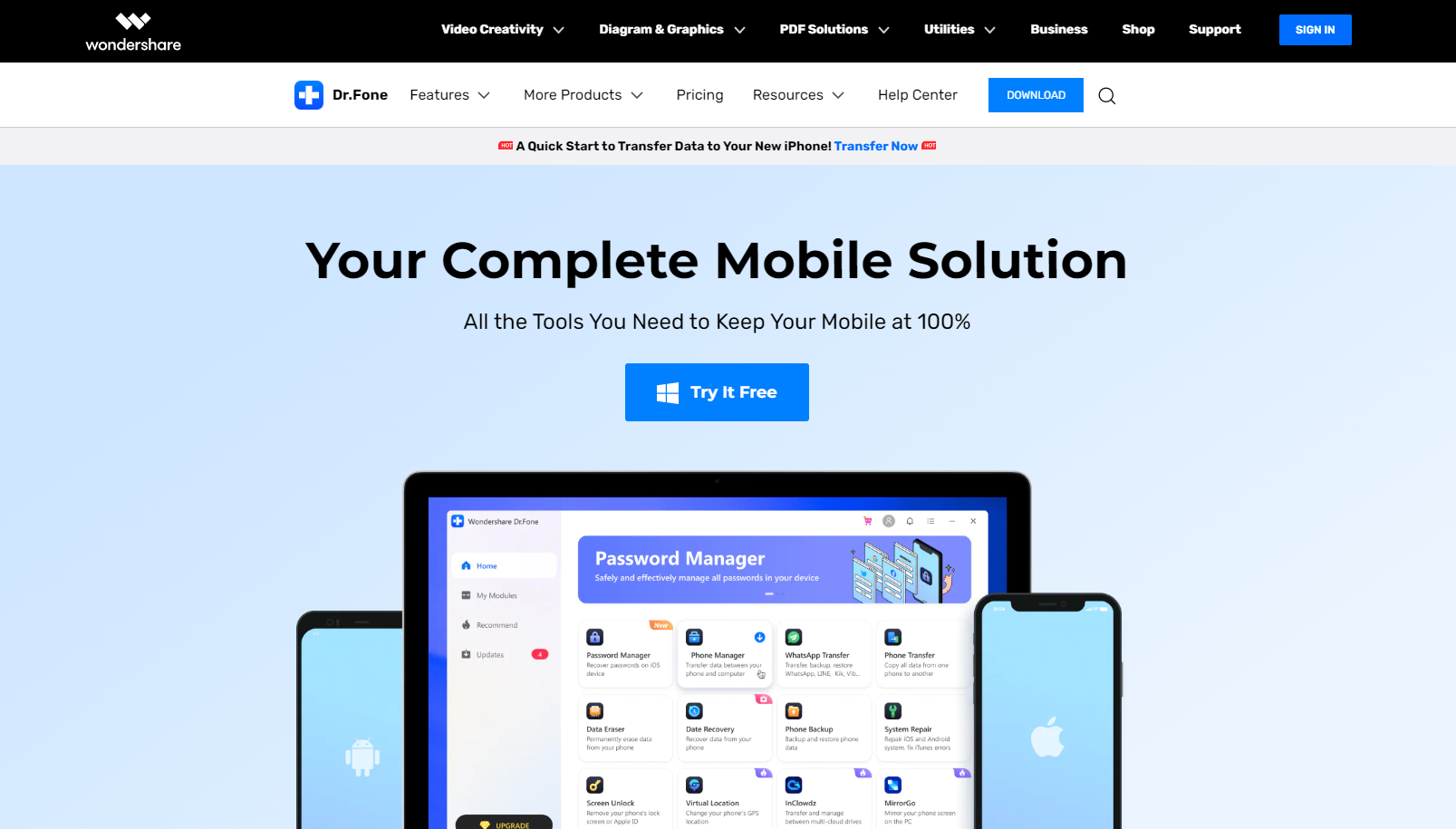 With over a decade of experience developing software and pioneering digital creativity, Wondershare is a global leader. Their prime goal is to provide simple and convenient solutions using powerful technology. However, in more than 150 countries, millions of people rely on the Wondershare Dr.Fone.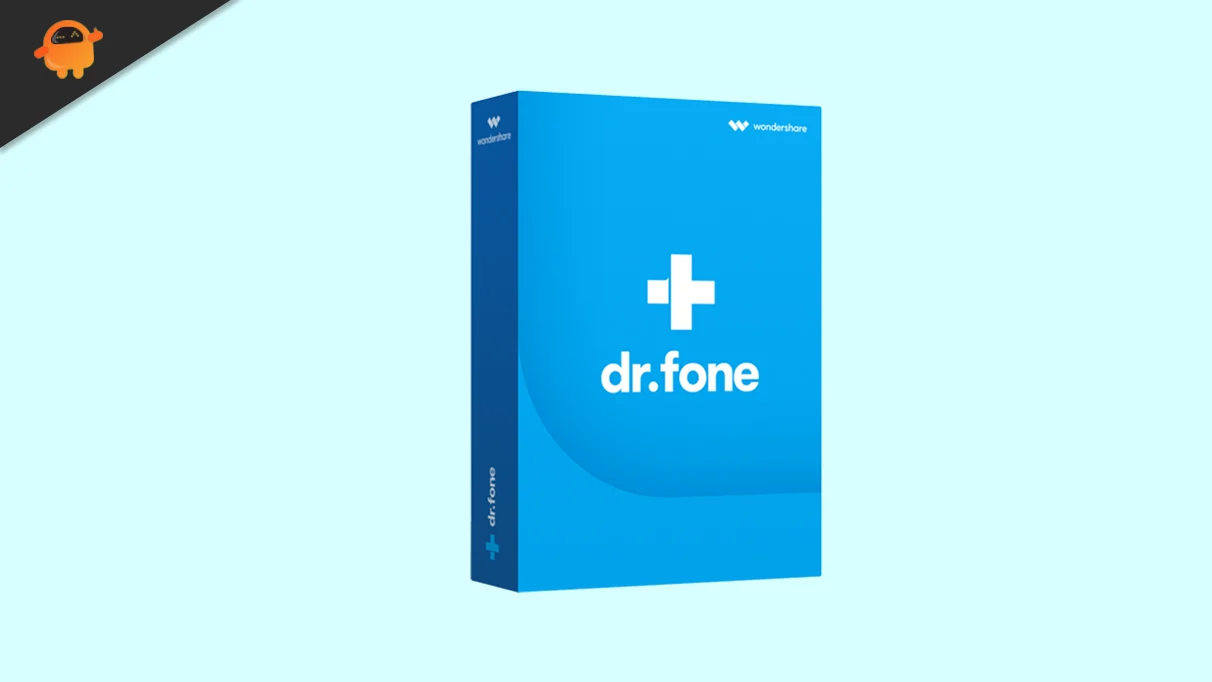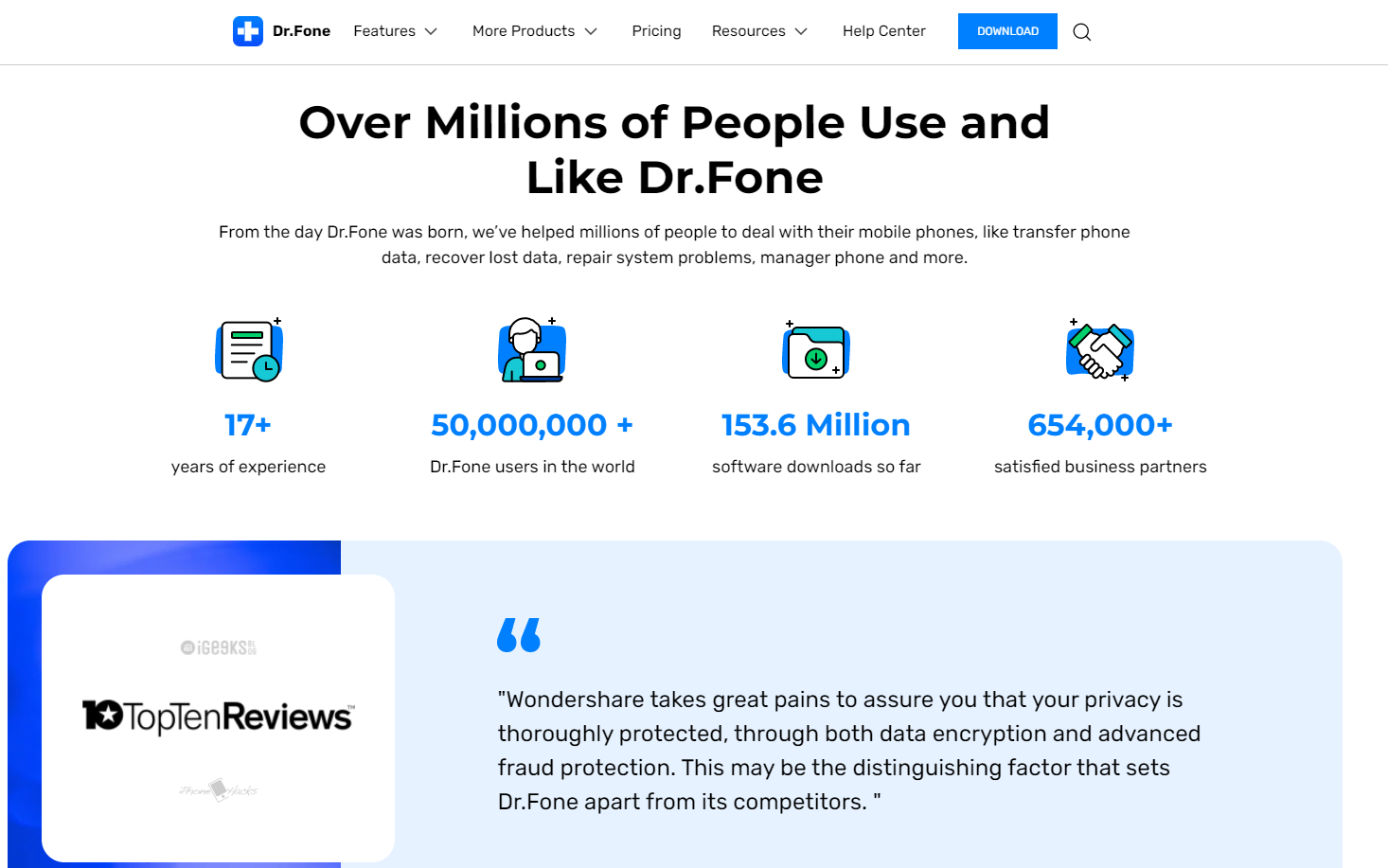 There is no risk in using Dr. Fone. The application was tested on all functions, and no data leaks were found. The data that you store on Wondershare Dr. Fone will also be safe – Wondershare Dr. Fone does not store any of your data.
As a precaution, we scanned the app for malware and viruses but found nothing suspicious. In order to protect your data, you can use the app offline, which only requires permission to manage your files.
Many users report that Dr.Fone is a scam, but it's not. In spite of the fact that you may not recover 100% of your data, the app certainly complies with the guidelines for recovering lost data on smartphones. So, please take advantage of the free trial version and decide whether you want to pay for the software.
What Does Dr. Fone Include?
With Dr.Fone Toolkit, files can be recovered quickly and easily from your iPhone, iPad, iPod Touch, and Android-based phone or tablet. Furthermore, Dr.Fone claims that if a backup is present, it can restore your data when your device is lost, damaged, or inoperable.
Besides backing up your device, transferring WhatsApp data, recording screen activity, and wiping out the device before recycling, the toolkit also includes a few other tools. As such, Dr.Fone provides users with a suite of data recovery tools for iOS and Android devices.
What Are The Features of Dr. Fone?
There are several features that will help you understand about the Wondershare Dr. Fone software easier. Therefore, let's have a look at some of its important features:
Easy and Efficient:
The user interface is easy to use, and the instructions are concise, so your problem can be resolved more quickly.
Data Security:
From beginning to end, all data is encrypted, ensuring no vulnerabilities and sensitive information is exposed.
Multiple Toolkits:
The tool's ability to distribute the software into sections or toolkits is one of the best features we liked. You will then be able to purchase and download the individual toolkits for your Windows or Mac computer as needed. You can download the WhatsApp transfer toolkit in case you want to move Whatsapp data between devices.
Advanced and Quick Data Recovery:
There have been other data recovery apps we have used in the past. Dr.Fone's faster recovery speed and advanced features make it different and better than the rest of the competition. There is no way this review of Dr.Fone can skip over this feature. It takes only a few minutes for you to recover from the problem without any delay because of the software. It is undeniable that the recovery rate is excellent, but what's even better is the comprehensive list of options available.
Repair Your System if the OS Crashes:
It is quite common for iOS and Android to crash. It is possible for these crashes to occur as a result of an error in installing the new update or as a result of any other problem. If this happens, restoring the device to its previous state is the only option. In addition to repairing Android, iOS, and iTunes system OS, Dr.Fone also allows system OS repair.
Set a Fake Location for your Smartphone:
With Dr.Fone, there is no end to the features it offers. The software also lets you fake the location of your Android or iOS device, which makes this review of Dr. Fone even more amazing. With Dr.Fone, you can set a fake location if you are concerned about the vulnerability of your location. Thus, you can always remain safe and protected from hackers and attackers.
Is Dr. Fone Safe To Use?
This is true. In our tests, we used both Dr.Fone Toolkit for iOS and Dr.Fone Toolkit for Android on PCs and Macs. It has been scanned on a MacBook Pro by Avast Antivirus for PC, Malwarebytes, and Drive Genius without symptoms of malware or viruses.
Dr.Fone is also safe when it comes to navigation within the program. For instance, in the Data Recovery module, all files found on your device are displayed first. Users can then extract the data into a PC or Mac folder.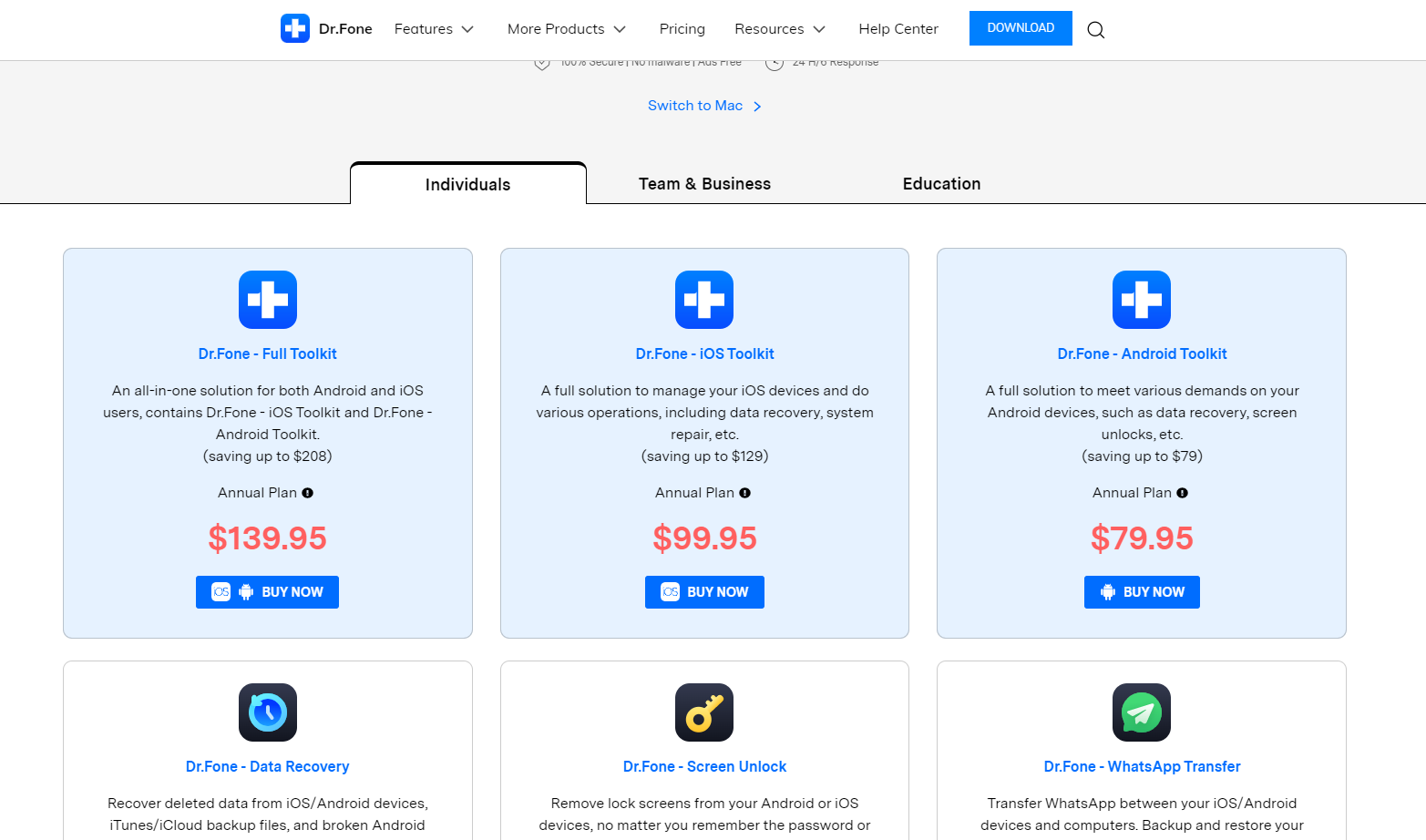 Unfortunately, the program does not come for free. However, it offers a trial version with some limitations to demonstrate its capabilities.
When testing the data recovery modules, only buy the full version if a scan doesn't find what you're looking for. So, let's check out the pricing details mentioned below:
#1. Dr.Fone – Full Toolkit: $139.95
#2. Dr.Fone – iOS Toolkit: $99.95
#3. Dr.Fone – Android Toolkit: $79.95
#4. Dr.Fone – Data Recovery: $39.95
#5. Dr.Fone – Screen Unlock: $39.95
#6. Dr.Fone – WhatsApp Transfer: $21.95
There are many other tools that come under Dr. Fone. So, you can go to the Wondershare Dr. Fone buying page in order to get more details about the pricing.
Conclusion
As we noted in our Wondershare Dr.Fone review, Dr. Fone is a software application that can recover, back up, and restore data from smartphones. It can help you with daily tasks such as unlocking your device's screen and backing up your photos since it is a utility software. Therefore, if you accidentally delete images, messages, or contacts, you should use Dr. Fone. Although Dr. Fone has a nice interface and many features, it could work better when it comes to recovering lost data from your device.