Do you face issues while recovering your data from Windows PC? Well, this could be a possible reason why several third-party applications claim to be one of the greatest solutions to recover unrecoverable data from devices. But, you know what? Their claim becomes fake when it comes to real-life use. So, when choosing a recovery tool, you must be more cautious.
Nevertheless, in case you are looking for such an application and need clarification about which one you should select, then you must go with the Wondershare Recoverit. Now, why we recommend this software; you will learn while reading this article until the end. So, let's get started with the guide.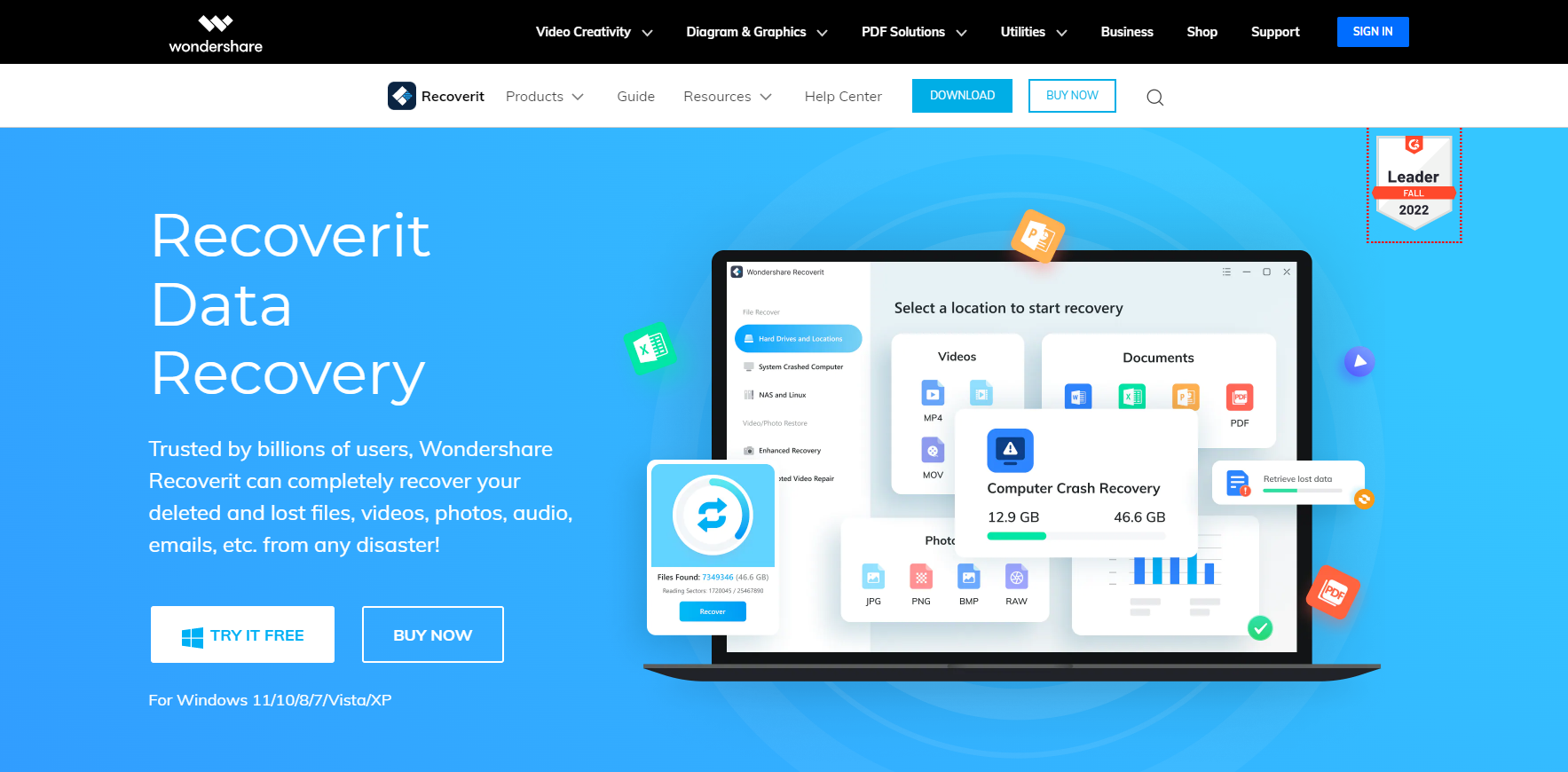 Data recovery software like Wondershare Recoverit accesses the paths to deleted files on your computer. Recoverit was released by Wondershare in 2003 and has become one of the leading data recovery tools in the world.
You can recover documents, videos, audio files, and even emails with this easy-to-use software for both macOS and Windows. There are over 1000 files that can be recovered with Recoverit.
In addition to recovering data from USBs and SD cards, Recoverit can also recover data from desktops and partitions that have been formatted. Data can also be retrieved from smartphones and digital camera devices.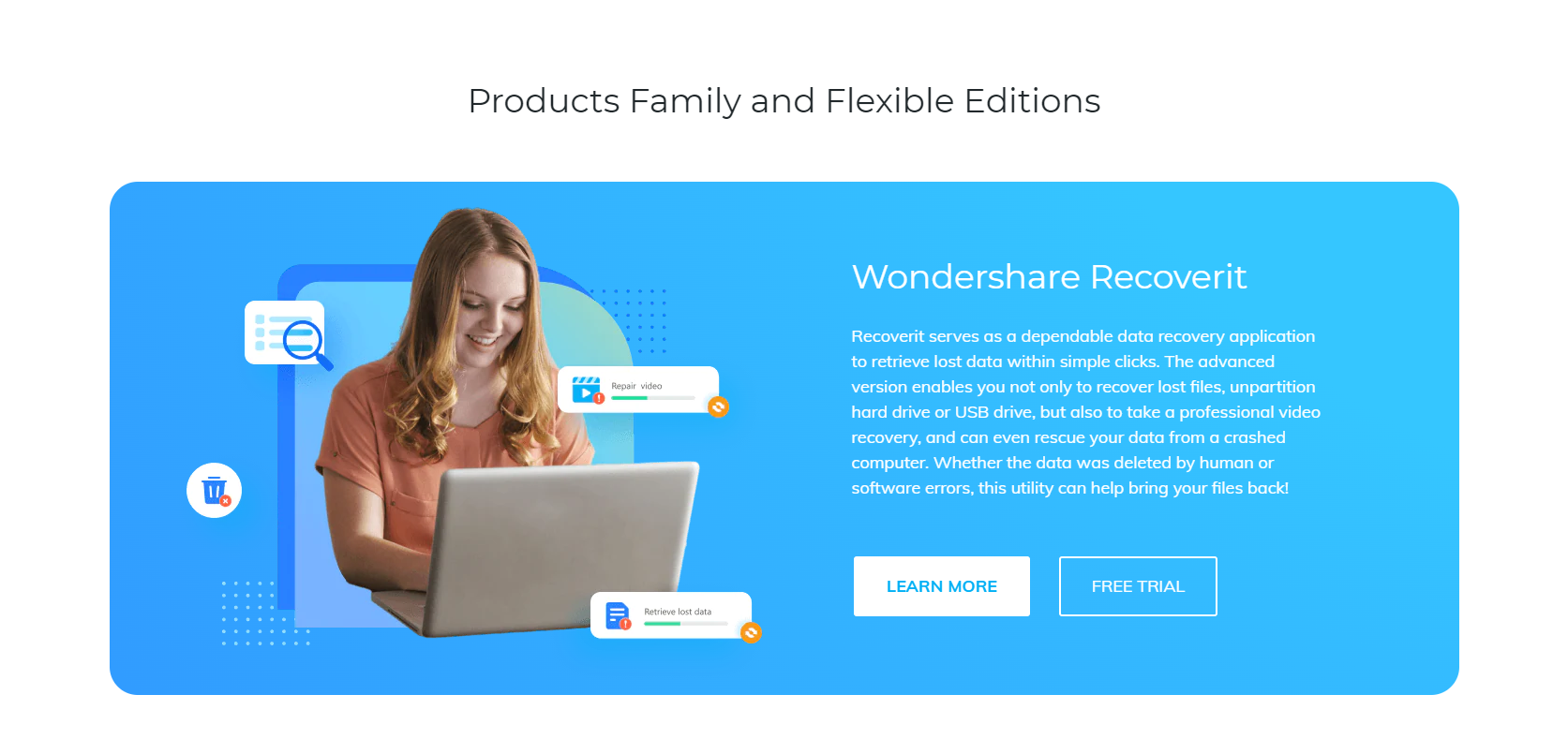 Whether it is macOS or Windows, Recoverit has an industry-leading 96% recovery rate. Unlike other solutions, this software has been known to recover data that none of them were able to recover. When we used macOS 11.1 Big Sur and Windows 10, everything we lost was recovered successfully.

Data is recovered using an advanced data recovery algorithm that utilizes smart scans and deep scans. Additionally, you can recover videos you thought might never be seen again by using video fragment technology.

More than 30 file formats are supported, including DOC/DOCX, XLS/XLSX, RAR, etc. Wondershare Recoverit can generally recover files if your operating system can view them.

The software can also scan memory cards, flash drives, and camcorders, in addition to the Recycle Bin.

If you need to recover data after a virus or malware infection, Wondershare Recoverit is ideal, as it comes with a 100% secure virus-free guarantee.

You can get free technical support in the US 24/7 with the service.
Can I recover permanently deleted files?
Once upon a time, data that was deleted was permanently lost and could not be recovered. In the same way that technology is evolving, computers are as well. It used to be impossible to recover a deleted file, but now hundreds of options exist. Therefore, it is impressive that permanently deleted files can be recovered. There are several easy procedures you can follow in order to accomplish this.
However, these methods can only recover data when certain prerequisites are met. In order for this to work, the storage drive must be in good condition with no external damage. Unless the computer can read the storage drive, this will not work.
Using Wondershare Recoverit, you can retrieve lost data with ease. This solution has been sold to their European customers for many years with very positive feedback. Therefore, you must also try this out without having any doubt in your mind.
You don't need to learn anything to use Wondershare data recovery. Once you boot up Recoverit, the program shows you what hard drives are available and which devices are connected.
The devices included in this category include everything from pen drives and SD cards to cameras and mobile phones. Your computer can access the data if you can connect it to the computer and it has a readable storage format.
You need to select the relevant box to search for drives or devices. You can also browse directly to a folder. Wondershare recovery jumps into action as soon as you check an option and starts scanning within seconds. Eventually, the speed of your computer and the amount of information you have stored will determine the length of time it takes. However, it is faster than other similar programs.
It is free for all Windows users to download Wondershare Recoverit. Nevertheless, it limits the amount of data you can recover with the free version, which means you can only recover up to some particular size of data. You can use this when you accidentally delete a small file and want to recover it.
How Quickly Can You Recover Files With Recoverit?
You need to consider the number of files you analyze as well as the read speed of your hard drive when determining the scanning duration. With a faster read speed and fewer files to scan, the scanning process will be faster.
Here's how to recover permanently deleted photos with Recoverit Photo Recovery
Recovering deleted photos is now as simple as updating your device with the latest OS update with its user-friendly and self-explanatory features. Here are the steps you need to follow.
Make sure you have Recoverit Photo Recovery installed on your PC.

You can restore photos from any location you choose. Once you have selected the location or storage, hit start to begin scanning.

In the selected location, the software will deeply scan for deleted data. Also, you can include a File Path or File Type to make it easier to find what you need.

You can preview all the restored and scanned photos after the scan is completed. Using this feature, you can preview all the scanned images without recovering them, so you can only recover the photos you want. Then hit the

Recover

.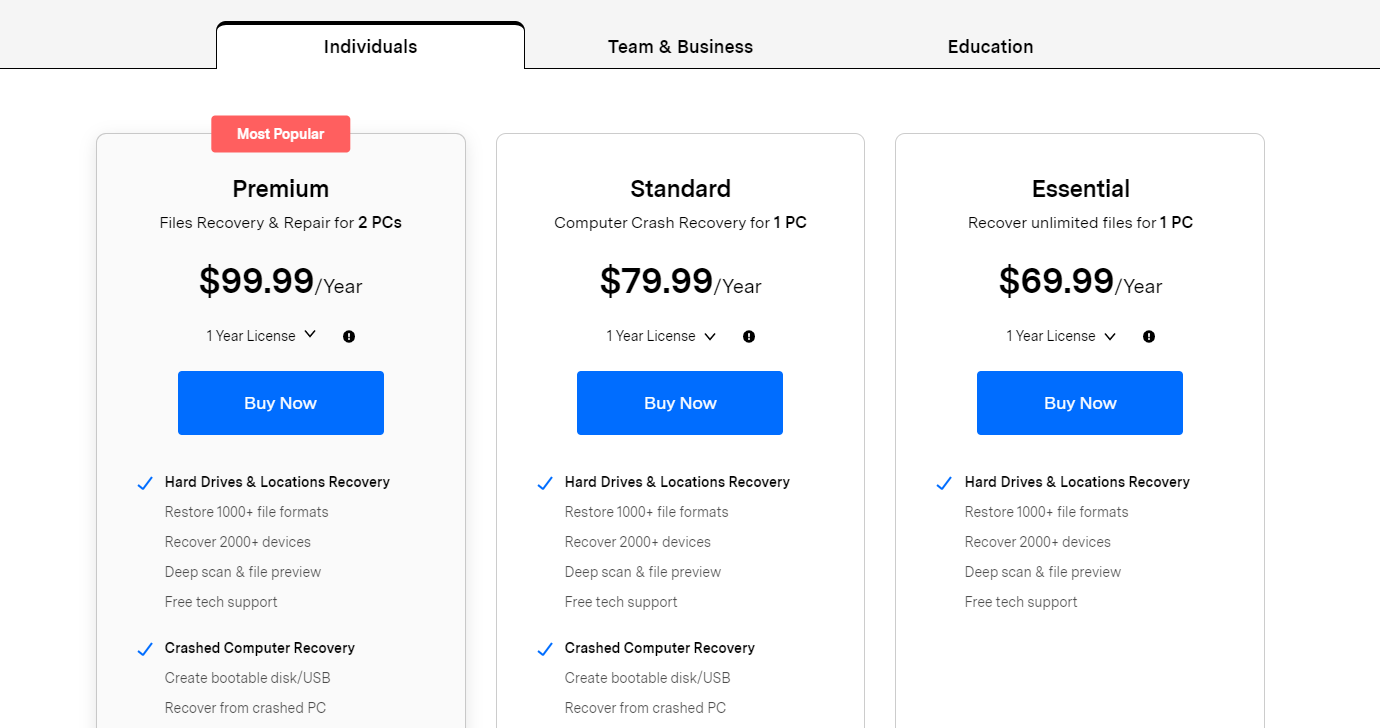 There is a wide range of prices for data recovery services, depending on features and the number of computers you want to recover data from. The pricing plans for Wondershare Recoverit data recovery are very reasonable, with three options available for annual subscriptions. Each plan is outlined below:
Essential- $69.99
The program allows you to retrieve unlimited amounts of data from one PC in more than a thousand file formats.

All devices previously mentioned can be recovered.

File previews, quick scans, and deep scans are available.

Support for remote access is free.
Standard- $79.99
More than 1000 file formats can be recovered from one crashed PC.

It includes all the features that you will get in the Essential plan:

Bootable media can be created.

Recovery after a crash.

Getting rid of the "blue screen of death."
Advanced- $99.99
Data recovery and repair for two PCs.

Include all Standard features.

Video recovery of the highest quality.

Recover corrupted videos.

Scan video fragments.
You can purchase the Wondershare Recoverit from their official website.
There is no doubt that Wondershare Recoverit review software can restore most of your deleted files. The limitations of their software mean they cannot guarantee to be able to recover all of your deleted files. You should back up your essential data because a lack of backup will prevent you from recovering it with any software, including Wondershare Recoverit. In addition to saving you time, it would also help you save money.
Pros
This software is capable of recovering almost every type of file from your computer.

In spite of its high performance, it does not overload the system's hardware and resources.

There is no need to provide any assistance to newer users, as the user interface is straightforward.

Customer support is very responsive and readily available whenever there are issues.
Cons
It's not working properly on Mac with Wondershare Recoverit.

There is usually more time involved than indicated on the screen, and it may last up to two hours.

There is a degraded quality to the recovered files.

It is difficult to filter some data since there is no preview available.
What is Our Review?
This program's design was minimalistic and easy to use. Also, I appreciate the program's self-explanatory text instructions. There is a lot of complexity involved in data recovery. While Wondershare's recovery process is clean, and you don't need any technical knowledge to use it.
But, I was able to recover many files from my computer and flash drive using Wondershare Recoverit. It has been reported that most pictures have been recovered successfully without any problems.
However, in Deep Scan mode, a greater number of items were found than in Quick Scan mode. Furthermore, I liked the fact that the program was less resource-intensive than I anticipated.
Unfortunately, I wasn't able to recover many of the files I deleted for the test. There were only two files that didn't appear: PNG and PDF. All other files were either corrupted or unfindable. The issue may be a one-time occurrence or a known problem. There are still a few benchmark tests to be conducted before this conclusion can be drawn.
Final Words
If you need to recover your data from a corrupted PC or damaged PC, make sure to use the Wondershare recoverit to do so. Anyway, that's it from our side. We hope you have decided whether or not you should use this software.