Smoke detectors detect smoke, typically as an indication of a fire. As part of a fire alarm system, commercial smoke detectors send signals to a fire alarm control panel. Although many brands offer you smoke detector devices, not all of them are reliable. That's why today we are here with our recommendation. So, if you want a Smoke detector, we recommend you use the upgraded version of X-sense XS01-WR Wireless Interconnected Smoke Detector Fire Alarm. There is a pretty good 4.6 rating out of 5 on Amazon.
Moreover, it has many features that other brands may not offer at this aggressive price range. So, if you wish to know more about this product, make sure to read our complete review on X-Sense XS01-WR Wireless Interconnected Smoke Detector Fire Alarm. Therefore, let's get started with it.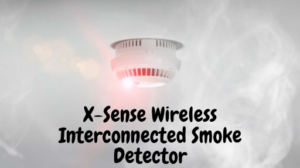 X-Sense XS01-WR Wireless Interconnected Smoke Detector Fire Alarm: Review
Generally, a Smoke detector is needed everywhere, but due to various brands, users sometimes get confused as to which brand they must go with. So, if you are one of those confused buddies, you must go with the X-Sense XS01-WR smoke detector. Here's why:
What Are The Most Highlighted Features of X-Sense XS01-WR Smoke Detector?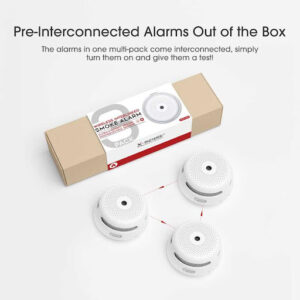 So, here are the most renowned features that your get on your X-sense XS01-WR smoke detector that no other brand will offer you at this price tag. Therefore, let's have a walkthrough to them:
#1. Wireless Interconnection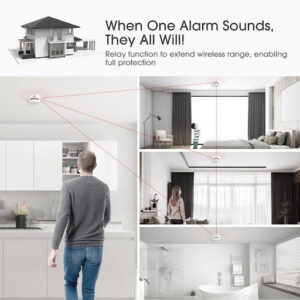 It is totally cable-free because the wireless interconnection by X-Sense allows you to stay informed of the safety conditions throughout your home and respond quickly to fire abnormalities.
#2. Low Battery Warning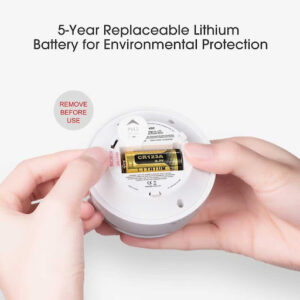 When the battery is running low, a notification alerts you to replace it so that your family's security is not compromised. However, we suggest you when the red indicator blinks every 60 seconds with one beep; you must replace it.
#3. Accurate Smoke Alert
With this upgraded X-Sense XS01-WR Alarm, smoke concentrations are analyzed at least three times every ten seconds; therefore, the chances of getting the error are from surrounding wind, dust, or any other thing is very low.
#4. 85 dB Buzzer And Insect Proof
In case of an emergency, you will be alerted by an alarm that registers 85 dB within 39.4 in, which is very loud to be heard by your family no matter whether they are sitting in another room. Furthermore, it has an insect-proof design that acts as a buffer, preventing insects from invading the sensor and ensuring a high level of accuracy.
#5. Wide Coverage for Full Home Protection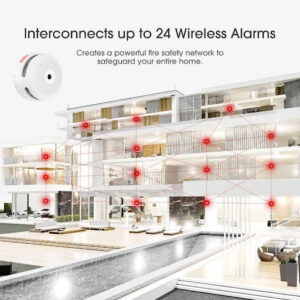 You can connect up to 24 smoke alarms to the device via a relay function that extends the range. Thus, even on different floors or in the basement, or even in the garage, there are no blind spots left in the home.
#6. Easy to Install, Interconnect, and Operate
The smoke alarm is small enough to be quickly installed on any wall or ceiling without the need for hardwiring. The wireless smoke alarms in one multi-pack are already interconnected, so you only have to press the test/silence button to connect them. You're done. A simple push of the button allows you to silence false alarms or easily test the Alarm.
What Is The Pricing And Package Content?
Now, the main part, i.e., its pricing; you will get the X-Sense XS01-WR Wireless Interconnected Smoke Detector Fire Alarm at just $57.79. Now, from a pricing perspective, I think the pricing is very good compared to its competitor. So, now talk about what accessories you will get at this price tag in-box. Well, you will get:
1x Alarm Unit
1x Mounting Bracket
2x Screws
2x Anchor Plugs
1x User Manual
How To Install X-Sense XS01-WR Smoke Sensor?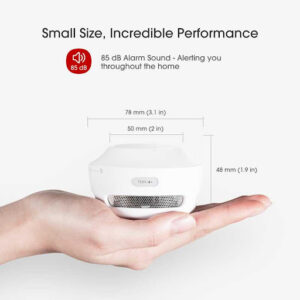 Firstly, you have to use the Mounting bracket given to your box to mark the screw holes on the ceiling or the wall.

After that, simply use a drill machine and drill the two holes.

Then, insert the Anchor Plugs and fit the Mounting Bracket using the Screws.

Now, you have to attract the X-Sense XS01-WR Alarm and rotate it clockwise in order to fix it.

That's it. Now, if you want to test, you can test it.
Sum Up
In my opinion, the X-sense XS01-WR is the best device in its category that has an aggressive price range. So, if you are thinking of buying a smoke sensor, then you can trust this brand. But, in the end, the decision is yours. So, that's all on our review on X-Sense XS01-WR Wireless Interconnected Smoke Detector Fire Alarm. We hope that you find this review article informative. But, in case you want to know more about this product, comment below and let us know.