During the launch of Mi Band 3, Xiaomi – a Chinese manufacturer, quoted that there will be a higher variant of Mi Band 3 with NFC too and it seems like the higher variant is almost here. After more than 50 million units sold for Mi Band 3 fitness tracker smartwatch, Xiaomi is willing to launch the Mi Band 3 Limited edition with NFC in China on September 19 along with Xiaomi Mi 8 Youth citing the statement made during the last launch event. The speculations rose to popularity after a video was posted by Xiaomi on Weibo which is a Chinese social media site teasing the Mi Band 3 NFC variant with contactless payments and more.
Huami is a Chinese subsidiary which looks after the production of Xiaomi's Mi Band lineup and it recently stated that the Mi Band 3 NFC variant has cleared three certifications and it is almost ready to be rolled out in Chinese retail stores although, it wouldn't be a surprise if Xiaomi decides to roll it out silently.
Today we found the live image of the new NFC supported Mi Band 3 Limited edition along with the retail box image. Have a look at the new Mi Band 3 limited edition with NFC support.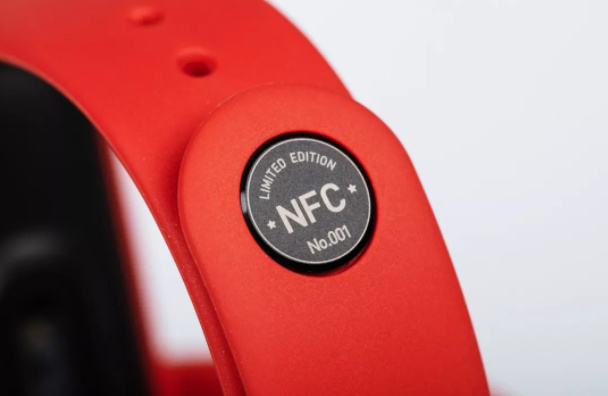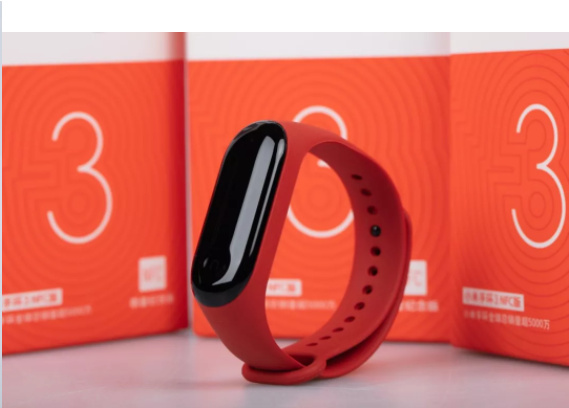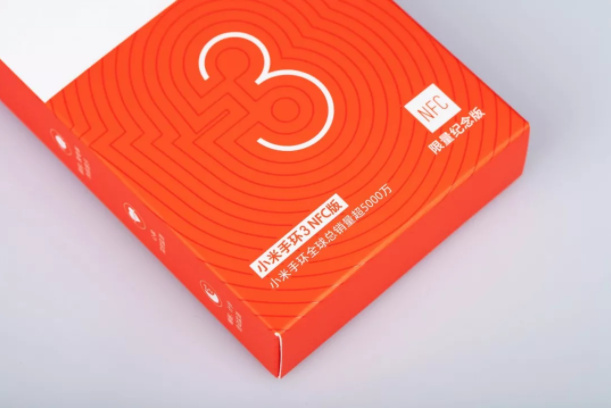 Xiaomi Mi Band 3 NFC variant: Design & Specifications
We got our hands on the upcoming Xiaomi Mi Band 3 NFC variant and it looks flamboyant and premium. The fitness tracking smartwatch has a 0.78-inch OLED display with a curved glass probably a 2.5D curved glass gives it a premium touch. Further, it is dust and water resistant similar to its basic Mi Band 3 launch a few weeks ago and can withstand up to 50 meters of water without dismantling or getting damaged.
Mi Band 3 NFC variant has a battery of 110 mAh which is capable of lasting for almost 20 days on a single full charge which is an another USP. The 128×80 pixels resolution OLED display is capable of displaying 24 HD large characters along with weather information, notifications on the go, messages, calls, texts, etc. The smartwatch can be easily paired up with Android and iOS devices with versions Android 4.4 and later and iOS 9 and above respectively.
Although the smartwatch is similar to the regular Mi Band 3, it has NFC for faster and contactless payments. Mi Band 3 works with Xiaomi's Mi-Pay which is Xiaomi's version of Google Pay and Apple Pay which can be used at more than 167 cities in China including metropolitan cities such as Guangzhou, Beijing, Tianjin, Shijiazhuang, Shanghai, and others.
The NFC feature allows users to pay merchants simply by sliding their wall across the NFC enabled PoS machines. It also supports City Bus card payments in China with coverage to over 167 cities aforementioned.
Xiaomi Mi Band 3 NFC variant: Features
Xiaomi Mi Band 3 NFC is, of course, NFC enabled and along with that, it will sport an intuitive user interface. It has a number of sensors counting steps, heart rate, calories burnt, etc supporting notifications for incoming calls and texts and alarms that can be assessed and set off through the screen also.
Price and Availability:
As of now, the Xiaomi Mi Band 3 NFC variant is available in China at 1,999 Yuan which is around Rs 2,100. However, it might not be able to make it to India as it works with Xiaomi's Mi Pay which is currently restricted in China only. Although there are assumptions by our sources that Xiaomi could launch Mi Pay in India and similarly, the Mi Band 3 NFC watch in India too.