Xiaomi Mini WiFi router is a very small and mini WiFi router that has an attractive design. It is very portable and designed and can be used to connect to the network at home, work, in the hotel, and moreover, you get a stable connection as well. It is an 802.11ac+bgn wireless router based on the MediaTek MT7620A SoC. Besides, it has three Ethernet ports and two radios. Xiaomi MINI WiFi router is a dual-band AC intelligent router and is known as the best and affordable fast router. As a smart router, the mini-setting of the router is very simple. Moreover, if you have a bit of computer knowledge, you can complete the setting of this router very easily.
In this post, we will give you information regarding Xiaomi Mini WiFi router – manual setup guide. With the help of which you will be able to set up correctly your Xiaomi Mini WiFi router easily. So, without any further ado, let us get straight into the article itself;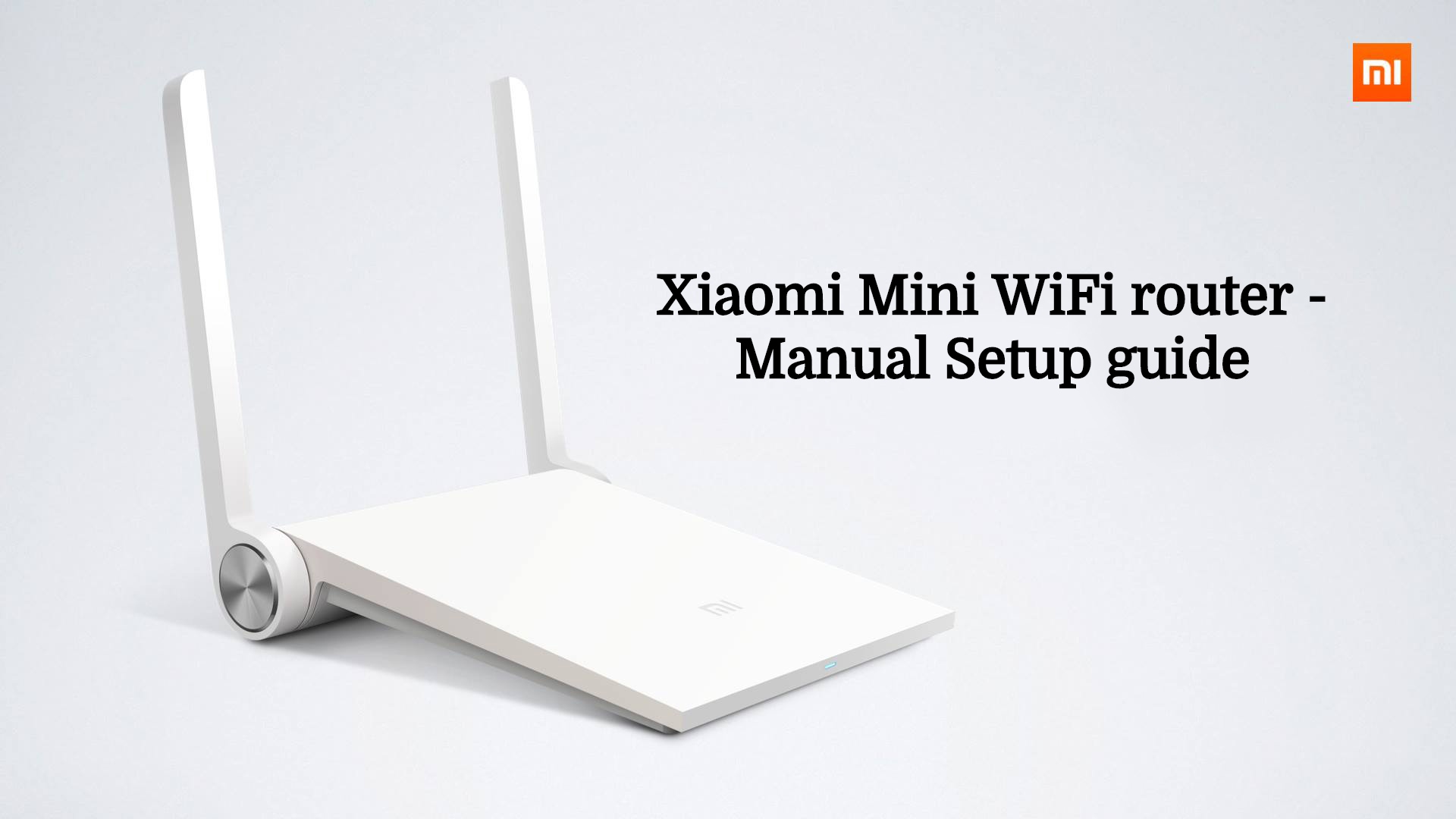 Xiaomi Mini WiFi router – Manual Setup guide
Specifications
Hardware Configuration
Processor: MT7620A 580MHz
ROM: 16MB SPI Flash
RAM: 128MB DDR2
Hard disk storage: No
2.4G WiFi: 2×2 ( the highest rate of 300Mbps)
5G WiFi: 2×2 ( maximum rate of 867Mbps)
Antenna: External dual-band omnidirectional antenna 2
Machine Interface
A USB 2.0 interface (DC output: 5V / 1A)
2 10 / 100M adaptive LAN port (Auto MDI / MDIX)
A 10 / 100M adaptive WAN port (Auto MDI / MDIX)
A red / blue / yellow three -color LED
A factory reset button
A power input connector
Wireless Parameters
Concurrent dual-band 2.4GHz and 5GHz
Does not support beamforming technology
Radio channel: 2.4GHz Channel: 1,2,3,4,5,6,7,8,9,10,11,12,13, 5GHz Channel: 149,153,157,161,165, 5GHz DFS Channel: 36,40,44,48,52,56,60,64
11b: DSSS: DBPSK (1Mbps), DQPSK (2Mbps),
CCK (5.5 / 11Mbps)
11a / g: OFDM: BPSK (6 / 9Mbps),
QPSK (12 / 18Mbps), 16QAM (24 / 36Mbps),
Q64QAM (48 / 54Mbps)
11n: MIMO-OFDM: BPSK, QPSK, 16QAM, 64QAM.
Q Rate Set : MCS0 ~ MCS15
11ac: MIMO-OFDM: BPSK,
QQPSK, 16QAM, 64QAM, 256QAM.
Q Rate Set : MCS0 ~ MCS9 ( supports two streams )
Receiver sensitivity
11Mbps: ≤-90dBm, 54 Mbps: ≤-72dBm,
HT20 QMCS7: ≤-69dBm,
QHT40 MCS7: ≤-66dBm,
VHT20 MCS8: ≤-65dBm,
Q VHT40 MCS9: ≤-60dBm,
QVHT80 MCS9: ≤-58 dBm
Software parameters
Operating System: Based on the depth of customization intelligent OpenWRT router operating system MiWiFi ROM
Supported Languages: Simplified Chinese
For advanced users/developers to provide root access router and provides native toolchain and SDK
Wireless Security: WPA-PSK / WPA2-PSK encryption, wireless access control ( blacklist ), SSID hiding
Open Platform: Currently supports video resource plugin ( Thunder cloud acceleration, Thunder movie theater, etc.), more plug-ins continue to update
Management Applications: Support for Web, Windows, Android, macOS, iOS ( irregular expansion of the new management style )
Protocol Standards
IEEE 802.11a / b / g / n / ac, IEEE 802.3 / 3u
Work environment
Operating ambient temperature: 0-40 °
Humidity:  10% -90% RH ( non-condensing )
Storage Temperature: -40-70 °
Storage humidity: 5% -90% RH ( non-condensing )
You can check out the official video of the router in its full glory below;
Steps to Xiaomi Mini WiFi router Manually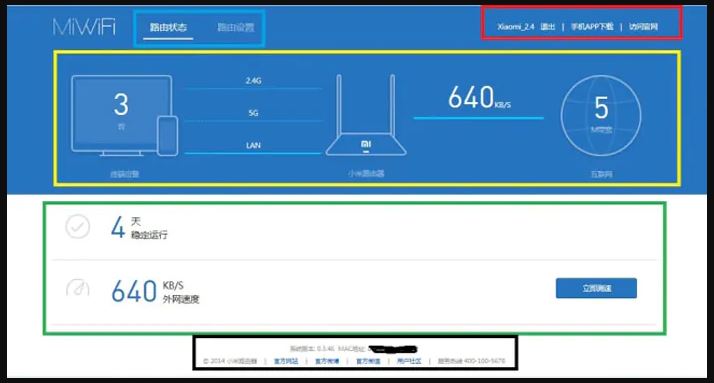 Now, this setup of Xiaomi Mi WiFi router is basically divided into five steps. As you can see in the image above, the first part which is highlighted in yellow color contains all the parameters of the router such as network speeds status, WiFi Status, internal and external network conditions, number of terminals, etc.
The second part is highlighted in Blue color in the upper left corner indicates the Settings tab which has different kinds of settings to fiddle with. Next to it, you will find the logo of Xiaomi WiFi and in the upper right corner, the red colored area has the name of the router and the app download section. The green-colored area indicates the system health and the external network speed button. Finally,  the black colored area highlighted in the above image indicates the MAC information, router version, and official website name.
Now, follow the below steps to manually set up the Xiaomi Mi WiFi router;
Step 1: Router Settings
Firstly Click on the Router Settings.
Then,  select WiFi settings to set up 2.4G and 5G or whether to open WiFi name and whether to choose encryption mode (the default selection of hybrid encryption WPA / WAP2 Personal Edition). Moreover, the Xiaomi router MINI WiFi is not a hidden WiFi. The discovered features improve the security of the wireless network to a certain extent, but it will cause some trouble to the user.
Step 2: Wireless Channel Settings
The default wireless selection is set as automatic.
However, it is also recommended to set it as automatic.
This automatic option will make the optimal selection according to the current wireless network environment. And, this will avoid frequent problems caused by heart-to-island conflicts.
Step 3: 5G network setting
The 5G network settings are the same as above.
The Signal Strength option provides three options;

First through-wall mode is used when the room is large and the wall is large.
However, if it is a small single room, you can use only the energy-saving mode (reducing radiation).
In other cases, the standard option is selected.
Step 4: Internet Settings
The Dial-up setting is a secondary route to access the Internet through DHCP.
In any internet mode, click the Modify Internet access method to modify it.
Thirdly, you can also use the static IP provided by the network service provider to access the Internet.
Step 5: Advanced Settings
You need to enable the DHCP service.
Automatically assign an IP address to the internal network to the user.
The LAN IP address defines the LAN management address and also defines the network segment of the LAN.
Moreover, the function of MAC address cloning is to clone the MAC address when the network provider restricts the user, to achieve the function of multi-person sharing and using the network.
The upload log function is used to upload logs to the Xiaomi server to provide a basis for Xiaomi router optimization.
Step 6: Change the Password
Now, you need to change the router password.
There are different options like the factory reset, which you can use to quickly recover when there is an unknown problem in the router and it is proving to be difficult to solve.
Moreover, this also eliminates the need like in the traditional router, where you needed a needle punch inside the small hole behind the router.
Step 7: System Upgrade
Under the System Upgrade page, you can update your router with the new firmware if it is available.
However, if there is no file available via the network, you can also use the local update option to manually upgrade the router.
Conclusion
So, there you have it, from my side in this post. Hope you guys have managed to successfully upgrade the Xiaomi Mini WiFi router manually by following the above-mentioned steps. Let us know in the comments below if you faced any difficulties while following any of the above methods and also do let us know whether you were able to manually update your router or not. Until the next post…Cheers!